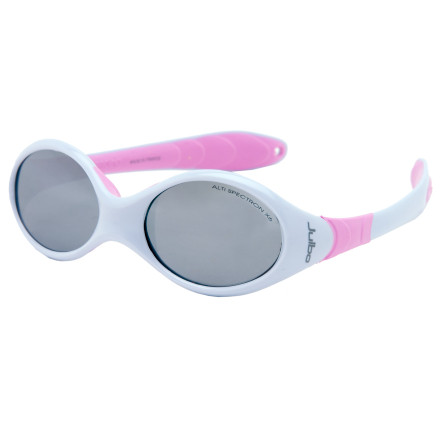 Colors

Detail Images

Community Images
Description
Protect your child's eyes while they're the most vulnerable.
The Julbo Looping kids' sunglasses are designed for infants and toddlers who spend a lot of time outside. Every aspect of the Looping is kid-friendly, from the symmetrical shape that eliminates a right-side-up or wrong-side-up to the hingeless design that prevent caught hair or pinched fingers. The frame is soft, so it won't scratch or hurt your baby's sensitive skin. Julbo doesn't skimp on the UV protection for young'uns either. The Looping has Alti Spectron X6 lenses, which protect from UV rays and 95% of visible light. These extra small sunglasses are made for kids 0-2.
Look at that cool baby!
Familiarity:

I've used it several times

Fit:

True to size
These fit my daughter's face well and keep her eyes protected in sunny conditions. They're super dark (4% VLT), but babies aren't driving cars so it doesn't really matter.
What is the best way to size these for an...
What is the best way to size these for an 18 month old?
Hey BKC,



These are made only in one size and fit specifically for children up to 24 months so unless your child is an outlier for the standard growth chart these should fit fine.




Adorable!
Familiarity:

I've used it several times
These infant sunglasses are completely adorable on my friends' baby. They stay on him well even though he's under 3 months and wearing the 3 month size. The elastic in the back helps them stay on perfectly. He doesn't mind wearing them but maybe it's because we are all coo'ing at how cute he is with them on!
So far, so good on these. I bought them for my little dude and we have tested them out in the house and on short walks. He seems pretty comfortable with them. I will update my review after they have been field tested on some longer hikes.
Julbo Looping singlasses - Infant
Since I feel confident that these sunglasses protect my babies eyes (especially in the bright Tucson sun), I'm okay with the way they look. I like the idea of being able to put them on either way, but it does make my daughter look a bit "special".

I've had some problems with the strap around the back. My baby's head is quite small and she's able, at one year old, to take off the sunglasses and drop them outside our stroller on our walks without me noticing. They've gone missing several times but we've always found them (possibly due to the bright color?).
Recently purchased these sunglasses for my 4 month old son. He looks addorable in them and he seems to like them. He has not tried to pull them off and they provided me with peace of mind while our family was on vacation this winter.
I look forward to taking him out for walks so that he could wear the sunglasses.
I bought Julbo Looping for toddlers for my 3 year old and she loves it. She thinks she has to have it when the Sun's out. So I got another one for my friend's new born too.
Easy to wear and comfortable yet very stylish.
Our grandson loves his "Loopers". He is 5 months old and is in the 60 percentile. He has blue eyes and when outside will close his eyes and turn away from anything to bright. After purchasing these Looping-Infant sunglasses, I took him outside in the sun where he did his normal close the eyes and turn the head. I put these sunglasses on him and he opened his eyes looking at me and started laughing;) He had obvious relief. They appear to be very comfortable for him and he leaves them on. They are so cute; we purchased the dark grey/anise.
I would recommend the Looping II for 1+ years. Better eye coverage
Our daughter seems to love these glasses, they have worked well from age 5 months to about a year. Just recently, as she hit the year mark, she has begun to fling things off - I don't think this is the glasses fault! They have held up great, and will make it another year I am sure.
Trying buying sunglasses that stick on your kids or grand kids at this age (1-2). We take our grandson climbing and with our intense sun, you can't go without. But of course they want to yank off every two seconds as well. They designed these to stay on remarkably well and of course are durable enough to be terrorized by the little one. Pleasantly surprised they worked.
bought them for my 18 month old niece. She looks fabulous in them. Not to mention she has not figured out how to take them off yet
I bought two pairs for by 3 1/2 year old and my 2 year old daughters. They fit perfectly and they love to wear them. Not only do they look great and feel comfortable but I love the protection and quality these sunglasses provide. I would highly recommend these glasses to anyone!
My five month old daughter loves these glasses. Before I bought them she hated going outside when it was sunny. She really enjoys wearing them and doesn't try to pull them off. They are just a little big on her but by the time she six or seven months they will fit her perfect. I'm really impressed with quality and that they protect her eyes from UV and not just for style. It's going on my top 10 list if anyone ever asks if I know of great sun glasses for kids. I will even get the next size up when she out grows these.
Does anyone know if these are the Looping...
Does anyone know if these are the Looping I that will fit (0 -18 mos) or the Looping II (12-24 mos)? On the Julbo website there is a definite size difference.
I had these for my kid when she was less than a year like the review said, they were a little big, but worked perfect. Not sure if these are the I or II.
These are an exact fit for my average-sized 6 month old. She really enjoys wearing them and doesn't try to pull them off. The no-hinge design is a nice touch too. Really impressed by the quality.