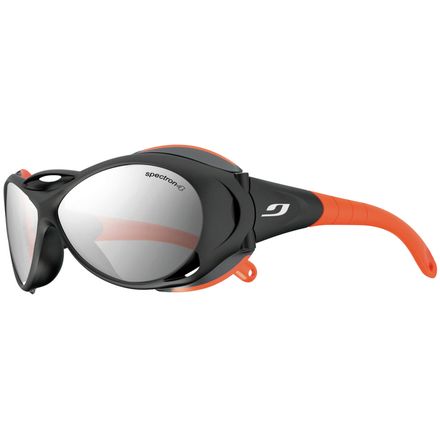 Detail Images

Videos

Community Images
Julbo gave their high-tech Explorer Sunglasses incredible Alti Spectron 4 Lens that provide 95% visible light reduction to protect your eyes on high-altitude mountaineering trips. Take these Julbo glacier glasses to Rainier, Alaska, or even the Himalayas. Designed with help from Chamonix mountain guides, these glacier glasses features removable side shields and a wrap-around design that rivals the protection offered by goggles in high winds and blowing snow. The Explorer Sunglasses also include a removable stretch headband to keep them in place and let you drop them to your neck when you crawl into a tent. Julbo added frame vents to reduce fogging because you can't climb if you can't see.
Quality doesn't look good.
I was expecting better quality on plastics, plastic triming looks like needed rework after production, Im not paying $25 for this sunglasses, the price is $125, I was expecting better quality like the Julbo Sherpa Glacier Glasses that cost me $50.
They are ok...
Familiarity:

I've used it once or twice and have initial impressions
They are not "snuggle"...light does come in from top and DO FOG a lot.They look cool,feel good as long as you do not wear binnie,hat,helmet.
Perfect
Familiarity:

I've put it through the wringer
Originally, I bought these following eye surgery (PRK). I had ultra light sensitivity for weeks afterwards, I needed top protection, these did an amazing job.

Then I decided to take them hiking at 9000 feet and I never turned back: they have become my go to hiking/backpacking sunglasses. I never get red eyes or strained eyes, I can tweak the branches for a custom fit, I can see clearly with zero glare.

Like I said... perfect.
And now that my vision has been corrected to 20/15, they're even better. :D
Great protection
Familiarity:

I've used it several times

Fit:

True to size
I took these on Kilimanjaro and Elbrus with me and they were great. I never had to squint, even on the snowiest conditions in the brightest snow.



They aren't much to look at so I ended up getting a different pair of goggles for myself, however, now that my young daughter is starting out mountaineering with me, these will be what she brings as I believe the protection they offer to be superior.



After 5 trips they are still in one piece and scratch-free.
I took a pair of Julbos with Zebra lenses up Rainier and in bright sun my eyes were really overwhelmed. They just couldn't get dark enough. I found myself resting my eyes closed periodically and was concerned about how well my sight would persevere.



So for my next trip i picked up the Explorers. I made the buy for two reasons: the SPectron 4 lens is as dark as things get, and the Explorers have LOTS of coverage. I wasn't always convinced that the frames on my glasses were large enough. Now, I can go up with confidence that i can tackle a variety of conditions.

I'll probably bring both glasses and make the call based on weather before heading up.



The Explorer with Spectron has great coverage with removable blockers. They still aren't fashionable, but they work. That's more important than anything else. They also feature a nose clip if you want to add the nose cover.



The case is spacious enough to put my other glasses in it. I'm a little bummed there was no cleaning cloth or bag. fortunately i have lost enough pairs of glasses to have a spare.



The lens is dark. Really dark. Perfect for super bright, blue bird days at elevation.

They fit my average sized face nicely and reach my uneven ears pretty well.

I have not tested their resistance to fogging yet. Hoping that doesn't turn out to be a problem.
They were great most of the time
I just returned from a 3 day rainier summit. We had great mixed snowy, windy, sunny conditions on the first two days and a white out on the decent. I wore these the majority of the time.



The Goods: As for protection, you couldn't go wrong with the XLs. The Standard on Rainier; sunscreen, lip balm and eye protection. The UV rays were crazy! Glad I had these.



The Bads: Sometimes they get foggy... There were several moments on the climb that I literally couldn't see my footing. I couldn't stop because I was roped up with my team so I had to take them off! I noticed the fog issue was happening when I was in a very tough, endurance segment of the climb AND it was foggy/snowy out. I never had the fogging issue when it was sunny out.



They would not stay on the top of my nose: I have never has this issue before but the glasses would slightly fall below the top of my nose. I was constantly pushing them up in the center of the frame (like a nerd, i guess). The adjustable back of the frame didnt seem to fix the issue so I had to tighten the retainer straps. As a result, I got this strange neck strain....



Basically, they work great most of the time. While they will protect your eyes very well, they will fog, maybe even in crux situations.



I did notice that several people were wearing these on the mtn including one of our guides. I




Julbo Explorer Sunglasses
I loved these glasses, the filter is very good for the brightest enviroments (I tried it over snow and over fresh water in sunny days).

I put 4 stars and not 5 because the case in which they send the pair I bought (The photo I uploaded) is not the same as the one showed in the photo showed in the detailed views, and is a lot bigger than that one. Even though the case I got is very good and protects perfectly the glasses is kind of bulky and when you are backpacking and need to save space, it just doesn't do the work...I upload a photo for you to see the case.
Would you recommend these glasses for...
Would you recommend these glasses for general outdoor use and paragliding?
These should be strong enough and block out the wind, also offer good sun protection. Pretty tempting :-)
Best Answer
These would be excellent for what you intend to use them for. I think they would be awesome for paragliding .
And which version do you recommend? alti arc, spectron or cameleon? Thanks!
These would be perfect for those activities. The coverage is very good and they block out all the harmful rays without making things too dark.
Glen Plake Explains the Julbo Explorer
Unanswered Question
Do you have the X large version of these...
Do you have the X large version of these glasses available?
Do you have the X large version of these...
Do you have the X large version of these glasses available?
Yes they have them. http://www.backcountry.com/julbo-explorer-xl-sunglasses-spectron-4-lens
Explorer with spectron 4 lens
I have had a pair of these glasses for several years. My eyes are very sensitive to light. I use these on the water, in the mountains, on bike (motorized and pedal) and anytime I am outside. They are amazing. Easily the best glasses I have ever owned. They are equal to the two pairs of Julbo micropores (glass lenses) I also own. I was worried about the lens durability of the spectrons but they have been great. They are much lighter than the micropores. I find myself wearing these more than the micropores. I will definitely buy another pair when these are done.
Have not gotten them out in the mountains yet or even out of the house yet tbh. However these things fit like a glove and seem of a fairly good quality. I think i will really like them?

So far so good, just buy them if you think you want them. So long as they fit your face these are the business!! If not return them...
I recently purchased julbo explorer alti...
I recently purchased julbo explorer alti arc glasses which are not polarized, I want to use them for skiing.
I considered the cameleon lens which are polarized, however, my past experience with polarized lenses is that they dont work well on snow in sunny conditions as you cant see the terrain in detail well enough, any thoughts or experience would be welcome?
If you are going to use them in the sun only, then I would say go with polarized... yes you sacrifice a little bit of terrain detail, but the ease on your eyes at the end of the day will be appreciated...
Agreed, the polarization is really nice to have and you eyes will be happier at the end of the day.
I have the spectron 4 lenses. I use them primarily for mountaineering. I like the versatility of this lense as it functions well in daytime sunlight as well as flat light, cloudy conditions where you still need eye protection and good clarity. I have not noticed a dramtic difference in not having the polarization. my 2 cents.
These are fantastic glasses. I have tried all the different ones and when I look up, down, left, right along the periphery of my vision, these let in the fewest UVs. When I'm up high on a mountain I don't want to take any chances with my vision. The fit is great too. I have a low bridge on my nose so glasses love to slip down, especially when I glance down to check my footing. The adjustable ear hooks and rubber cinch keep these in place even when my face is sweating. I got the Spectron 4 polycarb lens because I didn't want to risk glass shattering on a fall. The white also looks sleek and cool. Great glasses - highly recommended.
Anyone run or biked in these??... looking...
Anyone run or biked in these??... looking for something that would cover it all..
These are exceptionally dark glasses, really only suitable for wear on snow or glacier. Not what you're looking for.
I have found that these aren't too dark and would work for biking. I think they would be a bit heavy for running.