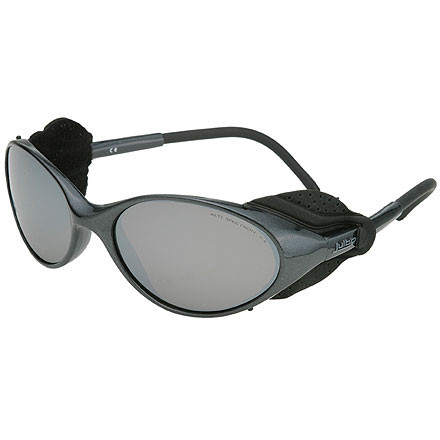 Community Images
Julbo continues to be the leader in glacier glass technology, and has created a winner with the Colorado Alti Spectron X4. Impressive price and protection are the hallmarks—check these out: removable side shields, adjustable temples, 100% UV protection, 95% visible light reduction(category 3), in a polycarbonate lens with color flash treatment. Remove the side shields around town for a versatile sunglass and a great value. The Colorado is ideal for bright light situations including backcountry skiing, cross country, skiing, and snowshoeing.
Awesome glasses for this price point!
Familiarity:

I've used it once or twice and have initial impressions

Fit:

True to size
I can't speak for durability yet, but I am loving these glasses so far. I wore them touring on the glaciers on Mt. Hood yesterday and they were great. I have really light and super sensitive eyes and I had no problems whatsoever with these (I usually do with regular sunglasses) - the side shields make a big difference.



The clarity was really great and they were comfortable to wear all day. Usually when I wear sunglasses with a hat all day I end up with sore spots behind my ears, but the bendable arms pretty much eliminate that because you can just flex them into whatever position you want.



I have a pretty average-sized face (i.e., women's-specific snowboard goggles are usually a teeny bit on the small size for me, large men's goggles take up my entire face and goggles labeled for "medium" faces usually fit perfect) and these fit just right.
thumbs up!
Familiarity:

I've put it through the wringer

Fit:

True to size
I love these. The spectron 4 lens is nice and dark on the snow. The flexible ear pieces are nice when youve got hats, beanies, helmets on. The price is hard to beat on these!
Unanswered Question
Can the Julbo or similar frame be available...
Can the Julbo or similar frame be available with coloured polycarbonate (or other plastic) side shields?
Nice dark glasses
Gender:

Male

Familiarity:

I've put it through the wringer
I use these on my motorcycle morning commute. The sun is in my eyes the whole way. These glasses definitely protect my eyes. They are very dark, I wouldn't use them in the city where there can be shade, but on the open highway they are great. Initially I had trouble inserting the flexible frame in my helmet. Then I found I can just insert them under the cheek pads before I put my helmet on. It's a lot more comfortable that way.



The lenses are very clear. The coating scratches easily so be careful.
Solid pair!
Gender:

Male

Familiarity:

I've put it through the wringer
I've had these for about a year now, use them everyday as my regular sun glasses, also use then when I snowboard. The side skirts do actually work! One reviewer said it would hurt the ears after all day use, just bend and conform them however you'd like to make them more comfortable, I love 'em!
I like these glasses. They polarize very well.

One con: is after a long day, back of my ears sometimes hurt.
Great Glasses for the Price
I think you would be hard to find a better value when it comes to outdoor glasses. I used them on a very sunny day with full snow cover and was very happy with them. They did a great job of blocking transient sun reflections. I would recommend them to anyone unless you really just want to buy something really expensive.
Julbo Colorados got a fair test on my chilly winter peak climb. Here's the skinny...
Clarity: Spectron 4 lenses were remarkably clear, blocking glare in bright sun. I thought 95% visible light reduction would result in a blackout in the low light, but definition remained deep into the shade. I don't recommend staring at the sun, but you could do it in these. There was some issue with fogging in changing temps, but better than other glasses I've experienced.
Side Shields: At 1st I thought synthetic side shields were plain cheap. The true verdict--leather tends to pick up moisture and freeze, these don't. Easy to remove also.
Frames: wrap-around style ensures good peripheral vision, even with shields in place. Frames are light with reasonable flex. These are suitable for wide faces. If you have a small face, you may have difficulty or look like a bug. More room, also cuts down on fogging.
Arms & Temples: Temples are moldable and comfortable.
* I discovered that replacement parts are available from Julbo if I should need them.
These are great glasses for a reasonable price.
Can I have them with my prescription.
Can I have them with my prescription.
You can do Julbo prescription through this site http://www.opticus.com/
Best Answer
Paul ..Ryan is correct Opticus in Boulder, Colorado is the best of the best! They specialize in all Julbo products especially mountaineering glasses , very good pricing as well.
How is the "hood" removed?
Great glasses, but not at all durable...
I have had a pair of these for a few years now. The price is right and they fit well and the lenses are quite dark. However the durability on them is pretty poor.
The problem I have have had (3 times now) is the earpieces, where they bend behind your ears, come loose from the ridged portion of the earpiece. Leaving them just barely hanging on by the rubber on the flexable part of the piece.
The only reason I have given these two stars is that when Julbo is e mailed about the concern they have mailed out replacement parts no questions asked in less than a week.
Just bought on SAC. Very happy with them. Light weight, flexible frames, good for activities beyond the mountains.
I echo the views of others here...good value, good coverage and fit, too. Also quite dark and well suited to altitude sports as you would hope given the pitch. My only disappointment was that I had some kind of clouding or delamination affect the lens after about 3 expeditions. I now keep 'em as a backup for my Explorers.
Good glasses for protection and price
I needed a good pair of trekking glasses to battle the high UV rays in the patagonias along with the crazy winds. These glasses were total troopers. Kept the grit out and bounced back that harmful UV's to save my eyes for another adventure. I would recommend these to anyone looking to take care of their eyes while enjoying the outdoors at high altitude or in extream weather situations.
Tough, good value alpine sunnies
Had both the Colorado and tthe Tasman (my face fits the smaller Tasman better) and both gave really great eye protection even without the side-flaps...and better ventilation with them removed anyways. With the flaps on, they could fog up when post holing up slopes etc. The mirrored lenses do focus the sun onto your nose though, especially in the snow/ ice, so be careful to wear either a nose-guard or plenty of cream. Both glasses survived really rough treatments on climbing expeds, ski trips and daily wear, never breaking despite my lax care. However after about 1-1and half years the rubber coating on the bendy arms split and inside brass wires came unstuck requiring some repairs.
provides good protection at a good price
Looking for good protection at a good price I tried both the Tasman and the Colorado. The Tasman fit well w/o the side shields, but with them, felt a bit tight. The colorado are much larger, maybe even too large, but this is mainly aesthetic. Even though they are big, they fit well, secure, and offer good coverage and keep the light out.
Very good glasses for the price. A little large for my face, but I opted these over the Tasman model - made for smaller faces - which was a tad too small. Comes with carrying case and drawstring.
Good air and light protection, while allowing good vision in shade. I wear them driving as well. Will cover my corrective lenses easily without bumping. Case and retainer cord is a bonus not mentioned in description and good value.