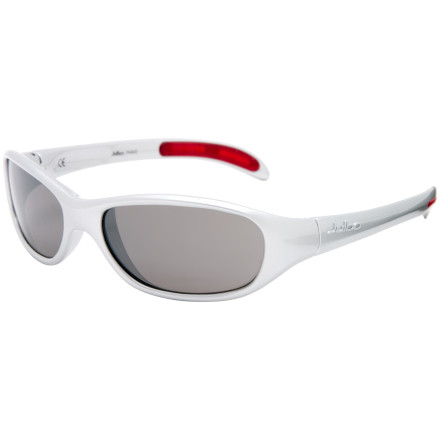 Detail Images
The Julbo Kids' Coach Sunglasses use high-quality Spectron X5 lenses to provide optimal sun protection for children from 3-8 years old. Julbo uses these same lenses in many of their glacier glasses, so you know they'll get the job done on a bluebird summer day. The Coach Sunglasses combine these dark lenses with a sporty frame design to give you kid serious eyewear for after-school sports and a variety of summer activities.
nice product -definitely for 3 and 4yrs
Familiarity:

I returned this product before using it

Fit:

Runs small
Sadly having to return the ones I ordered. I read all the reviews before I purchased, some said ok for bigger kids, but most said small. I decided to try anyway, but definitely too small for my boy. And remember you need to pay for return shipping.
Bought these for my nephew who is 6 years old. He loved them! He put them on and refused to take them off....even in the house :) They protect his eyes while out in the sun and the best part is that he will wear them! That is most of the battle with kids. Great glasses do nothing if they will not wear them. I suggest getting a pair of Croakies to make sure the kid does not lose them :)
sized for 3-8 yrs perhaps to broad
my just-turned-7-yr-old thought these were super cool but they were too tight and even looked too small for his face. he doesn't have a big head or a small one. i know heads come in all shapes and sizes, but i think 3-8 years might be too broad a range. i would consider them good for maybe 3-6.
Nice Specs for the Kiddo's
Not sure that I can add much more than has already been said. I picked these up for my 7 year old. The lenses make colors incredibly crisp so now the only difficulty is trying to keep the arguing to a minimum on who gets to ware them. They don't slip at all, and they seem much more durable than I expected, as proved by an evening in the dirt up in the Sawtooth's when my little boy "didn't lose them".
My son loves the red ones. He is 5 years old. Helped keep his eyes shaded out on the Oregon Coast. He had no complaints, and they seem pretty cool.
The glasses are just awesome.
The little one enjoys them very much.
She wears them al lthe time when she's outside.

The only thing that is not so cool is that it looks that we will need another pair in a year or so.
But could be because she's at 102 % in head size hor her age.

Well, we'll visit again backcountry.com.

Totally recommend the Julbo glasses. Spectron 3+
Kids glasses-best we have found
We have been buying these glasses for our son since he was four - now seven! They fit his small frame face well - love the polarized lenses- so durable - we have never damaged a pair!
This is the third pair of Julbo sunglasses I have purchased for my son. He is a two-year-old with a head on the larger side. The glasses are still a little loose on him but manage to stay on with the rubber grips and the shape of the nose pads. The lens quality is probably better than my own sunglasses. NO complaints =)
the glasses are a little too big, even though my son has a larger head. He wears them, and they have a great construction and the gripeez on the arm-pads are good at keeping them up. I keep them with us, we see too much sun. Overall, a better fit for a bigger kid, maybe next summer for us.
Fit Great - Stays in Place
I have two 5+ daughters who just received their Coach sunglasses. They fit extremely well and stay in place--no slipping down the nose like some of our other sunglasses(even pricier ones). Although they are snug they are not tight; I think it is the shape of the glasses that does the trick. These will be great for the Saturday soccer games as well as for every day. The only thing I might add is that I can't distinguish these "blue" sunglasses from black. So if you are expecting blue--you will be suprised at how black-black-blue they are. Otherwise--fantastic!
Excellent Fit and Comfortable, They Don't Slip!
I ordered a pair of the 'Keedz' and a pair of the 'Coach' sunglasses for my 4, turning 5, year-old daughter. The 'Coach' fit really excellent, and do not slip down her nose, whereas the 'Keedz' fit well behind her ears and at the temples, but do slip down her a nose, so light comes in at the top. She only uses the 'Keedz' as a back-up pair, and uses the 'Coach' every single day. I am ordering another pair of the 'Coach' so we have a spare. Really happy with them.
Unanswered Question
What size is offered for a 12 year old...
What size is offered for a 12 year old girl with a slender face who wants coach sunglesses