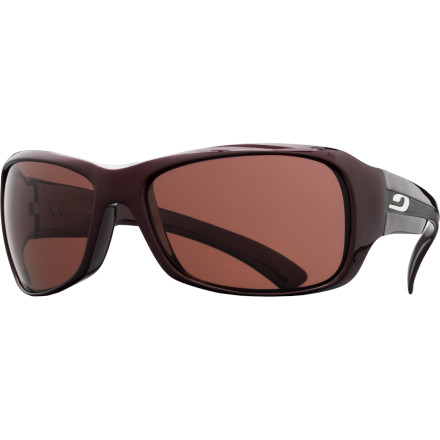 Community Images
You're traveling light when you're wearing the Julbo Cargo Sunglasses with Falcon Polarized Photochromic Lens. That's because the advanced lenses in the Cargo's XL-sized frames change tint according to lighting conditions, so you don't need to carry extra lenses to swap out of interchangeable frames when the day goes from bright and sunny to overcast. These one-stop-shop sunglasses also offers advanced polarization to cut glare and complete protection against the entire spectrum of UV rays. What could be easier?
Photochromic Falcon lenses automatically adapt to changes in light levels, offering 9-20% visible light transmission depending on conditions
Lenses' Behind the Windshield technology makes them get darker when you're in the car, so they're particularly suitable for driving
Polarization eliminates horizontal glare from things like water, the hood of your vehicle, and the road
Copper color of lenses accentuates contrasts for more comfortable vision
Anti-reflective coating reduces strain on the eye by removing interference glare
Oil-resistant coating makes it harder to leave fingerprints on your lenses
Base 8 curvature offers a wraparound fit for great peripheral vision and protection
What do you think about this product?
Have questions about this product?
Julbo Falcon Lens Details