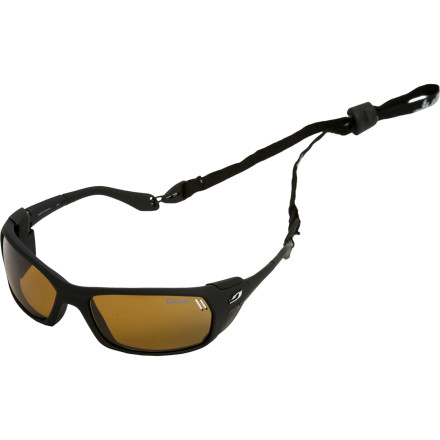 Detail Images

Community Images
Before you can summit, your approach takes you through high-desert foothills, a mid-mountain pine forest, and high-alpine snowfields. Julbo's Bivouak Sunglasses feature a photochromic lens that automatically adjusts its tint to the light conditions in each of these environments. It's also the first pair of mountaineering sunglasses to feature side shields that affix magnetically for easy adjustments with gloves.
Camel Photochromic lenses block 100 percent of UV rays and adjust their tint to available light so that the right amount of light always reaches your eyes
Polarized lenses enhance contrast and to provide your eyes with a sharper image
Magnetic side shields are easy to attach and block snow albedo from frying your peripherals
Anti-fog coating prevents condensation from building up on lens
Lens shape and mounting structure lend air flow to prevent fogging
Larger lens width creates a wide field of vision
360-degree stem ends bend in every direction for added temple comfort
Great All Around Outdoor Sunglasses
Familiarity:

I've put it through the wringer
I'm a huge fan of Julbo sunglasses and also own the Explorer with Spectron 4 lenses and the Dust with Zebra lenses. The Dust with the Zebra lens was my go-to pair for quite some time, but my eyes were suffering from a little too much fatigue on longer days on the trail at high altitude. I won't comment too much on the frame of the Bivouak, as that is a personal choice. Some frames will fit your face shape better than others. Having said that, I do love the way the Bivouak disappears on my face for longer days. The flexible and grippy ear stems keep them secure on my head with no movement and no burning discomfort. The magnetic eye shields are great, and do a wonderful job of keeping light out from the sides. The nose cut out also fits my face well, and doesn't allow any light to seep through. This was not the case when I tried on the Julbo Trek. That frame rode a little high on my nose and allowed light in through that section. The only knock on the Bivouak frames for me, is the amount of light they allow in from the eyebrow area from above. I have to cinch the neck strap tight, or wrap the flexible earstems in order to get a close-to-face fit. This usually isn't a problem, as I wear a hat to block light from above, but there are times when I've been hiking in snow and my low hat with lot's of sweat will cause fogging.



The 5% to 20% light transmission range on the Camel lens is pure heaven. I also like that these are polarized, which also lends itself to keeping my eyes nice and relaxed on longer days. I've used these on the JMT and other long hikes in the Sierra. That granite at High Altitude can be punishing, but these offer protection like none other. They don't change as quickly as the Zebra lenses, but the difference is hardly noticeable. I'm not wearing these for trail running or MTB like I do the Dust with Zebra, so the extra wait time is worth the extra protection.



So far, the Bivouak has proven to be very durable, and I don't see them falling apart on their own anytime soon. A great pair of sunglasses if you're looking for something to use while hiking, backpacking, or mountaineering.
Great Glacier Glasses
Familiarity:

I've used it once or twice and have initial impressions

Fit:

True to size
I took these on my summit of Mt Rainer and was very impressed. The ability to change shade was actually super-helpful all trip. I took them off at one point and was shocked at how blindingly bright my surroundings were! We took breaks every 90 mins or so, and needed to anticipate what we'd need between, so the glasses performed well in shade, glaring sun, sunrise, etc. Many of the guys that I was climbing with had fogging issues; not me. Excellent choice!
Great sunglasses!!
Familiarity:

I've used it several times

Fit:

True to size
I bought these about a month ago to use ice climbing and on glacier. I haven't put them through their paces on glacier, but they are excellent sunglasses. I originally bought the bivy's with the zebra lenses but they were too light/transparent so I returned them for these which are perfect.



Lenses transition slightly when going from dark to light, but not too much. The temples are adjustable to get a good fit, and I like that the side shields are removable. Personally, I think they're stylish but I guess that's objective. Super comfy, and they don't let light in around the top/bottom which is nice.



Would buy them again in a heartbeat.
Almost never take them off
Familiarity:

I've put it through the wringer

Fit:

True to size
I bought these about a year ago and I love them! Though the PNW does not get too many sunny days, are summers are full of them and I wore these almost every day hiking and climbing in the cascades. The polarized lenses really cut the glare and the camel lenses adjust so smoothly you can't even really tell it happened.



My head is kinda big (7 3/4) and so even with the moveable ear pieces they do start to hurt after awhile. A couple off times I have adjusted them just right and it has worked perfectly.



I have also used them cycling and they are superb in that arena as well. I plan on using them skiing as well, and will update after I do.
Julbo Jamboree
Familiarity:

I've put it through the wringer
These were one of the best purchases I made when planning to hike the PCT, hands down.

The adjustable arms allow for complete control in determining how they fit to one's face, so they can rest comfortably for hours even when the terrain of the trail is bouncing you up, down, and sideways.

The lenses are out of the world, in terms of their ability to thwart the bothersome effect of powerful, direct sunlight on the lucidity of ones eyesight, an important factor when having to tread over miles of boulder fields and gnarled roots.

What's more, they come with an attached croakie, so that you rest assured they won't be set down somewhere, thereby setting you back a pretty penny.

The removable side shields are a banausic bonus, something I have never before had the privilege of experiencing, but now something I will never go hiking without, given their incredible capability in reducing the amount of grit and wind that ultimately reaches my eyeballs.

While there were times when they would fog up slightly, that was usually due to the fact that I was hyperhydrotic and stalled somewhere on the trail path for whatever reason, and it never got so bad that I got aggravated with them; the moment I began moving, the fog would dissipate.

All in all, these served me well throughout the duration of a hike this past season along the PCT, and while they are not for one with a smaller face, per say, I believe it is entirely possible to accommodate such a feature with the adaptability of these sunglasses.

Rock on, Julbo. Rock on.
Debating on buying these to take on an...
Debating on buying these to take on an upcoming thru-hike of PCT? Any idea if that would be reasonable, or should I search for another brand/another style? These seem to cover the bases I need, and they're reasonably priced for the quality (so it would seem) but given that I don't know anyone personally who even owns this brand, nor has experience with it, I was hoping the community at large might be able to give me some direction. Thanks.
Best Answer
Julbo's are generally considered very high quality. Their plastic and rubber construction may seem cheap at first if you are used to metal frames like Oakley, but you will find its actualy very well designed. The lenses in Julbos are also top quality.

This particular model comes with the Camel lens that darkens when exposed to light (ie 'transition' lenses). The Camel works well and goes from super dark to quite clear.



Another fantastic feature are the removable 'wings'. It adds versatility to be able to remove them if they become uncomfortable for some reason.



I would say they are a great choice for a super-long hike like the PCT as would be any of Julbo's higher-end offerings.



PS. Best of luck!
Momma Don't Take My Photochrome Away
I will start out by saying that I have a fairly large dome. These do have a fairly large frame, but with the adjustable temples on these I don't see why they won't work for anyone with an averagish sized face.



I bought these primarily to wear while bootpacking/skinning in the Tetons and for this they work awesome, and thanks to the photochrome they even work for driving when it's sunny out. I haven't noticed any light leakage as mentioned in another review.



The first day I had them I did do a hike with the side shields on, then my second hike without them and it definitely made a difference. The wind was noticeable with the side shields on, by no means intrusive, but was nigh unbearable without them.



In summary, these are a great pair of mountaineering shades, I can't wait to try them out on the river and peakbagging this summer.
Frame too narrow
Gender:

Male

Familiarity:

I've used it once or twice and have initial impressions
Great lens, excellent design concept, but significant light leaked between the bottom edge of lens frame and my cheekbones, negating all the wonderful light adjustment and polarization the lens was doing. I guess I need chubbier cheeks.Or, maybe Julbo needs to do some ergonomic work on this design.
Do these suit a small frame face?
Do these suit a small frame face?
It depends on what you mean by "small frame." My face is pretty small, but these glasses hug my face stupendously by adjusting the stem ends to my needs. If you're speaking "small" as in narrow, I stand what I say. The malleable stem ends allow for adjustment to essentially any size or shape face. However, as one reviewer above mentions, there is definitely a bit of a ergonomic design flub when it comes to below the eyes, where your nose meets your cheeks; personally, I have a small space there, but it hasn't seemed to interfere with my enjoyment and appreciation of the performance of these shades while out riding, hiking or biking. Honestly, I think you would be fine with getting them, if you're in doubt. Normally I never buy sunglasses without trying them on, but considering their supreme attributes, I believe they are definitely worth giving a go.