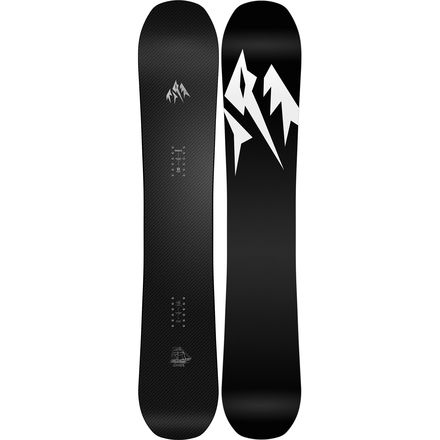 Description
Powerful precision for big lines.
Harness the powerful performance of the Jones Carbon Flagship Snowboard before slashing Alaskan spines, straight-lining Swiss steeps, or dropping pillows in BC's backcountry. Designed for expert freeriders and competitive big-mountain riders, the Carbon Flagship is based off the same legendary shape of its more forgiving sibling, the Flagship, but with a serious dose of carbon for stability and unflinching, bomb-everything prowess. Pick one up for your hard-charging needs if you think you can handle it.
Directional in shape, with a Directional Rocker profile, the Carbon Flagship effortlessly floats through deep, untracked powder, also providing set-back stability for mowing over choppy, tracked-up conditions. This hybrid rocker-camber profile delivers the powerful feel of camber underfoot, powerfully engaging turns and biting tenaciously into hardpack and ice, especially considering its Mellow Magne-Traction edges. The large, prominent nose kicks up early with substantial rocker, keeping you afloat on mind-blowing days when it's chest-deep and still snowing.
Inside this hard-charging board, the Hard Core is made of dual-density wood to provide uncompromising stiffness both lengthwise and torsionally. Carbon stringers increase torsional stiffness for instantaneous response, as well as boosting snap for sending natural features, such as cliffs and pillow lines. Going one step further, its bi-directional carbon sandwiches a full, tip-to-tail carbon layer along the top and bottom of the wood core. Ultimately, this dual carbon layer makes the Carbon Solution shine on extremely technical terrain where falling isn't an option, also prolonging its ultra-stiff flex pattern for the life of the board.
Directional shape with blunted nose
Directional Rocker profile
Hard Core
Carbon stringers
Bi-directional carbon
Mellow Magne-Traction
Oversized metal edges
Sintered ULTRA base
Carbon Flagship in action.
Check it out.
Dissapointed
Familiarity:

I've put it through the wringer
I know I am going to go against popular opinion here but I am gutted with the results I have had from my board - 2015 Jones Carbon Flagship. I am an advanced snowboarder and leader of my "pack" of friends. I have several boards and I bought the Carbon Flagship 166 wide to replace my ageing Salamon 166 wide. Typically I have spent the last 18 years with people struggling to keep up with me. When I switched to this board last season everything changed. The board is slow (I have tried 20 kinds of wax and setups) We tested the boards rolling down a slope which flattened out and my board was stopping way before others whose boards had not seen wax in years. I found the same thing in Powder - the board just sinks. At the time I bought my board I bought my wife a 161cm Jones Hovercraft. My wife has NEVER been able to keep up with me or go as far as me when terrain flattened out - now in Powder she passes me like I am standing still. I do not know if my Salamon 166W which was a flat bottomed board was just so outstanding but I think it is the worst 800$ I have ever spent. The board is very good when it is steep or going really fast on steep groomers - but the minute things flatten out a little it just stops. We do a lot of backcountry and places that I easily make on my Salamon my Jones just stops - even riding in the tracks left by my wife I cannot go as far as her even though I initially carry way more speed. I have written to Jones and not had any joy - gutted just gutted...
Just a tad too stiff
Familiarity:

I've put it through the wringer
Last winter I had a blast testing the entire 2015/2016 Jones Snowboard line up and a whole bunch more. Contact me if you want to chat/email about which Jones board will suit your personal riding style the best.

While I don't have this deck in my quiver, I rode the 2015/2016 model last winter and damn.

I rode the Flagship in a 161cm and the Carbon Flagship in a 158cm. While I enjoyed the Flagship in the 161 a ton, the Carbon Flagship in a 158 was awesome. It felt a tad small but handled great.

The only thing I have to say is it is just a tad too stiff for my liking. I'd personally opt for the Flagship. If I were 10-20 pounds heavier, then the Carbon Flagship would be my board of choice then. This is a stiffer board which handles great in pow but also on hard pack.

Sizing:
Shoot me an email or call me and we can size up a board for you!

Shoot me an email anytime you have questions about this board or if you'd like to compare decks or work on a full snowboard set up!

Jared D.
Expert Gearhead
801.736.4336
jdowns@backcountry.com