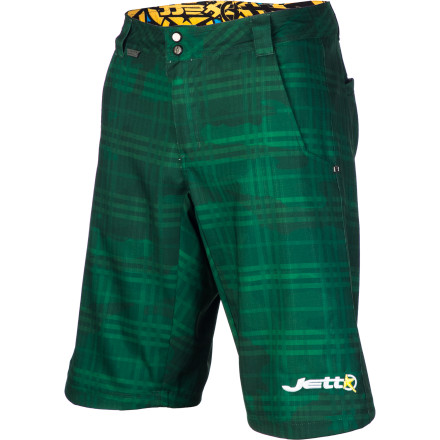 Detail Images
However you earn your turns—by pedaling uphill or paying for a lift ticket—the Jett Gear Ride Short works as hard as you do (harder if you're riding lifts) to keep you dry and comfortable while you ride.

The Jett Gear Ride Bike Short's polyester body fabric pulls moisture away from your skin to keep you dry and comfortable, while allowing your skin to breathe and regulate its own temperature. And, because the folks at Jett Gear know how tough you can be on your equipment, the Ride short is double-stitched throughout for added durability.
The Ride Short also comes with a 3-dimensional seamless chamois. This gender-specific chamois features multi-density foam that not only manages moisture, but absorbs shock and vibration that can cause fatigue and numbness. The 3D chamois is also removable, allowing you to wear the short alone or wear the chamois in other shorts on when your ride shorts are in the wash.

The Ride Short takes care of all your storage needs with two front pockets and a specialized key pocket to make sure you don't find yourself locked out when you get home. There's even a zippered cell phone pocket to secure communications.
The Jett Gear Ride Short comes in even sizes from 30 to 38 and in the colors Green Plaid or Black Plaid.