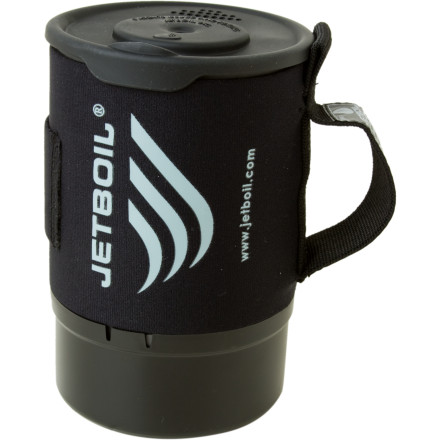 Detail Images

Videos

Community Images
Share your thoughts
What do you think of the
Jetboil
Zip Cooking System
? Share a...
Bomber
Familiarity:

I've put it through the wringer
I first saw a Jetboil in action when I went through land survival school in the military. The instructors used them and made us students boil water the hard way; in a can, over a fire, in the rain and snow. The Jetboil boils water so fast it is impressive. When I started backpacking and mountaineering I bought the Zip. 1. It's smaller, which means lighter and easier to fit in a pack. I had read that the cup of the Sol was thinner and I wanted something that would take some abuse. 2. It's old school. There is no built in ignition, which means less stuff to break. I like using a flint striker to light it, hasn't failed yet (5 years). 3. It's cheaper. We all want the really fancy gear, but who can really afford it? Not this guy, but for the money the Zip is legit.
Hot water super fast
Familiarity:

I've used it several times
My least favorite part of camping is getting up in the cold and waiting for coffee to brew in a percolator. With the Jetboil my wait time is cut exponentially (with the help of Starbucks actual drinkable instant coffee, but would be great for a press as well). Super light and compact this works well for backpacking, or to speed up car camping. Would recommend to anyone lacking patience like myself.
Coffee... QUICK!
Familiarity:

I've put it through the wringer
There are two things my boyfriend and I pride ourselves on... The perfect cup of coffee, and super-deluxe oatmeal. Two things that we don't have to ever give up, even at 10,000 ft+! Our JetBoil is the perfect sunrise coffee companion boiling at hyperspeed.

Hint for coffee fiends: once the little heat indicator swirls have almost all changed, turn off the heat and pour in your grounds!

Now enjoy the new day!
Stove or not for 3 days on the big wall?
Gender:

Male

Familiarity:

I've used it several times
Wether its waking up on the porta-ledge or crawling out of my bivy somewhere on the Cathedral traverse, I'm tired of eating cold crap for dinner and not having tea in the morning. Yet my super tiny stove doesn't do well when the ground is made of Nylon, or a chopped ice step. I needed something that was both efficient and could hold itself together when precariously placed in a dangerous area. Thanks to the highly technical hose clamp and old road bike tube I was able fashion a cheap hanging device (with help from the internet of course) that let it stay where I put it. It even heats water real fast when its windy! But don't ever make your tea, or (gasp) spigot inside the pot or a lightning bolt from Zeus will surely strike down you and your stove for not following the directions. Not to mention, you are going to need that lightning bolt because IT DOESNT HAVE A PIEZIO LIGHTER. Better get out those water proof matches or TSA restricted gas lighters. I think that 1 or 2 oz difference, may be lost in the 3 lighters I need to carry so I can find 1 in the hall bag after dropping two on the poor saps below. adequate for the job, limited use, and expensive. I'd probably spend more next time and get the piezio lighter. Did I mention there isn't any room inside for that tiny lighter? Better pack it somewhere else, or better yet bring a special stuff sack labeled 'lighters.' That way the TSA can find it a bit easier when they ransack you haul bag.

Spend the extra money and get the built in lighter, and remember, no Romin Noodles in that thing! kprts.blogspot.com
Perfect lightweight cooking system
Familiarity:

I gave it as a gift but have feedback to share
If you are thinking of what kind of stove you need for a backpacking trip look no further. The jetboil zip cooking system is light, fast, and incredibly effective in even some of the harshest conditions. Fuel is very easy to transport for this stove and because of it's size can really be taken anywhere. Having given this as a gift but also selling a ton of them to customers it's hard to argue that you can find a better cooking stove for size, weight, and performance.
What's the difference between this and the Jet Boil Flash?
Hey Grizzly,

There are a few difference between the Zip and Flash!

Zip: .8L pot, Match ignition, 12oz weight.

Flash: 1L pot, piezo ignition, 14oz weight

Let me know if you have any other questions or would like to set up an order!

Ben

brabinowitz@backcountry.com
801-746-7564
Great camp stove, highly recommended
Familiarity:

I've used it several times
Took this on my last trip and it performed really well. Waking up to the 30 degree mornings, it boiled the water for my coffee in just a couple minutes. I like that everything, including the small fuel canisters, fit inside the cup. It really keeps it neat and together.

The only complaints I have are that sometimes it was a bit finicky to light. and the bottom cover never seemed to stay on (I guess mine got damaged somehow).

Overall, I'm really happy with this cooking system and have recommended it to all of my friends.
Jetboil Zip Cooking System
Is pot stabilizer included?
Is pot stabilizer included?
Hey Pablo,

Thanks for your question.

It comes with the orange fuel canister support but it does not come with the attachable metal pot stabilizer. That is sold separately - http://www.jetboil.com/Products/Locking-Pot-Support-and-Stabilizer-Kit/

I hope this helps.
Best Answer
Hey Pablo,

Just want to add that the removal of the pot stabilizer is a running change going into effect with the 2014 models.
Can I use an 8in GSI Pinnacle pot with...
Can I use an 8in GSI Pinnacle pot with this stove?
Best Answer
You could probably get away with it but, it wont sit nicely on the stove. This stove is really only meant to be used with Jet Boil accessories. This way you can lock the pot to the stove, in a pinch the stove will heat the GSI pot just wont be pretty.
I used it for the first time this weekend. It worked great. Melted snow quickly and boiled water quickly. The only thing and it might just be me but I had trouble lighting it. I dont know why but it took a several tries to get it to ignite. I was at 7,000ft. I dont now if that plays a part.

So I just tried to cook a package of the Pasta Sides you can get at the grocery store. It didnt go so well. It calls for 16oz of water (which easily fits in the Jetboil. Then add the ingredients and bring to a boil. When it starts to boil it spills over and makes a huge mess. I tried to adjust the heat level but didnt seem to have much effect. Maybe use less water? Anyone else tried making Pasta Side in a Jetboil?
You'll be very happy with a Jetboil Zip
Gender:

Male

Familiarity:

I've put it through the wringer
This was my stove on the AT - I loved it. Boils in a flash, high quality construction, and you can fit its complementary pieces (and the smaller fuel canister) inside of it for storage. I used to be a professional cook for 5 years, and I can't be happier with how this performed on the trail. No complaints. Great product.
I recently ordered this from Backcountry....
I recently ordered this from Backcountry. I love the stove, but the pictures for the product shows the pot stabilizer as part of the stove. I received the orange base/fuel stabilizer, but the pot burner stabilizer was not included.
Should it have been? Or do I need to order one?
Hey Brady,
The pot stabilizer is sold separately, sorry about the confusion.
Best Answer
Brady,

Part of the confusion may be because the Jetboil Zip Cooking System was once sold with the pot stabilizer included, but Jetboil has decided to make this an add-on item for this model going forward.
Great and Fast Product
Familiarity:

I've used it several times
Took this on a 2 week road trip on the west coast and loved being able to make hot tea fast and easy in the morning. Plan on using it for many more road trips and camping excursions. Highly recommend this.
Great Product
Familiarity:

I've put it through the wringer
This product is great for many reasons. Not only does the zip system boil water within minutes on a blistering cold night/morning but it fits and stores so well in you backpack for multiple packing days. I have had my zip system for 2 years now and love it! I use the cooking system for other pots and pans as well. The bigger jetboil cooking systems are nice...but in the end , the zip is well worth the buy, because if you are like me and love to use every space you can in your bag...then the zip is the way to go.
Nice stove, but one issue
Gender:

Male

Familiarity:

I've put it through the wringer
My only gripe with this stove is that the knob that regulates the fuel is too small and slippery. In fact, while cooking some ramen noodles I nearly blew myself up (lol!). I took my eyes off the stove just for a second and I had boiling water overflowing. Since the knob was so small, it was a sketchy situation trying to turn down the fuel with boiling water overflowing. With the more expensive Jetboil's, the fuel knob is longer piece of wire that extends out more, making it a heck of a lot easier to turn the fuel on or off. My friends still laugh about that time I almost blew myself up with the Jetboil.

Outside of the fuel knob issue, this is a great stove. Lightweight, packs easily, and boils extremely fast. As far as the specific Jetboil ZIP model, I would recommend spending the extra $20 and getting the Jetboil PCS, just for the extended fuel knob. Although, most people probably are a lot more careful when cooking than I am.