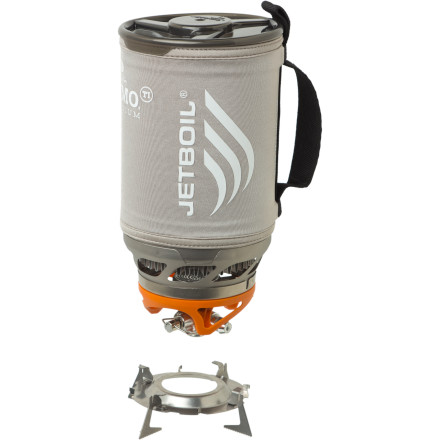 Detail Images

Videos
Jetboil designed its larger, group-sized Sumo Canister Stove with a single push-button ignition, a highly packable design, and feathery-light titanium to boot. Liquid fuel stoves can be a slow, patience-testing mess, but the Sumo uses simple, screw-on canisters to get you set up and cooking fast. Melt snow during the winter, simmer some soup, or heat up the morning coffee and hit the trail fast thanks to this self-contained cooker.
FluxRing heat exchanger system maximizes fuel efficiency and promotes even heating by uniformly distributing flame along the bottom of the cup
Thermo-Regulate technology keeps a consistent heat to 20 degrees Fahrenheit for easy cooking
Adjustable burner is surrounded by a windscreen to reduce heat loss and improve fuel efficiency
The 1.8-liter, titanium cooking cup is ultralight, transfers heat efficiently, and cleans up fast
Neoprene cozy designed to stay in place while stove is in use; increases heat retention and improves cooking efficiency
Push-button ignition and wire heat adjuster make stove operation simple and quick
Included fuel canister stabilizer attaches to the bottom of your fuel canister to enhance stability
Clear measuring cup with graduated lines unsnaps from the bottom of the cooking cup for greater precision when preparing meals or hot drinks
Larger groups can take advantage of a variety of pot sizes while smaller groups can easily downsize (additional pots sold separately)
Jetboil fuel canisters (sold separately) are light and provide ample burn time, and they simply screw onto the bottom of this stove to keep things mess-free
Note: fuel canister and pot support are sold separate
Jetboil Sumo Ti Canister Stove
the star of the show!
Familiarity:

I've used it several times
Just got back from an October backpacking trip. The Jetboil definitely stole the show, and saved the day! Temps got into the upper 20s at night, but this jetboil didn't even notice the nice layer of frost on everything in the morning. It still boiled water like a champ for some hot tea and hot oats in the freezing temps. My take on this is as follows;

- Get a TITANIUM Jetboil for sure, sumo or otherwise. The weight difference is noticeable.

- 3 guys on a 3 day trip, sumo capacity was more than enough. Would've been just fine with a smaller Jetboil.

- No need to clean if just boiling water. If cooking in the Jetboil, cleaning is a breeze; just boil some more water and scrub.

- Find a small stuff sack to put the auxiliary items in; fuel canister, ignition stand, and base. That way, when you pack those items into the Jetboil, it won't get dirty/wet/rusty.

- The heat adjustment handle was easy to turn with gloves on.

- The self-ignition worked about half the time. Don?t rely on it.

- Side note; consider using chopsticks on your next excursion. Works great for stirring, stabbing, and even spooning if your food is ?sticky? enough (oats, rice, noodle types)

This was a huge improvement to my backpacking experience, and I can fit my entire camp kitchen into one pocket on my bag. Definitely recommend this product!


great little stove
Familiarity:

I've used it once or twice and have initial impressions
I got one of these this summer for a three day canoe trip and it works great it could bring a can of soup to a boil in about a minute and a half. It has an electric starter so you don't have to carry matches but you should anyway. I'm also a boy scout so i plan on bringing this to philmont and northern tier which this is good for since its compatible with other jet boil cooking cups
Can I take it with air fly? I am wondering...
Can I take it with air fly?

I am wondering if i could pack it as carry on or checked in bag when I travel by air?
I'm pretty sure you'll be able to carry it on or check it, as long as you don't bring the gas canisters with it.
Best Answer
You'll definitely want to check with the airline before committing to it. I know some airlines and/or countries say absolutely no stoves or gas if they have been used. Even if you don't have the canister the stove will have traces of fuel on it that may set off some alarms with nervous baggage screeners or the TSA.
I agree with Arthur. Always check with your airline as well as TSA regs. The best option is to ship if you'll be doing a domestic trip. I'm heading out to Rainier soon and I'll be shipping a package from Chicago with my jetboil to Seattle first.
TSA claims you can pack empty stoves and fuel bottles as long as they have been aired out and washed.



http://www.tsa.gov/traveler-information/camping-gear



Check with the airlines as they might have different regulations.
Friend of mine
Gender:

Male

Familiarity:

I've used it several times
A friend of mine got one of these, and he tried to use it on a colder weather backpacking trip. After the first day we really stopped using this system and just used my msr dragonfire. Like stated before kinda small cup to melt snow, and doesn't work the greatest in cold weather,7-15*F, although works a hell of alot better than other canister type fuel stoves. It worked but was just alot of trouble. I think for the money, and for the purpose of cooking for multiple persons, this stove falls a little short in the winter months. So you know though in muggy, windy, wet, adn other poor conditions in 3 season backpacking this thing has been easier to use than my liquid stoves.
Anyone know what the weight of this is...
Anyone know what the weight of this is WITH pot support, fuel stabilizer and measuring cup?
I'm wondering if anyone knows if this...
I'm wondering if anyone knows if this jetboil lights well at elevation? 14,000 plus.
Best Answer
HI Karen,

"Lights" as in how using the push button ignition goes?: No, it doesn't, bring a lighter. No electronic ignitions on any stove do at that altitude. Also, depending on what the temperature is during the time of year you plan on using it at 14k, Isobutane begins to burn very poorly below about 25 degrees F. The altitude and colder temps make either a stove that burns white gas or at least one that allows you to invert the canister better choices, IMO. Another thing to consider is that the volume of the cup is generally what many would consider too small to melt enough snow for drinking water and cooking without going through lots of fuel and long burn times. Snow is 90% air, 10% water, and the recommended fill line of the cup is half way. Hope this helps.
How much does this weigh in comparison to...
How much does this weigh in comparison to the regular Titanium sol?
Best Answer
The Sumo Ti cup is 285 g and the regular Ti cup is 185 g.