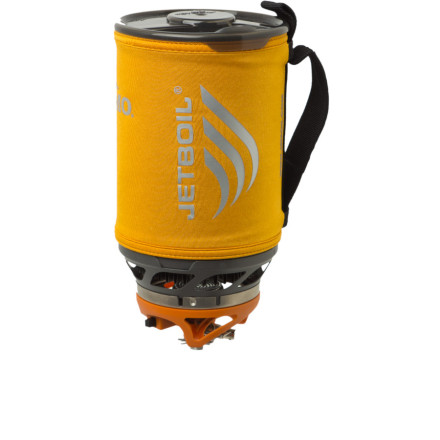 Colors

Detail Images

Community Images
Description
Large, powerful, and ready for all the tasty vittles you can handle.
Liquid fuel stoves can be messy, heavy, and bulky, but the JetBoil Sumo Canister Stove packs into a tight unit, fires up quickly, and gives you the power you need to whip up dinner for larger groups. Built with simplicity and convenience in mind, this stove and 1.8-liter FluxRing pot weigh a feathery 16 ounces. Melt snow, or brew up some morning coffee, and you'll be back on the trail in no time.
FluxRing heat exchanger system maximizes fuel efficiency and promotes even heating by uniformly distributing flame along the bottom of the cup
Thermo-Regulate technology keeps a consistent heat to 20 degrees Fahrenheit for easy cooking
Adjustable burner is surrounded by a windscreen to reduce heat loss and improve fuel efficiency
The 1.8-liter, aluminum cooking cup is ultralight, transfers heat efficiently, and cleans up fast
Neoprene cozy designed to stay in place while stove is in use; increases heat retention and improves cooking efficiency
Push-button ignition and wire heat adjuster make stove operation simple and quick
Included fuel canister stabilizer attaches to the bottom of your fuel canister to enhance stability
Clear measuring cup with graduated lines unsnaps from the bottom of the cooking cup for greater precision when preparing meals or hot drinks
Larger groups can take advantage of a variety of pot sizes while smaller groups can easily downsize (additional pots sold separately)
Jetboil fuel canisters (sold separately) are light and provide ample burn time, and they simply screw onto the bottom of this stove to keep things mess-free
Note: fuel canister and pot support are sold separate
Share your thoughts
What do you think of the
Jetboil
Sumo Canister Stove
? Share a...
Essential wilderness comfort piece
Familiarity:

I've put it through the wringer
As a former lead guide I would treat my team to hot water for tea and make coffee every morning. The sumo in its 1.8L glory got the job done well. The large strap on the side allows for easy pouring and outer cover does wonders to insulate the cup. The included lid has a pour spout and drain holes which makes straining pasta and pouring drinks smooth. I fit my burner, and fuel inside to pack efficiently and I recommended getting the pot adapter for it. It transforms my stove into a veraitle cooking surface that works well with my mini cast iron when cooking out of the back of my van.
Great Stove
Familiarity:

I've put it through the wringer
I recently was charged with outfitting my group (wife, sister, brother-in-law, brother, sister-in-law) with gear for a week long trip in southern utah canyon country. We got tents, sleeping bags, stoves, backpacks, the whole run. All of our gear held up and served us well.
The Jetboil Flash is great for 1-2 people. I opted for the Sumo for our larger group and to give me a bit of flexibility
So simple to use and fast
Familiarity:

I've used it once or twice and have initial impressions
It's me and my hubby in the backcountry so we are always heating water for two. This is perfect for that purpose. It's so quick and convenient compared to an alcohol stove. We share the load so the extra weight of this item isn't an issue, and it's way more convenient (and lighter)than both of us carrying a Flash. If you have a partner when you're in the boonies, this is the way to go. If you're solo, get the Flash
Huge
Familiarity:

I've used it several times
I didn't realize how large this Jetboil is compared to the other models. In the photo is displayed: SOL, FLASH and the SUMO. The SUMO is great for multiple people to be using., but not the best if you are backpacking and need it just for yourself. It does take up a bit of space in your pack...
Can't be beat
Familiarity:

I've put it through the wringer
Quick and easy to boil water, simple & compact storage, lightweight and easy to clean! I usually take my Flash when going solo but whenever the group size is 2+ the Sumo always comes with.
Eating great in the backcountry
Familiarity:

I've put it through the wringer
The jetboil sumo has been a great addition to my back country kitchen - Perfect for cooking for a small group, quickly boils water for coffee in the morning and finishes the day strong by letting me simmer a great meal for dinner. Highly recommended if you are cooking for a few people.
I'd still be hungry if i didn't have it
Familiarity:

I've put it through the wringer
Jetboils. Is. The. Truth! no matter who i go camping with, if they don't have one on our first trip, they usually show up with a jetboil the second time out. even if it's windy the flame lights. it boils water at an insanely high speed. there's not too much versatility with this piece: it's pretty much for boiling water/ soup/ etc. it packs up within the canister and stows extremely easy. if you're only cooking for one, this is a bit overkill. but if you find yourself cooking for two, or needing to boil water for the group, this is a CRUCIAL part of your gear collection
Group Camping Just Got Easier
Familiarity:

I've used it several times
This stove has made it so much easier to cook larger meals for multiple people while out and about. Being able to boil 32 oz in 4.25 minutes allows you to cook more or even boil a large amount of drinking water in a short time without adding too much weight. Compared to the Flash Personal Stove from Jetboil, it is only 2 oz heavier and yet has double the holding capacity. Jetboil also really thinks about what to add to their products to make for a pleasurable cooking experience like adding the windscreen to the burner (and it really works) and the push button ignition so you don't have to fumble around for loose lighters in your bag. If you are considering the Flash or any other stove for that matter, definitely look into the Sumo as you add minimal weight to your pack while at the same time opening up a lot more options in terms of cooking! Great for large groups!
Excellent Buy
Familiarity:

I've used it once or twice and have initial impressions
We had the Sumo on a weekend backpacking trip with three women. It was perfect! Easily and quickly boiled water for hot drinks, and used its cooking function for Internet trail cooking recipes including soups, stews and breakfast scrambles. Clean up is a breeze with the non-stick interior surface. Highly recommended.
Ive had the PCS for many years but always found i had to heat a second pot. I camp frequently with my two kids or with their boy scout troop. The Sumo was fabulous this past weekend on our first backpacking trip since i received it. Boils water fast and plenty of volume to get coffee and breakfast moving along. I highly recommend it if you find yourself pouring coffee for more than yourself.
Compact, cleans easy.
Familiarity:

I've used it several times
I haven't used the JetBoil Sumo on a camping adventure just yet but it's done the trick on a 6K+ mile road trip. I used to pack an electric burner and an assortment of pots but I can cook up some great one-pot meals with just the JetBoil. I'm impressed with how easy it is to clean and pack, not to mention it's versatility. I'm not so sure I could feed 4 people with it but I can prepare more than enough for two hungry bike racers...


Big Enough for the Whole Family
Familiarity:

I've put it through the wringer
I have used this in the High Unitas; yes, but the place this gets the most usage in my life is parking-lot lunches and the ski resorts. I will quick as lightning boil up some water for hot chocolate, pass some around to the fam, then put a pot of soup on it to simmer and warm while we eat sandwiches and sip our cocoa in a semi-circle of camp chair around the tailgate.
Pot is huge and the burner gets it boiling very fast. Well constructed. I have dropped it and accidentally kicked it many times and it is good as the day i got it. I alos like how all the parts fit inside the pot when not in use.
Super big pot. Great for a few people eating lots after long hikes .. Its overkill for 1 person but perfect for a small small group of 2-3. JetBoil is the best you can get. you'll never be disappointed.
Which companion cups fit on the burner?
Familiarity:

I've used it once or twice and have initial impressions
I just got the Sumo, this thing is awesome. If im going out alone and want a smaller cup, will they fit. Which companion cups fit on the Sumo burner?
No longer comes with pot support
Ordered from Steep & Cheap and the pot support wasn't included. The box shows "Compact Storage" and how to store with support and the instructions show the support and how to use it. So, it looks like it was to be included even though there is no "What's in the box" section saying for sure. I called JetBoil and they said it's not included effective the Summer of 2013, but sent me one free anyways (Excellent Service).
Will this work with the coffee press? Is...
Will this work with the coffee press? Is its diameter the same as the Flash?
Unfortunately it will not work with the Sumo since the diameter of the Sumo is too large to make a seal with the press and the grounds. The press only works with the Flash and PCS lines (Sol, Zip, etc.).
Although this is an old thread, the Sumo has since had the capability of using a coffee press. Jetboil came out with a "grande" version. You can see it here: http://www.jetboil.com/Accessories/Coffee-Press-Grande/
Great - boils quickly and does the job
Familiarity:

I've put it through the wringer
My family of four is well taken care of with this.
I resisted getting a JetBoil for years as so people raved about them to the point of religious zealotry, which scared me off. Now that I have one... watch out - you can't shut me up either. :)

JetBoils in general are amazingly efficient stoves, and for boiling water they almost approach the speed of a microwave - superfast. And, they also do it with very little fuel. I couldn't believe the 1oz per person per day stats, but after taking it on an eight day river trip with an 8oz canister, I can vouch for it.
All that said, they work best for boiling water in warmish weather and I would not take one on an extended Alaskan ski trip where you are melting snow for hours on end.