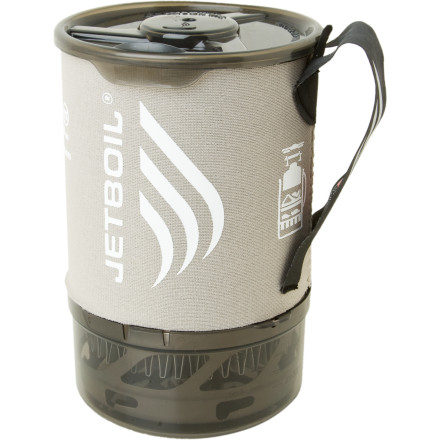 Detail Images

Videos

Community Images
Solo
Familiarity:

I've used it several times
It is so lite. I was really surprised on the weight. Can't tell I'm carrying anything. It came with the potholder and stand also. Very nice product
Yup
Familiarity:

I've put it through the wringer
does what it says, boils jet quick. Igniter gets pushed down, but easy fix. Use your fingernail and bend back to about 1/8" from burner.
As Fast as the Mircowave
Familiarity:

I've used it several times
This stove is super lightweight, but little pricey. If you need to boil water it works great. You will have steaming hot water in no time. Great for dehydrated meals. This doesn't have the indicator on the outside to let you know it is boiling, but it you have eyes you can just look down the lid spout and see for yourself. Or just listen for the boiling. I had my water boiled before my friend even had his alcohol stove lit. The fuel may be a little pricey. This is more expensive than the other jet boils and does the same thing, so it comes down to what is more important weight savings or money.
Fast, light, unforgiving
Familiarity:

I've put it through the wringer
I'm nearly always surprised at how fast this thing boils water, and it's incredibly light. The french press addition is also really great, coffee is nowhere as good as in the mountains.

It is not for every user or every use though, and it needs you to take some care with it. Don't melt snow, don't cook anything at all and DO NOT turn it on without water in the pot. The fins that catch the heat from the burner are not very well soldered to the bottom, and will start coming off if the overheat. And after they start breaking it will continue breaking even if you're only boiling water.

I hate giving it only 3 stars, it deserves more in some respect, but I expected more durability from such an expensive unit.
Jetboil Sol Titanium Stove
Are weight savings worth the money?
Familiarity:

I've put it through the wringer
All Jetboils do what they say they will and this little guy excels at it. But before spending the $160, look at getting a Zip for half the price. We took both the Zip and this TI Sol on our last trip and I will say they are nearly identical. The flame adjustment knob on the zip is not as user friendly as the Sol's paperclip style adjuster, so it does have that advantage.



For ounce counters, get this stove, but for the rest, take that extra money and put it towards an ultralight pack.



But its titanium... I'm happy.
cant go wrong.
Familiarity:

I've used it several times
It does what it says, jet boils water in basically seconds... dont walk away, cause its sure to boil over if you do. great for hot drinks or add water meals but not really a good "cooker" If you pour w the lid off its pretty smooth with minimal spilling.
Awesome
Familiarity:

I've used it several times
Myself and many of my friends use this product in the field. The Sol Titanium is a great piece of gear to have; it's durable, light-weight and fuel efficient as well (I used it for coffee or ramen 3-4 times a day for an entire week and used less than one 3.5oz cannister). I would give it 4.5 stars only because of the fact that there are only two temp settings: Boiling and Off. The spout on the lid is only for sipping so expect a mess the first few times you try pouring your coffee into a cup (the trick is to pour quickly). Otherwise it's awesome.
The bottom orange plastic piece around the...
The bottom orange plastic piece around the heat source melted at the bottom of the container. Has anyone else run into this issue?
Best Answer
Hey Errin,



Thanks for your question.



Yes, I have run into that issue with Jetboils. We were cooking bacon on a windy morning and due to the length of time the burner was on and the wind factor it created a situation where the plastic piece was melted. I would suggest you check out a new burner assembly from Jetboil directly. http://www.jetboil.com/Products/Flash-Burner-Assembly/
It wasn't windy when we used it, but lucky for me I bought it here from Backcountry.com and they will replace it. :)
Photo shows a Jetboil Jetpower 100g / 3.53 oz fuel canister weighing in at 6.95 oz (full) and 3.40 oz (empty). Therefore, weight of gas in canister is 6.95 - 3.40 = 3.55 oz (darned close to the stated 3.53 oz!).



Jetboil says their stoves can boil 12 liters of water (= 24 half-liters) with one of these canisters. Therefore, on average, each half-liter uses 3.55/24 = 0.15 oz of fuel. With this information, and if you have a decent scale**, you can estimate how many "half-liter boils" remain in your used canisters using the following formula:



Remaining "half-liter boils" = (x - 3.40) / 0.15

where x = weight of partially used canister, in ounces.



When I return from a backcountry adventure I write remaining gas weight and remaining boil info, with a Sharpie, on the bottom of my canisters.





** I bought this scale - accurate down to 0.05 oz - and a set of calibration weights (to confirm accuracy) for $15-20 on eBay - search "5kg 11lbs 1g digital kitchen scale". I've also used a digital postal scale, at work, in the past.
Meals for a king... and his army
Familiarity:

I've used it several times
Because it's a group cooking system, you can easily get 10 or so meals (by serving size) done in just as many minutes. I use a regular AL unit for things like melting snow (you can really judge it on that since it's specifically NOT meant for that) but for boiling water, even icy water after a cold night, this one is a champ. It's big, so I limit it to car-camping or trips where low-volume isn't an issue, and it performs great.
great gift
Familiarity:

I gave it as a gift but have feedback to share
My dad was stoked about this! He can't wait for summer to camp now.
Great stove
Familiarity:

I've put it through the wringer
This is a great stove for heating water. It boils quickly, and uses fuel very efficiently. I have cooked ramen in it once and it was a bit of a disaster, its really best for heating water and dumping into your freezer-bag or dehydrated meal etc. On Colorado trail last year (so decent elevations) I was using one of the normal size gas cans every 10 days or so, with ~3x big mugs of hot beverage, and ~4 cups of hot water daily for rehydrating meals. Also the normal size cans fit nicely into the canister, add a small dishrag to the top so things dont shift and its a great little setup.




Compared to the other JB's...
Familiarity:

I've put it through the wringer
I've used pretty much all of the Jetboils. The regular one, in modern-day standards, is too big and heavy for light and fast stuff. The titanium didn't do the job for me, because it was too fragile---it burned too easily while trying to melt snow or actually cook in it. The TI one seems to only be good for boiling water.



But the SOL seems to be perfect for me. With barely any weight penalty (vs. the TI), it is fully functional, more durable, and a good size.



The plastic bottom cup tends to crack, which kinda sucks if you actually use it. But since you probably don't, it doesn't suck. Like, at all.



I HAVE ACTUALLY SEEN ONE OF THESE THAT HAD BEEN USED MORE THAN TEN TIMES AND THE PIEZO IGNITOR STILL WORKED. Actually, it'd been used for over a year and it STILL LIT. Although I've never had any of my JB lighters work for more than a few weeks.



For personal or 2-person light-and-fast stuff, the SOL is the best JB out there. I've taken it all over the world, and appreciate it for what it does: cook, boil, and melt stuff without making me angry for carrying it "all the way up here."
First test of this little burner. Really a great package! Amazing how fast it gets the water to boil. A lavish way to have portable fresh coffee brewer regardless of where you are - not even out on the trail but just any place at all you want to take a break and have a cuppa!



I was astounded how quick and easy this was to use. Make sure to order the coffee press too - it fits conveniently in the unit too!
Best lightweight stove for my money
Familiarity:

I've used it several times
Stop here. Buy this one. I recently decided to invest time and unfortunately a decent chunk of cash into lightening my overall pack load. I've used Jetboil since 2007 and my original one is still going strong even if it does need a manual light (ignitor went out this year). So I have zero concerns as far as performance. These things are golden. Here is why I think this model is the best lightweight stove on the market:



- At 10 oz it rivals some of the stoves that the ultralight backpackers have been using for years but is arguably much more user friendly. Many of the published stove weights don't include the cup/kettle they use. With JB, it's part of the system.



- Fuel: when comparing stove weights, many forget to consider boiling times. The JB is so fast and efficient that you will use less fuel compared to other stoves. The small 100 g fuel canister that fits inside the JB gives you 60 minutes of boil time! Thats over 50 cups (or 25+ full Jetboil cups). I only boil water when backpacking, so for me this works out to EASILY being able to get by on a small canister in a week. I figure I could go 10-15 days if needed.



Summary: there are lighter stoves out there, but when you factor in ease of use and fuel efficiency, the real value is here. i wouldn't have said that before the Sol Ti model, but JB shaved just enough oz to make a case for even ultralight nerds to give this a chance.
Jetboil Sol Titanium...Awesome!
Familiarity:

I've used it several times
I bought this a little over a year ago to replace my Markill and MSR Pocket Rocket stoves. I've used it on 3-4 trips(20+days) now and I love it! It's really light, packs efficiently with all the components nesting inside the pot(along with a 100g can of fuel), is super-efficient and boils water faster than any other stove I've seen. I've used it well above 10,000' in the Wind River Range and it's performed flawlessly. As others have mentioned, it does burn HOT even when turned down low. However, I still have used it to make pancakes, eggs, hashbrowns and fry trout all in a MSR BlackLite fry pan. You need to keep the pan moving so you don't burn things or better yet, use a diffuser. The neoprene cozy and handle can be a little unwieldy when the pot is full but this is only a very minor issue and I wouldn't let that deter anyone from getting this.



Pricey? A little. But definitely worth the money!