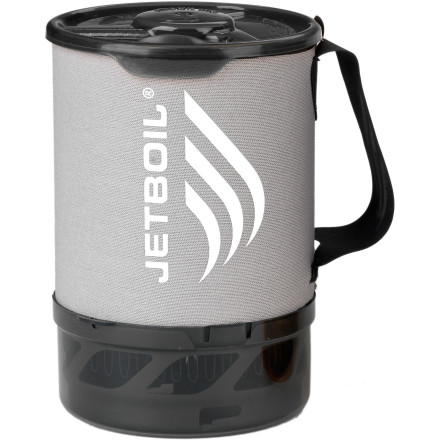 Videos

Community Images
Jetboil Sol Titanium Companion Cup
Weight? Seems that a major selling point of titanium is weight - is that supposed to be listed on this page? Did I miss it?
Best Answer
To help others, I had to visit the manufacturer's site to find : "At just 6.3 ounces and delivering over 70% heating efficiency, Sol Titanium offers the ultimate lightweight cooking solution."



So, 6.3 oz.
Melting snow
Gender:

Male

Familiarity:

I've put it through the wringer
Used on a week of back country Skiing/snow survival, I used it to melt snow but found out the hard way that you need some water in the cup to start with, the fins melted on the bottom of the cup and the alloy dripped onto the igniter, rendering the igniter unusable. So a trick to remember add some water to the cup first. Had used it the year before across Cradle Mountain to lake Sinclair, had my meals ready and eaten before other had even boiled water. Looks as though I have to purchase a new cup as I cannot find parts for the fins that melted
This was my first Jetboil. It definitely does what it says it does, it boils water, and fast. It is pretty easy to use, although one does have to be careful of what they cook in it. Because this thing gets so hot, only water should be boiled inside it. If one decides to cook in it, then it needs to be something watery like soup, and be sure to stir it constantly.



My pot will kind of stick when trying to attach it to the base and I figured in time it would stop sticking so much, however, it still does. At this point, I don't think that this will get much better. So, I just have to be careful and use both hands when connecting/unconnecting the pot from the stove.



In my opinion, it is a bit heavy when compared to alcohol systems (which I am a huge fan of) but it is acceptable. I will only carry the pot, cozy, lid and stove and the total weight is 8.4 oz. I am looking to lighten up the lid with another one...



I will hesitantly give this stove 4 stars, but for me it is closer to 3. It loses one because the stove sticks to the cook pot and I would subtract another for weight, however, I understand that not everyone may be as concerned as I am, so I will not subtract this star.
Very happy with this stove
Gender:

Male

Familiarity:

I've put it through the wringer
I've owned this stove for about a year or so and have not been disappointed. I only use it to boil water and never eat from it, in my mind to prolong the life of the stove. After about 25-30 days of rigorous use the starter still works flawlessly and there is no real signs of metal or plastic fatigue. The insulating outer wrap is genius. I can pick it up at a roaring boil and pour water for coffee/meals without burning my hands. The insulating outer wrap is the only piece on the stove which has become a bit ragged, but its easily replaced. It boils water so quick I can barely get my coffee organized in the morning before the water is done! Additionally, it's so small and light I take it on most long day hikes during the cool months of the year for a quick hit of coffee or soup.
I purchased the companion cup with the sol aluminium set in order to give myself a choice of cup. This was not needed as the titanium is everything I could need. I am able to easily and very quickly heat water and food pouch in about 2 min whilst the weight is about as low as I can imangine it being. Whilst on an exercise the soldier beside me had the old style hexi box stove to do the same set of task as myself - I had eaten the meal, drunk a plunger coffee, cleaned up, packed up all before he started eating his meal.