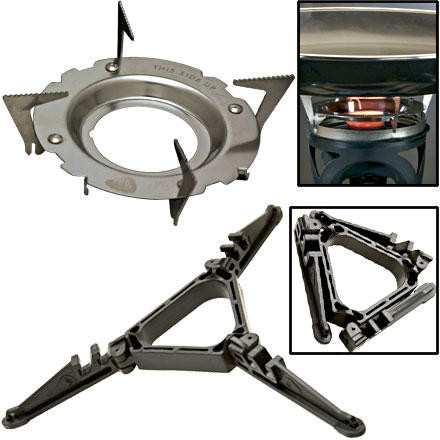 Videos

Community Images
So you're floating a river and brought your Jetboil PCS for freeze-dried food. But what if you actually manage to catch a fish and you want to cook it? Now you can use the Jetboil PCS with your regular pots and pans but simply attaching this pot support and stabilizer. This ultralight adapter changes your personal cooking system into a more conventional camp stove.
Jetboil Pot Support and Stability Kit
Came with my JetBoil
Familiarity:

I've put it through the wringer
When I purchased my JetBoil on bc.com last year, it said nothing about it, but I had a MSR Pocket Rocket at the time, I just wanted coffee in the backcountry (check out the french press option for $15).



The pot stabilizer made my Pocket Rocket obsolete so I sold it off. Now I use the JetBoil for all bc cooking stuff now. It is a nice add on piece, most new JetBoils come with this product included. At worst, double check with the live bc.com chat so you don't have two pot stabilizers. This option on this page is for the older JetBoils that DID NOT come with this add-on product.
Comes with the Jetboil
Familiarity:

I've used it several times
Works great, just so you know, before you have to pay to return it, it comes with the Jetboil kit. Don't make the same mistake I made :/
I didn't realize the kit already comes with the Jetboil Zip I bought. I purchased an additional kit accidentally and now have an extra sitting around.
What's not to like about this stabilizer? It weighs next to nothing, it packs inside the PCS (so it doesn't take up any room in your pack), and now I don't have to worry as much about my Jetboil tipping over. It works great with the frying pan for making omelets in the morning too! $15 is worth the peace of mind that my clumsy camp partners aren't going to knock over my jetboil, or scald their leg with boiling water. Money well spent.
Good Attachment For Jetboil
Used it twice now and it was worked great both times. Once was just for cooking soup and the other time was for eggs and pancakes. Both times was fine, just cranked down the heat and used an MSR pan for cooking.
You need it
Gender:

Male

Familiarity:

I've put it through the wringer
Bought the sumo - this stand is a no brainer. You need it if you are going to use it on a regular basis.
Everyone complains that jetboil is a one trick pony. This changes that. Now your Jetboil will have food ready quicker than anyone elses leaving you with all that extra time to make that sunset climb. A must buy for your Flash system, but don't worry about getting the Flux ring pots. Any regular old pot heats up just as fast and efficient. Get this thing!!
It's a necessary item for this stove. If only it had one more leg, and I would suffer the whopping 3 ounces that it weighed, i would be 5 star satisfied.
This Pot Support is a "must have" if you use the Jetboil with any type of pot or pan. The new Flash units come with the stabilizer.
Are the current stabilizers black or orange?...
Are the current stabilizers black or orange? I am looking for an orange one so I won't be so likely to loose it!
I am not really sure why but the ones that come with the new Flash units are orange but the stabilizers in the kit are black. At least the ones in the package that I have seen at local vendors and at the Jetboil website.
You could spray paint it. I realize that's not as ideal as having it molded in orange plastic, but it'll get the job done.
you wanna use the Jet Boil pot. Makes me feel a little more comfortable cooking with the pot and like the option of using my MSR cookware! Definately a good idea!
necessary for jetboil but NEEDS WORK!
this is an absolute must when you're an owner of a jetboil cooking system. this little pot support enables you to use any pot or pan with the jetboil, but you'll need to make sure you stir or else you'll get uneven cooking. my biggest pet peeve with the stabilizer is that when you are storing it in the jetboil cup, it scratches the sides if youre not SUPER careful, also it won't allow you to fit the stabilizer in with the rest, which is a bummer. also it's outrageously expensive. they need to fix this
Nice Add-on -- Small Caution
The pot support fit is perfect, tight enough to hold larger pots, loose enough to be removed one handed. While the stove burns you can quickly remove a large pot, one handed snap off the pot support and exchange it with the Jetboil pot. The stability legs are a neat idea, they work with large and small Jetboil canisters and other makes....but the Coleman Butane/Propane tanks are just a bit to large and will normally break a leg taking it on or off (...don't ask how I know!). I think they should include these items with the stove (...I know, it's a price point....marketing!!). If you have a Jetboil PCS, these are like..."Must Have"...Add-on's!
This stuff completes the Jetboil PCS. Works as advertised and packs neatly inside the Jetboil cup with the fuel cannister.