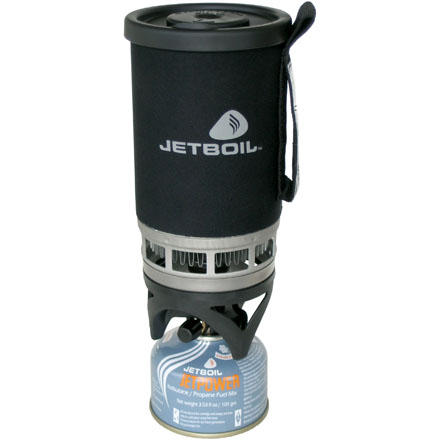 Community Images
Don't let the three stars fool you. I like my Jetboil and have had fun with it for the past three years. Most of my outdoor friends all have one, and there is always an argument before a long hike about who gets to bring theirs. Our Jetboils have seen use from 800' to 12,000' and my experience has been that it will bring two cups of water to a boil within one to four minutes (depending on altitude). The Jetboil does well in windy conditions, but I have seen a strong gust snuff the flame. I've noticed the Piezoelectric ignition can be a bit sensitive, and usually a quick adjustment of the ignitor distance from the burner is all that is needed to get it to light. However, there have been occasions where the Jetboil has refused to light, but thats why good Boy/Girl Scouts always bring matches. While the Jetboil has a functional design and gets the job done after the burner is lit, the ignition could be a bit more reliable and you need to cook fast if your meal requires more than two cups of water.
Just what I wanted and needed
I brought this little guy on my thru hike of the Appalachian Trail, and I'm so glad I did. Perhaps it was a bit larger and/or heavier than some of the other stoves out there, but the everything-in-one-place-ocity along with the so-flippin-easy-to-usability made it one of my favorite gear choices ever.

The power is in the super quick boiling.

The perfect campfire night: my Jetboil and a long spoon.
What is the difference between the jetboil...
What is the difference between the jetboil classic and the jetboil flash? I was at REI the other day and nobody was able to answer my question. It's more than $20 cheaper than the Flash so if it exactly the same or close to it then I will save the $20 and get the Classic
Best Answer
so the PCS classic is the original Jetboil. The flash has an upgraded burner, auto ignitor, comes with a fuel stand and has a heat indicator on the cup coozie to indicate that water is coming to a boil.
I just went on a trip where a friend brought this stove and pot. I admit it is nice how it all fits nicely into the pot including the gas canister. It boiled the water really fast. I don't really dig the tall pot though. Everytime we made food, the food tended to get stuck on the bottom since the heat is concentrated in a small surface area. Also, I don't like how you can't use other pots on this stove. This stove is fuel efficicent though, I felt like we were boiling water constantly between 2 people and 3 days and we still couldn't finish up the gas (we were trying to use it all up). If I were to get my own jetboil, I'd probably get the one with the standard size pot.
works well, relatively compact, fast boil, seems efficient in terms of fuel. light weight for what it includes,and an be used in a tent by hanging if the tent is well ventalated. i'll probably get myself one after using my buddies..
works well, relatively compact, fast boil, seems efficient in terms of fuel. light weight for what it includes,and an be used in a tent by hanging if the tent is well ventalated. i'll probably get myself one after using my buddies..
I think there have been enough reviews on here about how awesome this stove is so I'll skip diving into how much I love this thing and just let everyone know that I wouldn't try to cook anything except hot water in it. It boils extremely fast, but really only has one setting and that is Jet Boiling HOT. I talked to a guy at REI who said I could heat up Chili or stew in this thing, but unless you turn it off and on every 30 seconds or so, you're gonna scorch anything but water.
MADE IN CHINA -- NOT USA AS ADVERTISED ON BACKCOUNTRY.com
Backcountry.com lists this product as Made in USA but when I received the shipment I saw the packaging says Made in China. I emailed Backcountry.com a few times but they did nothing about it.
Great Stove, worth any price, but It's $20 less on Campmor.com. I don't know why backcountry.com would make the prices the same for the original and the new version of this stove.
Won't leave home without it.
I just returned from a 3 day camping trip to lower calf creek falls in southern Utah , and I'm glad that I brought my jet boil because in the area that we where camping in didn't allow fires. The cooking time for this is awesome no more hobo dinners for me. I wish that I would have pulled the trigger on the purchase years ago, it would have made my life so much easier. I would recommend this stove to anyone who is looking for an everything cooking system.
From breakfast to bedtime tea, this thing has amazed me on both car camping and backpacking trips. Boils water practically instantly, packs down small, easy to clean up, fuel canisters last a long time, etc. I could go on and on about how great the Jetboil is, but most of it has already been said. I will say that I purchased the coffee press and frying pan to go with it, and am very glad I did. We can cook up pretty much anything with ease. Get one!
Just brought mine home. Boiled 2 cups cold water in 2 min 10 sec in 85 degree w/x. I was playing with the flame settings too.

I'm amazed at how efficient it is. Almost no heat was escaping out of the sides.

Purchased the companion cup to go with it so the wife can have her food too.

Highly recommended.
Great stove for any length trip.
I've been using mine since the first ones became available and have never had a problem. It is so self-contained and portable that mine is almost always fired up before I'm even out of my bag. I stick to simmer-free meals and prep them in screw-top Nalgene bowls. Couscous, miso, oatmeal, rice and beans, all with no simmering or pot scrubbing. It almost always comes along on day hikes, too, with a collection of tea, cocoa, and soup to offset a nasty day. Many a cold, damp rest stop in the lee of a boulder has been much improved by that little stove. Well worth the weight.
South of Bryce Canyon NP, UT