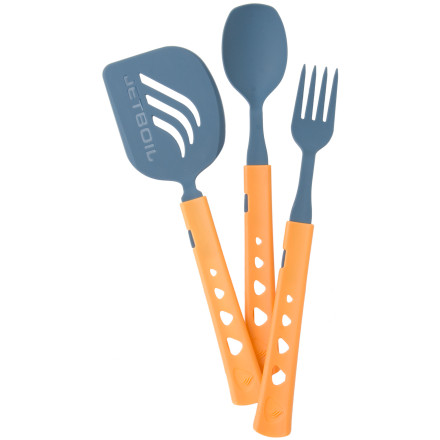 Detail Images

Videos

Community Images
Description
Make sure you have the Jetset Utensil Set ready to go when you make a meal with your Jetboil stove.
The Jetset Utensil Set includes a collapsible spoon, fork, and spatula that all fit snugly in your pack and let you actually reach the bottom of your Jetboil pot. Sporks are great and all, but they're just a bit too short to work well with a Jetboil stove. Get the Cargo Cozy Kit to hold these utensils securely on the outside of your Jetboil stove.
The spatula melted onto the pan the very first time I tried to use it making pancakes. The utensils feel like junk, and will also melt if you try to stir something hot. Don't buy this garbage.
Fork me? Fork you, man!
Gender:

Female

Familiarity:

I've used it once or twice and have initial impressions
5.2" Packed
8.5" Extended
1.3oz Combined Weight

I likes me the Mountain House meals, thus my utensils must be gloriously lengthy to consume my pouch-based sustenance!

I've been toting an REI longspoon which works well but doesn't collapse. Enter the JetBoil Utensil Set.

These orange and grey puppies have a combined weight of 1.3oz and extend from 5.2" packed to 8.5" of food-shoveling, pancake-flipping UTILITY (see what I did there).

The spatula has an asymmetrical head; one radius fits JetBoil pots, the other radius fits the JetBoil pan - I love thoughtful design! One of the Radii fits my MSR Flex Skillet perfectly.

The locking mechanisms work well and snap positively into position. I appreciate that they lock in the closed position too.

I haven't had trouble with food getting into the nooks and crannies as others have described, I'll keep an eye out for that.

I do wish that JetBoil would produce utensils that pack/nest within the MiniMo.

These seem like solid utensils thus far, time will tell.
Garbage
Familiarity:

I've used it once or twice and have initial impressions
The packaging says "nylon resists melting". Well, nylon actually does not resist melting, it welcomes it. I melted the thing the first time I used it AT HOME, on a real stove with a real pan. Not a superhot canister stove. If it can't stand up to a simple pancake it has no business in the field. The fork melted as soon as I put it into boiling water to stir some pasta. The spoon deformed as soon as I put it into a cup of baked beans.



Good thing my actual jetboil fell apart on me, using these in that would have been hazardous to my health
Jetboil Jetset Utensil Set
At first glance, these were a little bigger than I expected, still easily packable, but just a little more bulky than I thought.

Seems very durable though. We cooked up some chorizo tacos at camp and nothing melted!



The length of these ends up being perfect if you bring along those freeze dried backpacking meals. No more having to lick food off your knuckles!
Not bad at all
Familiarity:

I've used it once or twice and have initial impressions
Haven't used these much, only first impressions. However the length is great, they're light, they collapse well, when extended I haven't had wiggle in them, and they're cheap! Yes, they are plastic, yes plastic can melt... but they won't scratch up your fancy non stick expensive fry pan. If I end up being upset with the durability I will tweak this review, but my initial impressions are that you can't ask for much more out of a camping cutlery set at below $10.
Great set!
Familiarity:

I've used it several times
I agree that the best thing about this set is the length! It is nice to be able to reach down into the bag without gettting your hands full of food. They are in my opinion however, a little on the flimsy side and i'm not a big fan of trying to get food out of the grooves that the handles have in them. My spatula melted a bit the first time i used it but since have not had many problems.

Overall its a great set thats lightweight and compact!
No More Sticky Knuckles!
Familiarity:

I've used it several times
Quality is decent but I am way stoked on the length. I like to prevent messes while camping/backpacking so reaching into my favorite backpacking meal and pulling out a hand full of goo & a fork half full of food kinda feels like nails on a chalkboard. You can imagine how exciting it was for me to inhale food quickly while keeping my hands all clean! (its all in the little things guys... especially while backpacking)



Pros: get rid of mess, carry less, lightweight & scale down small

Cons: easy to melt & possibility of snapping
the spatula is a knife. brilliant.
Familiarity:

I've put it through the wringer
They do their job and fold up nicely. Watch out, b/c that fork is sharp!
I love these retractable utensils. Easy to clean, lightweight, and compact. Much more durable then some of the other products out there.
there are the perfect utensils. small, compact, light... need i say more?
Great utensils
Familiarity:

I've put it through the wringer
I bought these to go along with my jetboil Flash. I have a titanium spork that I use with my other cook set. My spork was a little short and with the nostick in my Jetboil I thought that these would be better and I was right. At first they seem to light to use well, but even being plastic they have held up to many meals so far. I have used them to eat my add water freezed dried dinners, as well as pasta and rice directly in my Jetboil and was able to stir and eat without a problem. I carry the spoon and fork right on the side of my Flash ever camp trip because they set nice right on the side. I have only had these a couple of months, but i love them. I just have to either get another set or hide them from my wife because she has used them and now keep wanting to put them in her lunch kit for work.
Better than most I've tried
Gender:

Male

Familiarity:

I've used it several times
I've tried a number of different compact utensil sets and have found that this one works better than most. They are plastic so of course the will melt if you get them too hot, and they also aren't one solid piece so there is going to be a weak point. But keep these things in mind and the set works pretty well. They are long enough to reach the bottom of my GSI Pinnacle Soloist allowing me to stir what I'm cooking or eat from the pot. Also they collapse enough to make packing them a bit more convenient.
They've been incredibly durable over a fair amount of use and abuse. They pack up nicely, and slide into any small pocket- so super convenient! I love having these extendable utensils for backpacking meals especially- you can get down to the corners of the bag without getting stuff all over your hands. Overall, pretty good to have around- definitely worth $10
Happy
Gender:

Male

Familiarity:

I've used it several times
They are pretty simple, break down nicely to a small size. They are much better than a different I had that broke after on day. You just to remember they are plastic, so they melt if you don't watch where you put them close to a fire.
Jetboil Spoon Rocks!
Gender:

Male

Familiarity:

I've put it through the wringer
I do have the complete set (spoon + fork + spatula) but the only one that goes out on the trail is the spoon. The spoon is the only one I need. It's light weight (0.4 oz) and it reaches the bottom of my freezedried meal pouches (to stir ingredients). I probably wouldn't use it to scoop hard-pack ice cream, but it's always been strong enough for my needs.