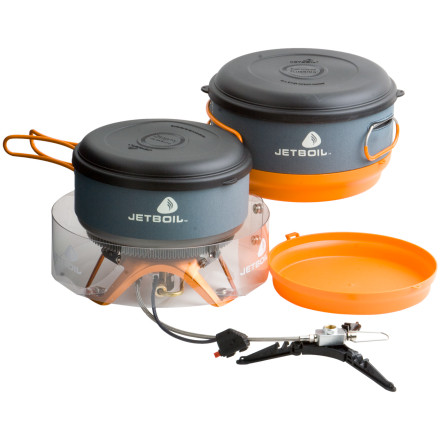 Detail Images
Whether you need to melt snow on a group trip yurt trip or cook a backcountry meal for you and paying customers, make sure to bring along the Jetboil Helios Guide Cooking System. This unique stove uses liquid fuel to squeeze every last bit of efficiency from the system and provide three-minute boil times for a liter of water. Jetboil includes two- and three-liter pots with the Helios Guide Cooking System so you have all the cookware you need to get everyone hydrated and put some food in their empty stomachs.
FluxRing heat exchanger system maximizes fuel efficiency and promotes even heating by uniformly distributing flame along the bottom of the pot
Jetboil's liquid-injected fuel system features an inverted canister for more power and long-term consistency in fuel delivery
Burner is designed to work with Jetboil's Helios FluxRing pots; can also accommodate other pots and pans, potentially with some loss in efficiency
Neoprene cozy designed to stay in place while stove is in use; increases heat retention, and improves cooking efficiency
Included windscreen maximizes fuel efficiency and heat retention
Piezo ignition system lets you start the stove without matches; remote positioning lets you relight stove even after the pot and windscreen are in place
Stove base, windscreen, and canister stand fit inside pot for efficient use of space
Usable ambient temperature range: -10° F - 100° F
Included in package: Jetboil stove burner, two-liter FluxRing pot, three-liter FluxRing pot, canister stand, and windscreen
Note: fuel canister is sold separately
Good eats!
Familiarity:

I've put it through the wringer
We bought this cooking system for our group meals when camping at the crossroads of nowhere and where the hell are we. It collapses nicely and fits into panniers well. It is easy to set up and get dinner cooking quickly. We never had any trouble with the system, period. Even though it took a beating, it was very dependable. It is the perfect mate for our entire Jet Boil line up. Clean up was a snap and the system cools fast so it can be packed up shortly after use. It was big enough to handle a small group, yet small enough to come along on the bikes! We love it!
Too big for too little.
Gender:

Male

Familiarity:

I've used it several times
Nice big cooking pots great idea for someone who likes to go ahead and bring some taters or bacon on a back packing trip where others in your group are bringing dehydrated food. Here is the problem. The flame only touches the 1 inch diameter and scorches that area. Heat is definitely NOT distributed with the "FluxRing heat exchanger system." A more evenly distributed flame would solve the problem. If you're using it to just boil water the larger jet boil is plenty for that job.
We used this stove on a Denali trip last May/June. Worked extremely well for our three person team. Very efficient at melting snow. The lighter was inconsistent at 17,000 feet and once the fuel nozzle had to cleaned out with an MSR stove cleaning wire. Otherwise, we had 14 days of brilliant snow melting. With the fuel inverted, we never had an issue with the fuel not working, even on chilly nights. On the evening before summit day, we had a bit of ice on the fuel bottle ... looked like good karma for summitting.
i would like to know how to get a cover...
i would like to know how to get a cover for the base ot the 2 liter pot.
I just purchased a Helois system and there was no plastic guard for the bottom of the pot.
Best Answer
Simple enough. If you bought it here, return it. If you bought it somewhere else, return it. If, for some reason, that's not going to work, call Jetboil's warranty dept and have them send you one. Their # is:603-518-1600
I'm planning a thru hike on the A.T. would...
I'm planning a thru hike on the A.T. would this be a good stove to buy
Best Answer
This could be a decent stove, but it really depends on how you're going to be cooking (freeze dried and just boiling water versus actually cooking) and how many people you'll be hiking with. Also, for a thru hike of a longer duration and distance, you might want to actually consider a white gas stove. You'd have less wasted weight in canisters and what not, it would probably be less expensive. Check out this website: http://www.howardjohnson.name/Backpacking/Stove/Stoves.htm

Good luck!
Best stove I have ever come across. It boils a liter of water in less than 3 minutes at 11,000 feet as stated! The adjustable flame setting was worth the upgrade to the Helios Guide. Only con to this stove is that it is not meant for long cooking times so gourmet chefs beware. I could not cook with it longer than 25-30 min before the fuel pre-heat loop would overheat and stop fuel flow so long simmer foods and trying to cook a zillion pancakes are not a real option. It did allow me to simmer long enough for the best beef enchilada dinner I ever had for me and my teenage army of three. The two pot system came in real handy too. I would recommend this stove and I am glad I bought it.
Can the pots be used to cook over a...
Can the pots be used to cook over a fire?
Best Answer
Nope, it should not be used over a fire. Typically any non-coated aluminum or stainless steel pot or pan would do fine over a fire. This pot is designed to work most efficiently with the provided stove system, so the design limits its usability in other situations (e.g. the unique heat transfer 'FluxRing' assembly on the bottom of the pot). Most importantly, and the biggest reason the pot cannot be used over a fire, is the use of neoprene to insulate the pot. Neoprene starts to decompose at 446 degrees Fahrenheit, which is towards the lower end of a typical campfire, even a small one. If you were to use this pot over a wood fire, you take a significant risk in destroying the neoprene insulation.
seems like you would be ok using it over a small fire if you took off the neoprene sleeve but they are thin and I wouldn't recommend it. temps would be uneven and hard to control since they are so thin. I personally have used it on very small fires specific for cooking and it worked ok. Definitely worked better on the stove :)
Does the fluxring frypan work with this...
Does the fluxring frypan work with this stove system?
Best Answer
Just picked up the Helios system and the frypan on the advice that it would work. It doesn't. The fluxring on the frypan is smaller than the Helios system requires. The instructions with the Helios system include "Helios is not compatible with the Jetboil 1.5 liter pot, FluxRing Fry Pan or the PCS Companion Cup.
Well i'm not suite sure about the above review (there are those defective items), but I feel that this stove deserves a chance for sure! I have never had any problems at all with this stove when I take it out backpacking, and it has always performed +100%. I love the way that everything (fuel stand, stove, windscreen) minus your fuel fits inside either one of these pots. While the 3 liter pot is overkill for most situations, I find the 1 1/2 liter pot to be the perfect size for personal or even cooking for a friend or two. May be slightly heavier, but split things up... Everyone that I go hiking with always enjoys watching the windscreen and how effective it really is. Also the lids for the pans double as plates, so it can help save on "some" weight. A total breeze to set up, and it boils water like no tommorow with the flux-ring pans. Worth every cent, I really do love mine!
Went to use and the valve was faulty. There was no adjustment to the flame.