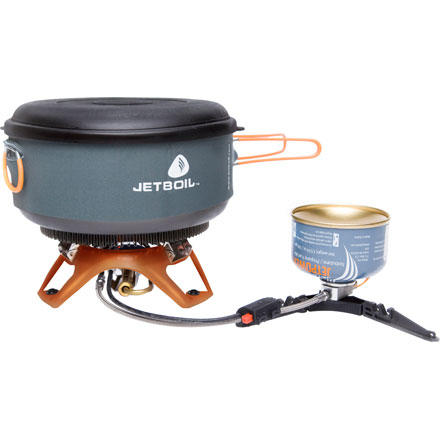 Community Images
Featuring the same FluxRing tech and inverted canister design that made Jetboil famous, the versatile, efficient Jetboil Helios Cooking System works for anything from multiday backcountry trips to chilly evenings in the campground. The powerful burner can boil a liter of water in three minutes flat, and a clip-on windscreen holds off 10+ mph wind gusts. Jetboil designed the entire kit to fit inside the included two-liter pot so you can pack it away easily and get on with your hike.
FluxRing heat exchanger system maximizes fuel efficiency and promotes even heating by uniformly distributing flame along the bottom of the pot
Jetboil's liquid-injected fuel system features an inverted canister for more power and long-term consistency in fuel delivery
Burner designed to work with Jetboil's Helios FluxRing pots; can also accommodate other pots and pans, potentially with some loss in efficiency
Neoprene cozy designed to stay in place while stove is in use; increases heat retention, and improves cooking efficiency
Included windscreen maximizes fuel efficiency and heat retention
Piezo ignition system lets you start the stove without matches; remote positioning lets you relight stove even after the pot and windscreen are in place
Stove base, windscreen, and canister stand fit inside pot for efficient use of space
Usable ambient temperature range: -10° F - 100° F
Included in package: Jetboil stove burner, two-liter pot, canister stand, and windscreen
Note: fuel canister is sold separately
Share your thoughts
What do you think of the
Jetboil
Helios Cooking System
? Share a...
The Jetboil wander!
Gender:

Male

Familiarity:

I've used it once or twice and have initial impressions
I first got the 1.5 L pot setup and decided it wasn't sufficient for say a family outing.So I got the 3.0 L pot too,that the 1.5 L and burner stove and fuel canister fit and everything else nest into it.More than enough to feed everybody sooner and stay warm.
Awesome stove. Boils 2 liters of water in less than 2 minutes. Packs up into itself. Love it.
Happy but not off the charts
I was impressed with the way this is as a total system, it is super well designed and works well as one. The pots are great, heat up well and cook well. Which I fully appreciate but we took it winter camping and it did not work well at all, I would never recommend anyone taking this winter camping. For summer stuff, its awesome but once the cans get cold the stove does not perform well. It was also very slow at boiling water regardless of amount of gas in canisters.
Can this be used with a bulk propane...
Can this be used with a bulk propane tank?
I do it with another version of Jetboil so I would guess yes.
all of the propane canisters use the same attachment system so it will attach, but you might see some performance issues with different blends of fuel which is really no bit deal it just might take a little longer to boil water
Write your question here...How much does...
Write your question here...How much does the pot weight by itself
Just the pot (w/ cozy) weighs 11oz.
Convenient and quick, but bulky
Pros: Lightning quick set-up and intuitive design. The fire starter switch is very convenient, and everything nests together pretty well. As for cook times, this thing boiled water faster than any home kitchen I've ever used. If you ever need to level some underbrush, or just boil some water fast, the Helios gets the job done without using as much fuel as comparable designs.

Cons: The price hurts us dirtbags a bit more than most, and you only get one pot. If you're cooking for a group, obviously you'll have to augment your backcountry kitchen set with more cookware, but if you're flying solo and don't mind lugging a slightly larger stove around, you can eat like a king.
I've learned through experience you can cook almost anything in the Helios, as long as you're careful with the fuel throttle and keep your food stirred constantly. My favorite use, however, is first thing in the morning for that first cup of coffee. I've found that by using the GSI collapsible cone filter support, a #4 paper cone and an insulated jug I get a perfect a quart of coffee in less than 10 minutes with easy cleanup. It's as good as the drip coffeemaker at home.
Worked up to 16K feet and 10 degrees
We took the Helios on a trip to Peru, 6 days on the Ausangate trek, all camps 14.5K and above and very cold. Water bottles froze in our tent. The stove worked wonderfully, all the way through a canister. I've had MSR XGK, Svea 123, Peak 1, etc. and even other Jetboil stoves. Although a bit heavy for two people (we had four), it is a joy to use.

This does not flame up like a white gas stove, but it does flame until warm. Ignitor worked fine, although it did break on our other Jetboil. Mostly we boiled water and it is awesome for that, but we also had to simmer soup for 30 minutes (we brought dried soup mix to give out to Quecha locals instead of candy, but we ran low on food and tossed that noble thought and ate the soup). We turned the canister over (right side up), and it simmered perfectly. Great stove.
Does this stove work as well at altitude...
Does this stove work as well at altitude and/or extreme low temperatures as the MSR XGK EX stove?
Best Answer
The XGK EX is a great stove, and I will not discredit it here at all. (but)I am just a believer in Jetboil and an owner of the Helios.

You may or may not know there are two ways to run the canister fuel on the Helios. Upright for conventional boiling/cooking, inverted for higher altitude and colder temps. The inverted canisiter turns the air gas into a liquid gas. and if you're cooking with two or more, this is really the best option.

The MSR EGK EX being a multi-fuel stove, has more options for fuel in remote locations where canister fuel isn't always available.

"Cost is always a major factor in stove purchasing decisions and includes initial, maintenance and operating costs (namely fuel consumption). "

Petrol:The operation, maintenance, shear power and roar of a well maintained petrol stove is reminiscent of a big block muscle car or monster truck. Even though these stoves tend to be heavy, they are still a favorite and it will be hard to convince diehards to switch to anything less.

Canister stoves are simple to use while still having an adjustable flame. Those wanting flame control without hassle, will never gives these babies up.

Here are some #'s for you to chew on...

Petrol(refillable bottle) = $0.13 (cost per ounce)
Canister = $0.58

Canisters (220 gm) weigh about 5 oz. less typically and use about 6 oz. less than bottled fuel.
I BOUGHT THE COOKING SYSTEM AND IT NOT...
I BOUGHT THE COOKING SYSTEM AND IT NOT COME WITH FUEL CAN,DO YOU SELL THIS ITEM ALSO
Best Answer
we used to sell them separate but not anymore, there is a huge Haz-Mat handling fee and other hoops for both the online seller and end-user to jump through.
Check your local dealer. Shipping surcharges on fuel can be very high, so its not worth it to buy online.
You can pick-up fuel at just about any outdoor store and you don't have to use Jetboil fuel. Almost all online retailers have stopped selling it due to the shipping costs.
Full afterburners - yet still efficient.
Not since high school shop class have I experimented with such a flame thrower. This thing can really heat things- and fast. I am really impressed with the speed the Helios melts snow and ice for water, not to mention the rapid boil times. If you plan to use this stove at altitude or in a storm, make sure your tent has a vestibule. Sometimes we ignore warnings and must cook inside a tent during full alpine conditions- but I wouldn't try that with this beast. The platform is very stable and holds virtually any pot (not just Jetboil pots) with smart, fold-away feet. The igniter may not work in cold or altitude- but any experienced backcountry traveler will know enough to bring a lighter (or three) along anyway. This stove seems to simmer well, but takes a little feathering of the throttle to get it from blast-off mode to a lower setting. Surprisingly, the Helios will actually SAVE gas with its efficiency. Really, really impressed.
the Helios is like the coolest thing ever....sounds like an F-16 in afterburner mode on takeoff...it heats as promised....dig the compactness....stability....and quality....the only stove you'll need.....and for the record...i have had no problems with the ignition.
...the only thing i'm bummed about...is i dint git a free utensil set wit my purchase....but i'm still happy..
The other review mentioned the ignition only works 1/20 tries, I find this amazing as mine has spark without a fuel canister connected to it. The "phhwwsshhgg" sound it makes when igniting has become one of my favorite sounds along with a woman's sweet whispers and lots of money falling on my doorstep from a 10,000 foot jettison from a Columbian drug trafficking airplane. I like it better than the PCS when you're cooking with 2 or people, I've entertained 6 with this. Downsides are not the weight so much as the bulk, I can imagine this in an overnighter would take up most of the room. I also wish the fuel canisters would fit inside the pot. I like how w/ the fuel canisters, you can invert them to be liquid gas and burn quicker at higher altitudes. Helios is gooood.
Great stove! After I bought it I got a "you should have bought a (blank) stove they're better" I wilderness camp and fish out of a boat so the larger MORE STABLE design and the 1.5 Ltr pot of the Helios works for me. I've camped with a little stove owner and watched his dinner go to the ground because of the design. If you want a stove that doesn't take up a lot of room but works like a big one consider it. It does boil water in the specified time so it's great when you can't wait for coffee in the AM. I used it for 4 days, pasta, soup, eggs, oatmeal the only thing that you need to do is pay attention to what's going on in the pot, it does produce heat fast.
This stove is the best! I upgraded from the Jetboil PCS after deciding I wanted a little more cooking ability and options. I have never had any problems at all with this stove when I take it out backpacking, and it has always performed over 100%. I love the way that everything (fuel stand, stove, windscreen) minus fuel fits inside these pots. I find the 1 1/2 liter pot to be the perfect size for personal outings, and even cooking for a friend or two. Everyone always enjoys seeing the windscreen just snap on to the stove base, and then seeing how effective it really is at keeping the flame up and running. The stove base is very very stable, and the flux-ring pots make it near impossible to knock the pot off... Also the lids for the pans double as plates. This stove is a total breeze to set up, it boils water like no tommorow with the flux-ring pans, and it is worth every cent! Love it.
This pot can boil! No doubt about it! Less than three minutes and it's even fast if you put some salt in the water! And I love how it all fits inside itself. One downsides I found, are it's a bit big for long backpacking trips, a bit heavy and no simmering. So don't try to make pancakes or anything that involves more than boiling some water.
The heavy duty model works like a charm. It is big enough to cook for a few different folks. It is a bit bigger than the other jetboil systems, but works much better. This is a great piece of equipment to have handy in the wilderness. Definitely a great addition to the jetboil family.
Great stove with a few exceptions...
I just got my new Helios this week, actually two days ago. I am a very, very picky consumer in that I research a lot, look for great quality and value...then I buy. I didn't do quite enough research when buying the Helios. On the positive end of things...it is AWESOME for cooking on not only the pot that comes with it, but also with my MSR Blacklite Gourmet set of pans. I did a couple of test runs with it using both pans and cooked some great scrambled eggs using fairly low heat. You can control the flame pretty well although it seems to fluctuate a bit on low settings to the point you can't hear it at all and wonder if it is even on. It is super easy to use.

Here are my exceptions: new out of the box, the built in igniter that is supposed to spark works about one out of 20 tries. That is a bit ridiculous. It does not have any way to my knowledge of accepting the PCS pot, cup whatever you call it. So...if you want to cook just for large crowds of 4-5 people...it is great. Otherwise, it is overkill...in size and weight, especially for backpacking.

The best of both worlds would be to have a PCS and Helios. It doesn't make any sense to my why the highest priced jetboil system would also be the least versatile. I'm thinking I should have purchased the GCS. It won awards for good reason!

The eggs I cooked on my MSR (non-stick aluminum) were perfect...super easy clean-up. The eggs in the jetboil pan were much more difficult to keep from burning in the center of the pot...so I had to do some super-scrubbing to get the pot clean again. That is no fun on the trail. Guess I'll be packing more than one pot.
Does the helios burner also work with the...
Does the helios burner also work with the existing PCS & GCS pots - is the fluxring size the same? I like the cold weather performance & better stability - but would also like the flexibility to use the smaller pots for overnights and single cooking. e.g. I have been using the GCS pot with a white gas stove for exactly these reasons...
Best Answer
I've had the GCS, and just by looking at the Helios, I would think that the major advantage would be the stability. The GCS can be a bit top-heavy, especially with a regular 9 cup coffee pot on top.