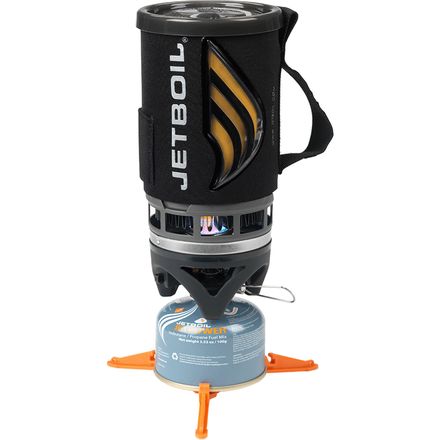 Detail Images

Videos

Community Images
Description
Boils quickly and stows easily.
Click on the Jetboil Flash Personal Cooking System, and hum a show tune or two—by the time you hit the second chorus (two minutes), you'll have steaming hot delight. Unlike classic camp stoves, this self-contained unit eliminates the issues of an open burner and takes the guesswork out of a quick meal. Finish your food, pack the fuel canister inside the insulated mug, and stow the whole lightweight kit away in compact style.
FluxRing heat exchanger system maximizes fuel efficiency and promotes even heating by uniformly distributing flame along the bottom of the cup
Innovative temperature indicator is integrated into the cozy to show you when your meal or drink is ready to please your palate
Adjustable burner is surrounded by a windscreen to reduce heat loss and improve fuel efficiency
Push-button Piezo ignition gets the stove rolling without matches and is integrated into the burner housing to keep it intact
Glove-friendly fuel valve allows for easy flame adjustment and afterward, it folds into the burner for safe storage
One-liter anodized aluminum cooking cup is lightweight, transfers heat efficiently, and cleans up fast
Neoprene cozy is designed to stay in place while stove is in use; it increases heat retention and improves cooking efficiency
Clear measuring cup with graduated lines unsnaps from the bottom of the cooking cup for greater precision when preparing meals as well as preventing burns on the hot FluxRing right after use
Translucent lid is BPA-free, shortens boil times, and features a drink-through spout for sipping coffee or pouring hot liquids
Stove burner and cooking cup nest together for easy storage; 100g fuel canister also fits inside cup but is SOLD SEPARATELY
Included fuel canister tripod stabilizer attaches to the bottom of your fuel canister for security while cooking
Metal pot support (sold separate) folds out and provides a solid base for a small backpacking pot, pan, or kettle when you prepare multi-course meals
Jetboil recommends that you boil a half-liter (16oz or 2 cups) of water at a time to prevent burns and boiling over
Winner of the Backcountry Magazine 2010 Editors' Choice Award
Best way to cook in nature
Familiarity:

I've used it several times
This is definitely a great reliable product for cooking out in the wild on the move. I have used it skiing a couple of times to boil some hot dogs and in extreme cold it still get boiling so quickly and will get your food cooked no issues. Had no issues on the light at all very easy set up and packs down to be an insanely light stove to throw back in the pack. Definitely 5 stars from me!
I LOVE this thing
Familiarity:

I've used it several times
I have done a bit of backpacking which includes going to New Zealand and Australia. I have had to conserve a lot of space. So I have produced a couple of pros and cons of this product.

Pros:
-The amount of space it takes is amazingly small, I mean the whole system fits inside of the cooking cup.
-I have a spork that I carry around with it in the small spot for it and it works great and keeps it tight.
-The design of it allows for INSANE time reduction in eating
-It boils most liquids in about a minute or so. I boil a bottle of water (16 fl oz.) just under 90 seconds. I have a meal done in under 10 minutes every time.
-Cold nights = awesome hot meals instead of granola and power bars.
-Most dehydrated "zip-bag" meals only require 1 liter of water or less.
-Really Lightweight

Cons:
-The only way to really simmer is to try to keep the gas regulator as low as possible without turning the gas off. Tough balance sometimes.
-Cooking for two can get complicated or have multiple boiling/cleaning
-The Gas container which can fit in the Jetboil packed only is about 100g which is only about 12 boils so on longer trips I carry 2.

Overall, I would HIGHLY recommend this camping stove. If you are a backpacker and just getting started you need this in your bag for cooking meals. Places where you aren't allowed to have a campfire, you have a stove regardless.
Best backpacking cook system
Familiarity:

I've put it through the wringer
Jetboil boils water faster than any other system - we tested it against four other stoves while on a backpacking trip in WY. After the first night, everyone started asking if they could borrow my Jetboil because boiling water three times on this one system was faster than if they boiled water once on their system.
My Jetboil is my top "don't go backpacking without it" item in my pack.
Easy backcountry food
Familiarity:

I've used it several times
Until I bought a Jetboil, my camping trips were fueled by energy bars and sandwiches. Now that I have this little stove, I've tried a few dehydrated meals and it's so much better than non-hot food. This stove boils water in just a couple minutes and then you have hot food. The recommended maximum fill line is just perfect for most 2 serving dehydrated meals.
Popular For A Very Good Reason
Familiarity:

I've put it through the wringer
I'll chime in and add my voice to the chorus of other great reviews for the Jetboil Flash. I use this for car camping and shorter backpacking trips. It's not the lightest cook system available, but it makes up for that with ease of use and dependability. To start, I love that I can place all of the Jetboil accessories into the cooking cup, this includes the gas canister. It's nice to have everything together without components floating around in my pack. I've tested the Flash in low temps and high winds, and it's never failed me. I love the large gas valve, as it's easy to twist even with cold hands wearing gloves. There isn't really much else to say that hasn't already been said. I'd highly recommend this for anyone looking for a personal cooking system.
wouldn't buy anything else
Familiarity:

I've put it through the wringer
They speak for themselves... i only buy jet boil. super fast and easy to pack. Perfect for tail gating, backpacking and camping. If you need hot water anywhere on earth Jet Boil is the way to go!
No Camp Fires in California!!!
Familiarity:

I've used it several times
Okay Californians, if you are planning on going camping in the Sierra Nevada Mountains, Yosemite, or anywhere in California, you should know that campfires are banned right now, so you will need this! Unless you are planning on living off of power bars (but nobody wants that). Since there is a huge drought out there you will get a huge fine for having a campfire. This Jetboil is light and you can store food inside of it. I like to store my oatmeal in there. You can eat straight from the jet boil as well. If you're a coffee drinker then this is also a camping must! It also gives you the option to purify your water by boiling it, you can do this in the winter by melting snow in your jetboil. This is highly recommended, especially in a drought!
There are no other stoves out there
Familiarity:

I've put it through the wringer
Seriously, don't even consider looking at another stove. This is your jam. I have never been disappointed by it and neither have any of my other buddies that finally talked me into getting it. The only thing I've seen happen to anyone's is that the igniter doesn't work anymore but he has used it for years. Just do yourself a favor and buy it.
Less waiting for coffee
Familiarity:

I've used it several times
So I finally bought a JetBoil. I just wish I'd done it earlier. Boils two cups of water in less than two minutes, and the sleeve changes color to let you know when it's done (the "innovative temp indicator" thing listed above... yeah, it's awesome). It's small capacity, sure, but it boils so fast I can run 3x2cups through in the time it normally takes me to boil a small pot on my MSR stove. Not sure if this will be the norm for backpacking, but it's definitely going to live in my car during ski season, and will be my go to for coffee and a sunrise summit.
Great stove.
Familiarity:

I've put it through the wringer
I recently was charged with outfitting my group (wife, sister, brother-in-law, brother, sister-in-law) with gear for a week long trip in southern utah canyon country. We got tents, sleeping bags, stoves, backpacks, the whole run. All of our gear held up and served us well.
The Jetboil Flash is great for 1-2 people. I opted for the Sumo for our larger group and to give me a bit of flexibility
Love my Jetboil
Familiarity:

I've put it through the wringer
So easy, fast, lightweight. I have used my jet boil for car camping as well as backpacking trips. I will never use any other stove. I love reaching a peak/pass whipping my jet boil out and making coffee/tea. It boils water in seconds. LOVE IT!
I really think it doesn't get much better when you're looking at an entire package. No complaints on the jetboil, I'm surprised if anyone does.
GOAT IS GOOD
Familiarity:

I've put it through the wringer
This is great does what it's suppose to do. Heats up quick in cold temps no problem. Can get dumped with other gear floating rivers and still work like a gem. Get one.
Great Stove
Familiarity:

I've used it several times
The Jetboil system is fantastic. It comes with a Pot which holds up to 2 cups of water (recommended) and the entire unit (including a 4 oz propane tank) fits inside of it. Even on lower heat setting in higher elevations it boils water very quickly and it has been incredibly reliable. The pot also has a lid and a cozy around it (to retain heat better)and it can be used as a cup/ eating vessel if so desired. There is also a small plastic cup portion on the bottom which can be used to contain food/ liquids. Recently, the self igniter button near the bottom portion has broken on mine, but the stove ignites just fine with a lighter (minor concern). When its all put together and packed up, it is a convenient size. There are a variety of after market items you can buy for it as well. I love my Jetboil and it has always worked for me. The best option for freeze dried food prep in my opinion!
More Scottish Legend than WilliamWallace
Familiarity:

I've put it through the wringer
Jetboil function with slightly more steez. Boil water in a minute, even in the Highlands. If you've never Jetboiled, try it, you'll like it. Cold weather camping, rain, Sodak badlands abuse, I've taken it with me, and have never been disappointed. The only thing I cannot honestly answer is performance above 12,000 feet. But I'm headed to the Bighorns this July, and we will put its name to the test.
Light, fast, easy and AMAZING
Familiarity:

I've used it several times
This product is amazing. I took it backpacking this last weekend on The Lost Coast Trail in California and I was pleasantly surprised by how much I loved it! If you buy the 4 oz. propane tank it fits perfectly inside the Jetboil with the igniter and the propane stand and everything packs wonderfully into your bag in one piece! Also, one 4 oz. propane tank boiled water 6 separate times and never ran out; it was plenty of propane for 2 backpackers on a 3-day trip. I love the color indicator on the side that shows you when the water is boiling and when it's ready, you'€™ll never waste any propane with this system! One of my favorite features is the push igniter button that easily starts the flame -€" SO EASY AND SO FAST!!!
The water started to boil so fast that I barely had enough time to unpack my camera and snap pictures of it (at sea level it boiled in about 2 minutes)!! Ultimately, love this product and would recommend it to anyone!

Awesome stove.lightweight,the heat indicator works great and it boils fast
So quick and easy!
Familiarity:

I've used it several times
If you are backpacking or camping, and want to pack light. This is the way to go! These babies heat up water so fast! It has the color indicator on the side to show when it is boiling and ready. The overall assemblage and use is literally idiot proof. Attach the igniter, screw on the fuel to the igniter, twist the fuel level on, push the igniter button, and BOOM! You've got boiling water!

This size is great for multiple people to use also. I would only recommend getting a SUMO if you have like 3+ people.

Displayed in the photo are a couple of the sizes: SOL, FLASH, and the SUMO.
Exactly.. what can one say... Jetboil.
Familiarity:

I've used it once or twice and have initial impressions
I put off buying one of these for a long while.. YEARS



I have been between Gas Canister and Fuel bottle cooking systems. I love them both. But when it comes to the having the Cat's meow, this is it.



The amount of room I have saved in my bag without sacrificing any luxury of a cooking platform is what speaks the most. It has everything I need if I am packing "just add water" types of food.

That isn't the limit of the Jetboil, but anything further for use just requires creativity and use of your surroundings for cooking something like a fresh caught fish.



Quality- The quality of the Jetboil and the little additives they put with the Flash are just awesome. Set the thing up and all you do is turn a slight valve and press a button. Almost too easy.



The last few times I have used it, the water was ready to rock (very easy to see with the color changing logo to tell you when) before I was ready to even pour the hot water in my meal. It is fast, which conserves fuel, time and frustration. If there was 6th start I would add it.





Love my Jetboil.