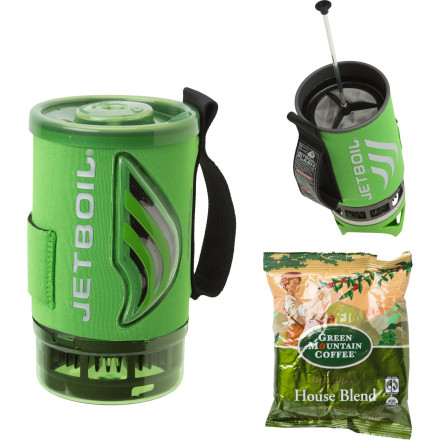 Detail Images

Community Images
Brew up two delicious cups of coffee in the morning with the Jetboil Flash Java Kit even if you far away from civilization and your favorite coffee pot. A push-button igniter fires this stove up quick, it'll boil 16-ounces of water in 2.5 minutes, and the included coffee press gets the most out of your grinds. Don't sweat the size of this kit either; it packs down to about the size of a water bottle.
Included coffee press fits into the Jetboil pot and allows you to press your java without a second container
Sol burner maintains its flame and burns hot through heavy winds and a full range of weather
Thermo-Regulate technology keeps a consistent heat to 20-degrees Fahrenheit for easy cooking
JetBoil fuel canisters are light, provide ample burn time, and simply screw onto the bottom of this stove to keep things mess free
Push-button igniter and wire heat adjuster make stove operation simple and quick
Pot support and fuel canister stabilizer tripod are included (fuel sold separately)
Boils water super fast, java portion meh
Familiarity:

I've put it through the wringer
The jetboil is AMAZING when it comes to boiling water. Super fast and effective at boiling your water (couple of minutes to a full boil). We have taken it on a couple of camping trips and always get the "oohs" and "aahs" from other campers. I love that it has "EN417 specification, a standard adopted by manufacturers throughout the world" (per the jetboil website)- so we haven't had to buy the Jetboil brand of fuel canister. We've used MSR, Brunton, and some random named fuel from Recreation Outlet and we're still alive to tell the story (they worked great). The only downside of this apparatus is that the coffee press is not very effective at straining the coffee grinds. We usually get a good 1-2 teaspoons of coffee grinds that float through with the coffee. Expect to have crunchy coffee when you use this press but after using instant coffee all the time on previous trips, I can't complain that much since you're getting french pressed coffee while you're out in the middle of nowhere. The scientists that developed the Jetboil probably spent most of their time on the actual stove- proof is in it's paramount performance, so I can't dock them a star for the lack of filtering grinds.
An amazing addition to any backpack
Familiarity:

I've put it through the wringer
I have used a jetboil several times over the years and I absolutely love it. I just recently got the french press version and since getting it wonder how I ever backpacked with out it. It is true that a few grounds will escape but its a small price to pay for amazing coffee on the trail with a fraction of the weight and time it would take to do it the old fashioned way. I would highly recommend this to any solo backpacker who like me can't start there day off right without that first cup of coffee in the morning.
Great stove, could be better
Familiarity:

I've used it several times
Easy to use, lightweight stove. Packs down, easy to start, boils water practically instantly. Have taken it on day trips and for overnight car camping. No real complaints about the JetBoil stove aspect (except the need to purchase a separate pot support to use anything but the included cup), only about the coffee press aspect. It does not really work as a true French press, since the grounds escape the press and end up in your coffee. It does not matter how course I grind the coffee--usually its the largest grounds that escape the press and end up on my tongue. The addition of a piece of mosquito netting or other straining type material over the mouth of the lid solves this problem, but it would be awesome if this were included in the lid already. Also, no good if you want to try and make multiple "pots" of coffee, as the entire cup needs to be cleaned of wet sticky coffee grounds before a second "pot" of water can be boiled. But for taking along on a solo sunrise day hike, I absolutely love it!
Easy, painless and boils in mere moments.

Perfect for the strugglers like me who hate the early AM.
The beginning of a revolution
Familiarity:

I've used it several times
I wouldn't describe the jetboil as flawless, but as of right now, there simply aren't many products out there that do what the jetboil does. As a stove, the jetboil is good for ultra light-weight, rehydrated meals, and boiling water uber fast. I use it exclusively for the latter. The new models now have a heat activated exterior design that changes color when the water is almost to boiling temperature so you can boil more than half-a-liter of water without creating a spewing volcano of searing water-magma, which I appreciate.

Coming from an aggressive coffee addict, I won't say that the french-press attachment makes the cleanest cup of joe by any stretch of the imagination, however I will pitch that there is NOTHING better, in this world, than having the option to boil a pot of water in less than 2 minutes and make a press in the morning, without ever having to leave your sleeping bag.

Until someone patents the super-cousin of the jetboil, this is the real-deal.
Super easy and effective!
Familiarity:

I've used it several times
These things are amazing. I'm a pansy when it comes to lighting anything, so I really appreciate the button start. The Java Kit is a great alternative to an extra $25 french press mug. I know people like to moan about how you can't simmer or slow cook anything, but honestly, I've boiled/simmered raw meats to fully cooked, and then added Jambalaya rice that needs to simmer for a good while and it turned out great. You have to babysit it to make sure it doesn't boil over, but that doesn't bother me at all. After cooking old fashioned oatmeal in it, however, I think that on longer trips you'd definitely want instant, just-add-boiling-water meals, to cut down on mess, fuss, and clean up! All in all, though, I'm very happy with this! In my opinion, it definitely beats a clogging, strangely dirty all the time, less compact Whisperlite!
Perfect roadside coffee.
Familiarity:

I've put it through the wringer
I use this more for coffee than even for cooking. Serves two healthy coffee drinkers, heats the water quickly, and the plunger is holding up well. No more gas station coffee for me.
Love it!
Familiarity:

I've used it once or twice and have initial impressions
Tested it out in no-wind, sea level environment and it boiled 2 cups of water in 2 minutes! Super efficient and user friendly. The best part is everything fits inside the cup when you're done. Easy, self-contained igniter. Seems ideal for back packing. Leave the coffee press and pan stabilizer attachment for car camping and save a little weight.
Does this kit contains the Metal pot...
Does this kit contains the Metal pot support?
Pot support and fuel canister stabilizer tripod are included .
Happy,...
Gender:

Male

Familiarity:

I've used it once or twice and have initial impressions
I've only used this a little since I got it, I enjoy it. It packs down tight in the pack when backpacking. So far I am happy.
This is a great single person stove/kit. It could be used for 2 but no more than that. The coffee press is just a added bonus and for someone that has to have coffee on their camp outs this is a solid choice!
Can you take this on a plane(in a carryon...
Can you take this on a plane(in a carryon or checked suitcase)?
Best Answer
You can carry on (or pack) the stove. You cannot bring any fuel on the plane, carry-on or checked.
So, isn't this a better deal than the SOL...
So, isn't this a better deal than the SOL stove? Is everything the same besides the color and with this you get the press? Trying to figure out the difference in the models. Thanks.
The SOL is a smaller and lighter setup. So, this is a better deal - you get more for less - but it weighs more, if that matters.
Compact and very portable but the lever to adjust the propane flow fell off during first use. Easy enough to turn knob by hand but expected better quality.
Is the added coffee press the only difference...
Is the added coffee press the only difference between the Flash and Flash Java Kit?
Best Answer
Yes. For the same price you get the coffee press and some coffee to sample. Both this and the Flash include the pot stabilizer and base. Essentially, this kit saves you $15.