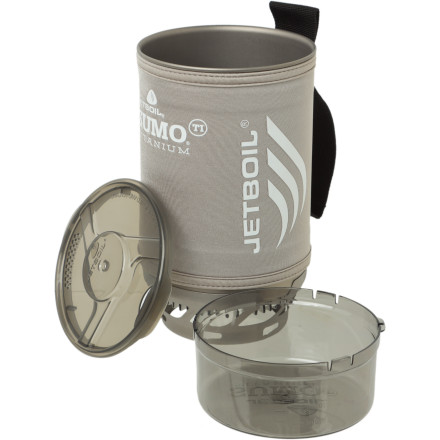 Videos
Upgrade your personal cooking system with the larger capacity, extremely durable titanium Jetboil 1.8 Sumo Companion Cup. This new stronger and lighter version of the tried and trusted companion cup offers more capacity to keep up with your body's need for more fuel.
Titanium is substantially stronger and lighter than aluminum and steel
Neoprene Cargo Cozy features a hypalon handle and straps for save use and transport as well as a temperature indicator
Drink-through lid with pour spout and strainer lets you get to the food or gently add hot water to your dehydrated food packet
Bottom cover also good for measuring and use as a bowl
Large enough to store a 230- or 450-gram canister or complete Sôl or Zip system with a 100-gram canister
Compatible with Jetboil Sôl, Zip, Flash, PCS, and GCS portable cooking systems models
What do you think about this product?
Have questions about this product?
Great if you only boil water
Familiarity:

I've used it several times
I really like the fact that this beast of a cup is super light and can boil enough water to make a enough coffee for everyone, but if you want to do anything other then boil water this isnt for you. I didnt know this going into my purchase, not sure if I would have changed my mind or not. After I purchased it I found on the package where it says only boil water and upon doing some research have found that if you try to cook or melt snow in it the fins will melt off of the bottom of the cup. I am no engineer and dont understand why this is just what I read in another review from a competitors website.





From Jetboil; ..... While I am not one of the engineer's, I cannot go into all of the specifics about aluminum and titanium properties. However I do know, and have seen, what will happen to the titanium cups when snow is melted and/or food is cooked inside of them. It severely damages the cup rendering it useless. The Fluxring will literally drip off or break off in chunks. If you are planning on frying bacon and eggs, and you want to purchase the titanium model, then I would highly recommend that you purchase the optional pot support and frying pan to use on top of the burner assembly instead of cooking inside of the titanium cup. This will give you the flexibility you are looking for while still allowing you a lightweight option for those days when you are not planning on using the system other than for boiling water and transferring it to make your food. I hope this helps. Jetboil


Jetboil 1.8 Sumo Ti Companion Cup