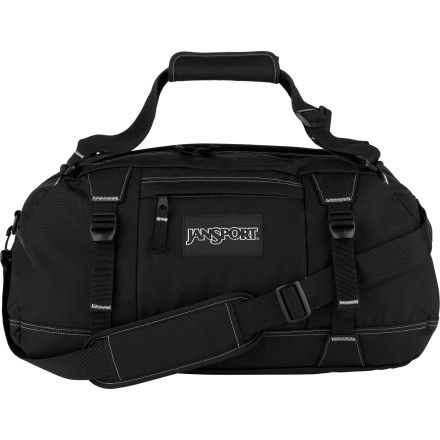 Detail Images
The Jansport Superbreak Duffelpack ranges in size from big to bigger and easily converts into a backpack for convenient carrying. Choose the 2400-cubic-inch version if you're heading to Europe for a week or two, and pack up the 3600-cubic-inch version for an extended backpack journey through Asia. Racing through to the check-in counter with your Duffelpack on your back is far less awkward than weaving your rolling bag through Athens International Airport. Compression straps bring your cargo closer to your body for better control. A padded shoulder strap cushions your clavicle when carrying this travel bag duffel-style, and an external pocket keeps your crossword puzzles and Jujyfruits within easy reach.
Works well for going to and from the gym. Definitely plenty of room in the 20" for a regular collection of workout gear. My only complaint is that the shoulder pad slips a little when I carry it.
I use this primarily as a gym bag. It's able to hold all of my gym sundries and has enough pockets to keep my small things organized; wallet, phone, watch, etc. It's also small enough to fit comfortably inside a small locker.

The only nit I have with this bag are the straps. I suppose it sounds good on paper to be able to wear the back as a backpack but the flat straps aren't very comfortable and you can't shorten the straps enough because the buckles get in the way of the pad.
Does this duffel have shoulder straps to...
Does this duffel have shoulder straps to carry as a back pack?
The 24in is really only the size of an airline carry-on, I know now. Had to get a bigger bag. If you want a bag this small, I would just get a backback; then you could schlep it around easier at least. Seemed nice otherwise though.
The recipients of my gifts were very satisfied.
I bought the 24 inch black bag. I read the dimensions, but it is still bigger than I anticipated. It will hold a week's worth of women's XL clothing, and will bulge nicely when overstuffed. It has 2 large zipper pockets that open from the exterior, but take up space on the inside of this Big bag, and one of them will hold shoes or wet clothes. The bag opens widely for easy packing. No internal clothing tie downs. The fabric is medium weight in everyday terms, not in mountain climbing terms, (600D polyester), and water resistant. The straps are thinner than I prefer, and the connections and buckles are plastic, but it has Jansport's lifetime warranty if something gives way. The adjustable handles can be lengthened considerably to serve as shoulder straps for backpack style running through the airport. I am going to use it as my grab-n-go bag already packed for car camping weekends. It will fold nicely as a stow away bag in your suitcase to tote home souvenirs. I would buy it again at the sale price.
clicked on this cause i liked the black...
clicked on this cause i liked the black and white large print plaid. didnt see a pic of that here is it out of stock or do they nott have it at all??
Get on Live Chat and ask.
I bought this bag as a quick extra bag for the stuff to pack. Had couple options, like Burton and Dakine bags. Was thinking to also use it as a bag for my snowboards boots and helmet and stuff for the weekend trips to ski resort. I bought Black/White Buffalo Plaid, nice color, the bag looks stylish. Fully satisfied my needs. Great bag.
, ☃bcs_badge_alumni_label☃
This bag weighs: 1.4 lbs (635 g).