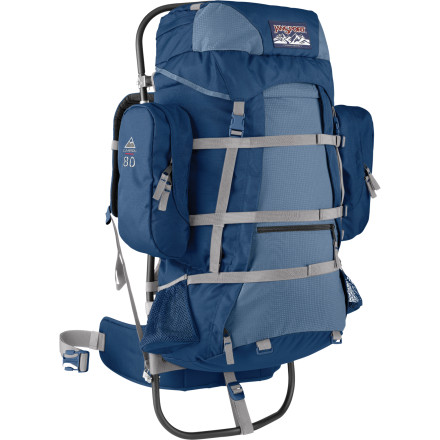 Community Images
Whether you've been backpacking for decades and prefer the heavy-load capability of an external-frame pack or you're a novice looking for a sturdy pack that won't bust your budget, the JanSport Carson Backpack delivers. JanSport loaded the Carson with useful features from internal-frame packs yet retained the easy-to-pack, easy-to-adjust design of the external style.
Easily adjustable hip-belt slides up and down to fit 16- to 21-inch torso lengths
Extendable lid has a zippered pocket ideal for toiletries, headlamp, other small items
Hydration sleeve and port (bladder not included) makes drinking on the trail a cinch
Front compression straps stabilize your load
Padded, mesh hip-belt stays dry and comfortable
Is this pack waterproof or must one have...
Is this pack waterproof or must one have a raincover?
Best Answer
Hey Garry,

This pack is not waterproof, you will need to pick up a rain cover.
Where can I get a rain fly for this pack ?


What is the better pack, this Jansport...
What is the better pack, this Jansport Carson or the Kelty Trekker?
kelty is the better pack...where do u hike?
These two packs are different by almost 1000 cubic inches... so you're really comparing apples to oranges.



That said, the Jansport is just about the same weight for all that extra capacity ... it's reviewed about as highly as the Kelty too.
Economical but certainly not the best
I bought this pack as a new hiker intending to go on longer trips. It provides A LOT of space, lots of pickets and an external frame to attach a lot of extra gear. There is no space between the pack and your back making the reservoir holder almost useless when any decent amount of weight is carried. The shoulder straps are not padded well nor is the material soft enough to keep your shoulders from nearly rubbing raw when there is lots of weight. So these two short comings take away from the fact it can carry so much.



Other than the reservoir and strap problems, it is a great buy. I've used it on many week long treks in difficult terrain (e.g. Alaska). However, if you know you will be hanging many long trips in the future, it is worth spending the extra money on a more comfortable pack.
i have friend with a carson 90 almost...
i have friend with a carson 90 almost identical to carson 80. my son has the 80 model, i don't like the waist belt on the 80. the 90 had a thicker and better padded belt. with a better cinch system on the 90. is there anywhere i may be able to find some of the older style waist belts and retro fit to the 80. hopefully someone from jansport may read this but they haven't responded on their own site
Best Answer
John, I doubt if anyone from JanSport will reply on these forums. I think you would have better luck calling them at (510) 614-4000 and ask for customer service.
..What is the weight of this pack? How...
..What is the weight of this pack? How small will the hip belt cinch down to, IOW what is the smallest waist size it will work with?
Hey, the weight is: 4 lbs 12 oz / 2.18 kg and the hip belt will cinch down small, until the padding is touching...
I bought my Carson 80 from backcountry probably 6 years ago, when i was getting ready for my trip to philmont in boy scouts. what actually had happened was i had purchased a kelty external frame, and backcountry didn't realize they were out of them until after i had ordered. A REAL PERSON called me, and told me that although they didn't have the kelty, they would sell me the carson 80 at the same price due to the trouble i had gone through. they told me it was a good pack, and they were right. after all this time, the only thing that has worn out on it is the straps, but that's because they are the old design and apparently i can get a new pair for free from JanSport. i took this pack on a 10 day trip at Philmont, New Mexico, i took it on 2 trips on the massachusetts section of the AT as well as other memorable journeys. I also gave it to a friend of mine who took it to South America and Africa with them. every trip i have taken it on, it has performed beyond my expectations. the other thing about it is, it NEVER runs out of room! it's magical how much stuff you can put in it! it may be a bit worn in, but it's still running strong! thank you backcountry for this wonderful pack! my one complaint is that because it has so much room, everyone will want to fit what they can't fit into your bag!
Anyone know if the Jansport Carson can be...
Anyone know if the Jansport Carson can be had in any other color than blue? My sheila hikes with a blue one and mine just needs to be a different color...I have googled images and see the Carson in Black and Cilantro Green but cannot find to purchase.
Besides being different it just helps to tell at a glance her backpack from mine.
Try Craig's List or Ebay to find one of those colors
What is the weight of the bare frame plus...
What is the weight of the bare frame plus waist belt and shoulder straps, minus the bag parts? I'm looking for a practical way to haul a large, heavy duffle bag up mountains, and am considering modifying this pack into a duffle hauler.
This pack is not well suited for your use. There are other's that are specifically designed for that. They have a support shelf on the bottom instead of the supporting frame on top. You can remove the bag and just use the frame when you need to. I have one that is comfortable with a 90 to 100 lb. load, not that I would want to carry that more than a couple miles. My legs would be the issue, not the pack/frame.
What is the maximum weight that this...
What is the maximum weight that this backpack can carry comfortably?
This is a very large pack ... with enough volume for weeks-long unsupported expeditions. So... the question really becomes how much weight can you carry. Most people would recommend not exceeding one quarter of your body weight if you're going to hike any distance--and at that limit you're looking at a heavy pack.
I have an old carson that I've used for...
I have an old carson that I've used for many years. Unfortunately the shoulder straps are wearing out. Where can I buy new upgraded straps + belly band?
Best Answer
JanSport has a lifetime warranty. I blew out a shoulder strap on a 2002 Carson 90 and took it and another one (my son's) to the JanSport warranty center. They replaced both sets of shoulder straps for free. Go to their website, call the warranty dept and they will take good care of you.
do the shoulder straps have a sternum...
do the shoulder straps have a sternum strap?
Yes on the sternum strap, it's a great pack. Plenty of room, the external frame gives you many options to add lashings to hold extra stuff and it sits on your body very well with plenty of adjustments for different body types. Huge A+ on this pack!
I like JanSport external frame pack very much, although shortcomings exist. It is easy to improve and remodel. The new Carson 80 have many advantages than older model. The hip-belt and shoulder-belts were re-designed and fit well, but slightly harder than before. The size of external frame is smaller than the old D3 frame, but it is too large, because I am living in Japan and Japanese mountains are steep. So, I had completely re-modeled Carson 80. In the first place, I had cut the frame shorter and attached the old D3 joints to the frame. In the second, I twisted the hinge to fit my waist and sewed the used insole to the belt, because it was too solid. I also changed the way of connecting shoulder yoke to slant easily and fit well. And I change the way of passing the belts, because the buckles easily loosen. I cannot upload other photos. Please see my HP. http://psycho01.edu.u-toyama.ac.jp/carson80.html
Great external frame pack for the $$
Bought the pack for a trip that got rained out, but loaded 'er up to get a feel. Good displacement of weight (50lbs), good fit (6' 185lbs.) bag does have a sleeping bag compartment.
Over all wish I could have trail tested it, but so far a great buy for the $$.
What type of hydration system works with...
What type of hydration system works with this Pack?
Best Answer
Basically any bladder can work, so throw your favourite system on.
were can i find replacement shoulder straps...
were can i find replacement shoulder straps for a carson 90 backpack
Best Answer
Contact Jansport's warranty department. If your shoulder strap failed, they will likely replace it for free.

Otherwise, you can purchase new shoulder straps - I just purchased new ones from their warranty department that have load lifter straps. Price was very reasonable!
If you have the older straps with plastic grommets, the warranty department will replace them for free. If you wear out anything, they will replace it. I recently replaced two sets of shoulder straps on 2002 vintage carson 90s.