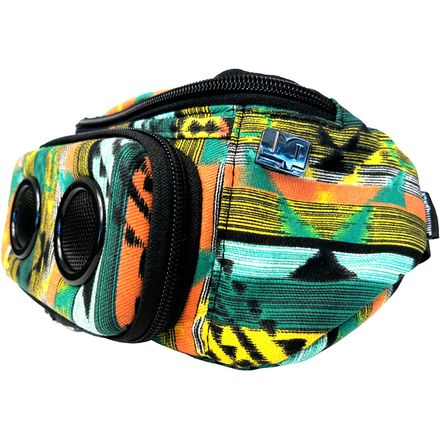 Colors

Detail Images

Community Images
The JammyPack Portable Speaker Hip Pack combines all the irony of a fanny pack with all the awesomeness of portable speaker systems. The detachable, water-resistant speaker unit is powered by an eight-watt internal driver and plugs into any device with a standard headphone output.
Waist pack with detachable water-resistant speaker panel
Eight-watt internal driver keeps your tunes bumping
Plugs into any device with a 3.5mm output
Powered by four AA batteries or the Jammypack rechargeable battery (sold separately) for a minimum of 6 hours playback time
GREAT SOUND
Familiarity:

I've used it several times
I love my JammyPack! Looks great, sounds great. My only criticism is that you can't fit much in the pack itself, but that's not why I got it. It's a great way to listen to music on the move!
Party Check, keys check
Familiarity:

I've put it through the wringer
The Jammypack means I can have a dance party anywhere I go! I love how loud the speakers play our tunes, and that it has enough extra space for keys, wallet, snacks, or anything else that needs to come to the dance party! I've brought it mtn biking, ski touring, to the top of the JFT venues when I'm coaching and to the lake. It's essential to a good time!
I excessively Jammed.
Gender:

Female

Familiarity:

I've put it through the wringer
90 day update:
STAR LEVEL - UPGRADE!

Okay, so 30 days wasn't long enough to appreciate all that this JammyPack has to offer.

Originally, I docked a star on this little guy because I felt the battery pack was too big and I couldn't fit enough in the pack itself.

I now officially take it back. Like, what am I actually trying to put in here aside from the essentials? It genuinely fits everything I need to put in a fanny pack and I've realized it's actually exceptionally loud and clear for something of its size.

I've also taken to wearing it while I go on bike adventures around Chicago with my friends. In a city where the train runs above ground and over your head the majority of the time, it's safe to say it can be pretty loud outside. Despite all of that, you can still hear these speakers and so can your friends riding in front of and behind you. It's genuinely impressive.

By the power invested in me and for these reasons, with my 90 day review, I upgrade the JammyPack to 5 stars.

Jam on. Jam proud.

------------------------------------

First of all, thank you to Backcountry.com and JammyPack for hand-selecting me to review this piece of gear for the benefit of the backcountry.com community! It's pretty freaking rad.

So, I was hooked up with this JammyPack at a perfect time. I was headed to Dover, DE for a month with my company to set up Firefly and Big Barrel Music Festivals. Basically, it's a lot of manual labor outside day after day in the sun. What did I have to keep me company? THIS. JAMMYPACK.

To kick things off, it took me a second to figure out how to change the waistband size, but that's really only because I struggled - no fault of the pack. The size of the pack itself was great. You'd think it would be on the cumbersome side because it has the speakers in there, but it really wasn't too bad at all. In terms of sizing, the only thing that caused me to dock a star off this review, was that there wasn't much room on the inside of the pack.

I crammed my phone in there, one set of car keys, and occasionally this bandana-like thing. because of the battery pack for the speakers, you're limited a bit to what you can fit inside. If you're just looking to carry the essentials around, the pocket size is perfect.

The JammyPack is super durable and the fabric is great. It doesn't feel cheap AT ALL. I got the Navajo Knit version and the pattern is so cool - it's the one I would have picked if I were just shopping for myself. Genuinely a knit material and looks like the picture shown online as well.

Last but not least - the speaker quality. WAY better than I was expecting. I think I was expecting a sound that was okay, but not great and not too loud. The quality is genuinely great for these little guys, they're pretty loud, AND they come out if you want to pop them out of the pack and use them on the side.

Overall, a great product that I can see myself using at work, on the go, at a cookout, bike ride, and really anywhere.

Props to JammyPack and props to Backcountry!
My new favorite thing...If it worked
Familiarity:

I've used it once or twice and have initial impressions
The first time I plugged in my Jammy Pack I got halfway through "Bootylicious" before the music cut out. The wiring is faulty. Luckily I was able to secure with a rubber band for use during that day but this is not a sustainable solution. Will be returning...hoping this was just bad luck because I really want this to work!
Bring the Party!
Familiarity:

I've used it several times
There were way too many instances when I caught myself saying "I wish I had a Jammypack." Spring skiing, fun runs, cleaning, biking around town, camping, and the list goes on. Finally, I am a proud owner and I keep the tunes blasting all day.

My first outing with my beloved JammyPack was on a group bike ride around town. Before turning it on, the gold sequins stole the compliments, but then came the music. The sound quality on the pack was amazing and the battery life was impressive. When we reached our destination I turned my Jammypack off so the house speakers could be played. The house system lasted for about 10 minutes before it was replaced by the Jammypack, which was still able to blast quality sounds after bumping it for a couple hours.

On my return ride home, it was POURING rain. I was nervous this would zap my pack in no time but it did not. Jammypacks are water resistant, but we all know that electronics and water do not get along, so avoiding this is ideal.

The pack itself is large enough to carry the necessities: phone, cards, chapstick, candy, with a little wiggle room. It is light and comfortable to wear.

Remember, when you wear a Jammypack you are committing to bringing the party. People will follow you, so make sure you have a good playlist ready!

Too FuN!
Familiarity:

I've used it several times
I'd seen a friend trying to cram her Goal Zero speaker inside her retro fanny pack - but this makes a lot more sense.

Not only do you get compact, excellent sound quality, you can actually stash a few valuables in the pack as well!



The sound quality is actually really quite good, better than I was expecting. I went ahead and grabbed a rechargeable battery set as well because I hate feeding batteries to electronics.

This JammyPack never fails to capture the attention of friends and nearly always guarantees a dance party.

I, for one, am a huge proponent of dance parties so this is a pretty big boon for my accessories collection.



The fabric is quite thick, I'm thinking it will be pretty durable.

Love the bright colors and options. It's comfy too.


Works well until it breaks...
Familiarity:

I returned this product before using it
I love the JammyPack for being able to listen to music out loud, especially when hiking or lounging in a park, etc. The portability is great and the sound quality is actually pretty decent. My only issue is the wiring, which eventually wears out and makes the sound cut in and out if you bump the cord. I was able to return it for a brand new one, but after only a couple weeks the wires began to go out once again. Since I lost all the original packing I'm stuck with another speaker that has lost its practical use. Like I said, the product itself works wonderfully, I'm just disappointed with the short lifespan.
Awesome print and nice and loud.
Familiarity:

I've put it through the wringer
How could you not like these? The only negative I have is that the newer Jammy packs no longer have an external volume control. Its kind of a PITA to pull your phone/ipod out to lower volume.
Why Fanny When You Can JAMMY?!
This is probably my new favorite accessory! Its stylish, plays music AND stores stuff! They took the already awesome FannyPack and made it 100 times better by turning it into a JAMMYpack! I sport this while skiing with friends so we can all jam out to the same music together! You will for sure be the life of the party :)



The only downfall of this item is the battery life is insanely short and as the batteries start to die so does your sound quality :( It starts sounding like a blown speaker then progressively gets worse and the sounds gets quieter. That really is my only major issue with this item.
JammyPacks are a spring skiing essential and I'm psyched to finally have one to call my own! They're reasonable priced and look outstanding (I chose Neon Indian). There's plenty of sound and its of a good enough quality for the price. I particularly love the flexibility that comes from the speaker unit being detachable.
Though ideal for shredding, this stylish noise box is my favorite addition to any spring/summer desert adventure. Not only does it contain speakers, it also conveniently has storage for a number of important odds and ends. For reference, the Jammy in the photo contains one iPod, two pocket shots of whiskey, one larger than average bouncy ball, and about ten neat slot canyon pebbles with room to spare. The sound quality on this speaker set is excellent, and doesn't react poorly with movement so you can run wild and still have optimal tuneage. This is probably the best present I've ever received.



Like a fine wine or beer, this product should be paired with something equally delectable, such as the Burton Beeracuda or the ENO DoubleNest.
Jared Grant rockin' the JammyPack on everyone's favorite day: Gaper Day.
Portable Party
Familiarity:

I've put it through the wringer
Bring the party anywhere you go, great for skiing, rafting, hiking, or just jamming around the house. The sound quality isn't Bose but for what this is it's pretty cool. It could have better organized internal pockets but lets be honest you really only want this for the music and a few party suppplies.
JammyPack Bumps at JortSki
This thing is awesome. Kept me fueled during the annual JortSki at snowbird.
Jammy Fanny
Familiarity:

I've used it several times
My sister has had one of these for a while and I have always been jealous so I finally had to get one for myself. It was one of the best purchases I have made in a long time! It is great to have outside at the park when playing games or inside as well. The speakers can totally zip off from the rest of the pack so you can just use it as speakers as well. The fanny pack it's self is a little small, the battery pack takes up a lot of it but it held everything I have needed it to. The sounds is incredibly good! I highly recommend everyone get one!
These things are actually amazing. My friend got one and I was blown away by the sound quality and loudness. It was a must-have for my up coming travels and summer festival season. Compared to other portable sounds I've seen around, this takes the cake at more than half the price. One of those, "Wish I thought of that"'s.