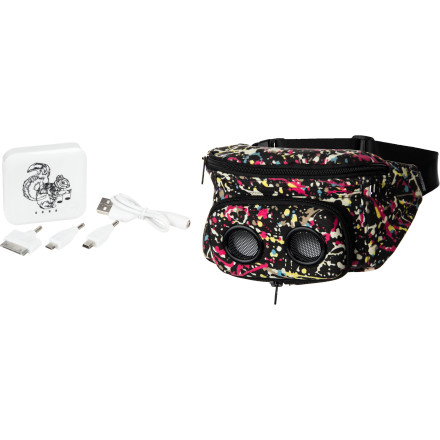 JammyPack JammyPack Portable Speaker Hip Pack w/ Rechargeable Battery
View Larger Image
JammyPack Portable Speaker Hip Pack

The JammyPack Portable Speaker Hip Pack combines all the irony of a fanny pack with all the awesomeness of portable speaker systems. The detachable, water-resistant speaker unit is powered by an eight-watt internal driver and plugs into any device with a standard headphone output.

JammyPack Rechargeable Battery
The JammyPack Rechargeable Battery keeps your JammyPack portable speaker bag bumping for at least five hours of continuous playback. When you're not rocking out, you can even recharge your iPhone or iPod with the included USB cable and adapters.

THE PACK
Waist pack with detachable water-resistant speaker panel
Eight-watt internal driver keeps your tunes bumping
Plugs into any device with a 3.5mm output
Can also be powered by four AA batteries
THE BATTERY
Powers your JammyPack for at least 5 hours of continuous playback
Includes USB cord for recharging the battery or your device
Compact size - only 2 inches x 2 inches
Remember to switch it off when not in use!