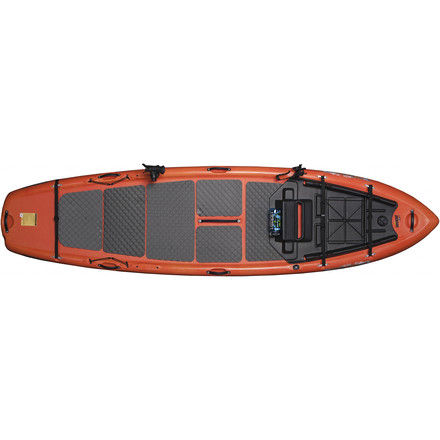 Colors

Detail Images

Videos

Community Images
Description
A stable stand-up dedicated to the fishing lifestyle.
Land a few big fish from the deck of the Jackson Kayak SUPerFISHal Stand-Up Paddleboard. This paddleboard was designed specifically for fishing, with cam straps to hold extra gear, screw-in deck mounts for accessories like rod holders, and removable fins that keep you tracking straight and true for efficient paddling. You'll be able to quickly and quietly creep into shallow areas of lakes, pick your way down slow-moving rivers, and take the gear you need with you—solely under the power of your paddle.
Hull has a shape designed to track straight and provide maximum paddling efficiency
Non-slip deck pads keep your footing secure and help take the bite out of longer paddles
Screw-in mounting points allow you to attach fishing accessories to the top of the deck
Deck also features built-in cam straps that support any extra gear you want to store on the nose or tail
Fins help this board track straight as an arrow, and the fins are removable if you prefer a looser feel on the water
Middle grab handle makes it easier to climb back onto this board if you decide to jump into the water
Nose, tail, and side handles give you plenty of options for loading and unloading this board from the water
Board includes a built-in mount at the nose so you can attach your GoPro helmet camera and film from the water
Jackson Kayak SUPerFISHal
SUP is no good for salt water fly fishin
Familiarity:

I've used it several times
I live on Aransas Bay in south Texas. I am a fly fisherman, and I purchased the Jackson Kayak Superfishal from Backcountry in order to scoot around some of the shallow flats for red fish. My first experience on the SUP was a disaster. I did not install the provided fins on the back of the board, so the SUP had no linear motion and simply would not track at all. I realized that the fins could possibly make a "big" difference, so I installed them and took the SUP out for additional trips, but the board still doesn't track. You cannot gain any momentum in order to cover any decent amount of water. Also, as a salt water fly fishing platform the stability is questionable in my opinion. I also have a Hell's Bay poling skiff, so I have plenty of practice keeping my balance on the back of a boat with a push pole. This SUP is difficult to cast from while standing up in anything but flat calm water. We don't get much of that type of weather down here, so this board will be looking for a new owner. On the bright side, the board is only slightly awkward to manage. It loads in the back of my full size pickup easily enough, and holds plenty of gear including a medium sized cooler, two fly rods, a small anchor, fly boxes, miscellaneous other gear. To close, I would not recommend this SUP to anyone on the coast. Perhaps it works better on rivers where the water is moving anyway, but if you need to paddle to get to your fishing destination this board should be avoided.
An SUP for the Whole Family
Familiarity:

I've put it through the wringer
My Wife Wanted a SUP and I Want To Fish. The SUPerFishal gives us the best of both worlds. It is a great SUP for the whole family and dog and it is an awesome fishing SUP. It has ample room and tie downs to add a number of tackle boxes, coolers, seats, and, camping gear. It can be used to tour or exercise as well as to stalk the big fish on the flats.
Stable, well equipped, but VERY SLOW!
Familiarity:

I've put it through the wringer
I've done everything on this board from riding waves in Destin, fishing in the Buffalo River for smallies, fishing in South Louisiana for redfish/trout and put it in small ponds and large lakes for largemouth bass. From an equipment perspective, you can load it down to the max and then some, and it's STILL stable and buoyant. I even rode waves in the gulf with it loaded down and it was a blast. I love the RAM mounts, the stability, and it's phenominal for fishing moving water (like the Buffalo river National Forest, as long as the water moves.) The deal breaker for me is the way it performs on open, flat water. It's just too slow to be functional and will not, remotely track straight. It makes fishing in the marshes and anywhere other than small bodies of water impractical. Friends in kayaks and on traditional SUPs (like BOTE or YOLOs) can easily paddle at over twice the speed and in a straight line with half the effort. I regret spending the grand I did on this board. I'm sure Jackson could fix the tracking issue if they wanted to, but there's no way the current design will ever be able to be paddled with enough efficiency to make it adequate for any distance. BTW, I'm an endurance athlete. If I say it's difficult to paddle 1/2 a mile on this board, I'm being conservative compared to what the average person would say. BTW, I sent an email to Jackson, hoping they would be sympathetic and take it back...not a chance. The person who answered my email challenged the notion that it doesn't track straight.
JK SUPer Fishal, Not just for fishing
Familiarity:

I've put it through the wringer
Yep it fishes great. But my favorite use for this board is on multi-day river trips. I've loaded this board down with 3-5 days of camping gear and used it like stand up raft. I even strap my Yeti Cooler (tundra 35) to it for food storage and a comfy seat. With Watershed duffle bags you can easily carry a ton of food, gear and clothing for a longish trip down a river. Its supper stable and handles well even loaded up. It is a big board! I've even taken my 70 labrador on a three day trip down the Colorado River exploring the canyons of Utah.
Awesome SUP, crazy stability!
Familiarity:

I've put it through the wringer
The SUPerFISHal is an incredible fishing SUP. It comes decked out and ready for any fishing adventure. I love the fact that the fins are removable. I primarily use this SUP to float down rivers and target bass and trout. It is so stable I have taken it down small rapids without any worry. The SUPerFISHal is awesome and great for beginners or advanced anglers looking to get into hard to reach water!
Huge Brown Trout on the SUPerFISHal
A great fishing SUP for rivers and lakes!
What is included with the board? Does it...
What is included with the board? Does it come with the front deck with the paddle stager as pictured? I've heard some come with a jackson kayak nalgene bottle as well? Are the two rod holders pictured included? Thanks for your time and feedback!!
Best Answer
Vince, I don't work for Backcountry but I know this is supposed to include the front deck, nalgene bottle, 2 RAM-ready rod holders, a Go Pro mount and 2 tracking fins that screw into the hull.