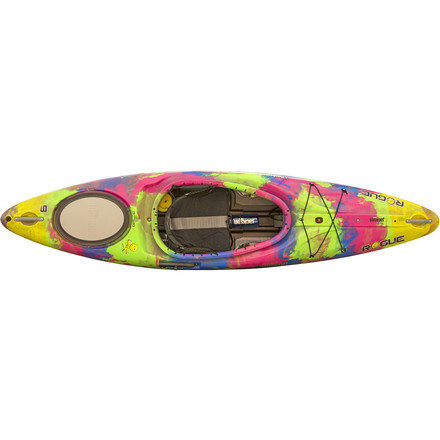 Colors

Detail Images
Description
Gobbles up whitewater and holds enough gear for multi-day flatwater trips.
Jackson Kayak created the Rogue 10 Kayak to serve two purposes: the first as a posed, nimble whitewater charger and the second as a fully-capable and comfortable light touring boat. You'll find the same tough, plastic resin Jackson uses in its whitewater boats, a stern hatch with storage enough for a multi-day trip, and the cockpit comfort necessary to tackle long days or rough water. Versatility defines the Rogue 10 and as such, this boat grows with abilities of beginners, inspires confidence in intermediate paddlers, and gives experts all the performance they need to rip in this do-it-all rig.
Hull features a support track that's welded into place for extra stability
Seat position can be adjusted fore or aft inside the cockpit using a single thumbscrew that holds the seat in position on the track
Padded seating system borrowed from Jackson's whitewater boats and utilizes the wide, Sweet Cheeks design that eliminates pressure points underneath your butt
Hip padding uses foam shims that can be added or removed to customize the fit inside the cockpit
Sure-Lock backband provides the ultimate in lower back support, it's quickly adjustable while you're in the cockpit, and the system is field-repairable
Keeper footbraces slide along locking rails mounted inside the bow and provide foot support for paddlers with a large range of leg lengths
Bolt Action Mechanism (BAM) drop-down skeg drops into place with the quick push of a locking bolt accessible at the side of the cockpit (no need to get out of your boat)
BAM system helps direct the flow of water along the bottom of the hull so this boat tracks straight and efficiently across flat water
Stern dry hatch gives you tons of storage space and the water-tight hatch keeps water out
Front wall (internal) can be removed to reveal additional storage space that includes an attachment point for a bow dry bag
Bow deck rigging gives you the option to attach a low-bulk drybag or stash waterproof maps outside the cockpit and hatch areas
Recessed drain plug makes it easy to drain water from your storage area when you need to clean it out
Steel-core grab handles are built to take a beating and shaped to make it easy to haul this boat out of the water in a hurry
Good river runner
Familiarity:

I've used it several times
Bought this as a replacement for a recreational kayak for some more river "playing". So far, I like it a lot. Very fun boat, the skeg is nice for flat water tracking, and I really like the comfort of the seat!
River Running with the Rogue
A little river running with the Rogue, and some friends. Michigan Rapids, labeled a C3 was a hoot! After the drop, I end up chasing down a buddy's kayak through part of the 1/2 mile C1-2 runout.
A Grand Canyon dream boat.
Familiarity:

I've put it through the wringer
I just took the Jackson Kayak Rogue 10 down a 12 day self-support kayak trip over the 280 miles through the Grand Canyon on the Colorado River. I packed this boat with all my gear for this trip. No rafts supported us. The Rogue has a cavernous amount of room holding my over 120 lbs of gear plus me 200 lbs.



This boat is fast, stable and rolls so easy even loaded to the gills. It handled the huge whitewater very well. The assed weight helps push through holes.



I broke one skegg pulling up on a beach with it down (my bad). The skegg is very easy to field maintain with just a screwdriver and a spare.



All in all this is a great comfortable expedition kayak very capable of running class 4 whitewater.
Great boat!
Familiarity:

I've used it several times
There is less room in the stern compartment than the manufacturer's description would lead one to believe, but otherwise it is just as described. The fin works like a charm and provides a surprising amount of directional stability when needed. It handles quite well and rolls easily. I think the 10 is a little bigger than I need, but at 6' 2", 230 lbs, the 9 is not rated as big enough. I bet it would be just fine. Thus far, I have not had it in anything over class 3, but that is coming. I highly recommend this boat.