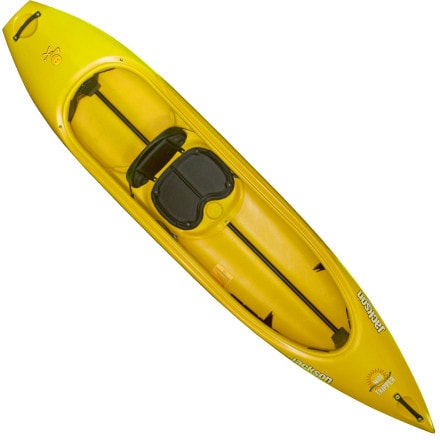 Description
Big fun for little people.
Kids get to enjoy the serenity and exhilaration of kayaking in the Jackson Mini Tripper Kayak. The size of this kayak is smaller, but the Mini Tripper's easy-to-steer, swift-paddling shape and features are the same as the larger Day Tripper model.
Hybrid canoe/kayak design creates a versatile, stable (easy-to-paddle) boat for varied use on flatwater and low-class swift-water
Wide hull shape from the bow to stern creates a stable platform for new and accomplished paddlers
Composite beam runs the full length of the hull in the center to preserve the shape when the kayak is tied down
Long, open cockpit offers plenty of space for a cooler, the dog, or fishing or camping gear
Ultralight Elite seat is easily removable—two hook-and-loop holders fasten it, while various slots allow for seat adjustment
Adjustable footrests allow a comfortable body position, which helps maintain stability
Share your thoughts
What do you think of the
Jackson Kayak
Mini Tripper Kayak - 2012 Model
? Share a...
Posted on
Take the kids with you or send them away!
I borrowed a mini tripper for my cousins to use when they came up to the lake with their kids and the kids just could not get enough of it... were fighting over who got to go out next all weekend. It was so cool to see them work hard to get the children to paddle along with the group at first but then to see them want to go again later on their own. Next time they came up they had 2 of their own Mini-trippers so all the kids could paddle together - such a welcome treat for the adults to enjoy some dock-time peace and quiet :-)
The mini tripper is narrow and surprisingly fast. I paddled it myself (170 lbs) and love the speed and light weight although if a big boat went by I'm sure I would fill up. I would bet it's a fun boat for up to 130 lbs no problem.