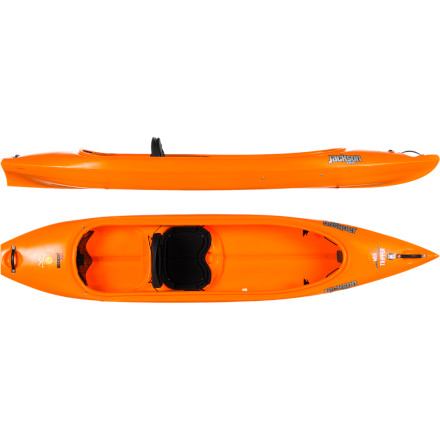 Detail Images
You want your kid's first experience on the water to be as enjoyable as possible, and the Jackson Kayak Mini Tripper Kayak is just the boat to put a smile on your child's face. This boat is easy to climb into and easy to paddle, and the semi-open cockpit design makes it supremely safe and stable. Jackson Kayak kept all the features simple and utilitarian, so this boat is comfortable enough for the true greenhorns and durable enough to handle your more rambunctious paddlers.
Hull features a partially open/closed cockpit design that offers tons of stability and keeps water out of the cockpit area
Composite hull beam provides additional hull support and rigidity so this boat can handle rough and tumble use and abuse by kids of varying sizes
Seat has a padded back and seat so your youngin' will be comfortable no matter how long the paddle
Cup holder keeps a drink close at hand, right in front of the seat
Adjustable foot pegs provide foot support for kids with different leg lengths
Bow and stern grab handles are made of soft webbing that's easy on the hands
What do you think about this product?
Have questions about this product?
In this ad it states that the width is...
In this ad it states that the width is only 1'11". Is that correct? the one i have is about 27-29" wide. this seems very narrow for a kayak and not so stable for a dog to ride in front of me. what is the measurements of the cockpit?
This is a kayak for kids, or small adults, so it is a bit smaller than your standard kayak. Ideal weight in this one is at or below 140 lbs. More than that and you'll be pretty low in the water. To see the full size version of this kayak model check this link:

http://jacksonkayak.com/jk-kayaks/recreational-touring-kayaks/day-tripper/


I am looking for a kayak that I can take...
I am looking for a kayak that I can take my 45 lb dog with me. would this be the one??? Please let me know. collette.paintbox@gmail.com
Best Answer
This kayak could be the one but it really depends on your dog more than anything. I'm talking about sea-legs. If your dog has a great ability to balance, it could do fine on a kayaks deck rigging area or on the lid of a closed hatch. Most paddlers prefer to have their companion in front to keep an eye on them. This kayak is good for a small to medium dog to be in front with you and no need for skilled sea-legs as they will be inside the kayak making it easier to stabilize and get comfy. If your dog is tall and prefers to remain in the sitting up position, you should have more than enough clearance to make full strokes. I've seen dogs share the seating area with a paddler only to restrict strokes to little flutters. Have fun!