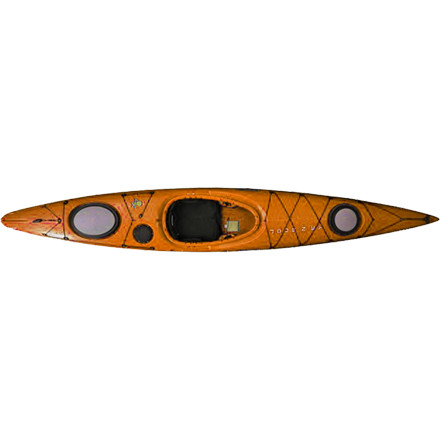 Community Images
Go further, tour longer, and stay more comfortable in the Jackson Kayak Journey 13.5 Kayak. This trekking boat holds all the gear you need and keeps you dry for close-to-shore day paddles or multi-day trips away from it all. Jackson designers formed this boat from the same highly durable resin used on their whitewater boats and gave the hull a shape that glides easily for ultimate long-haul paddling efficiency. Beginners will find the Journey Kayak easy to control, and more experienced paddlers will enjoy the ability to haul all the gear they need for an extended adventure.
Peaked deck design means water rolls off the top rather than pooling or rolling toward the cockpit
Bow and stern hatches are bulkhead-sealed and roomy enough for supplies and enough camping gear for multiple days away from shore
Small day hatch uses a hanging basket design to hold your small essentials and keep them safe and dry
SmartTrack-compatible rudder system (sold separately) gives this boat steering options in high winds
Sure Lock backband system, hip pads, thigh pads, and adjustable foot rests make the cockpit adjustable and supremely comfortable for almost any paddler
My wife and I had never kayaked until we purchased the Jackson Journey and Aventure technology paddles. We have been out on a lake three times for 2-3 hours and enjoyed it very much. It was surprising how easy it was to cruise and turn, all with great stability. Wind not a problem. Storage areas stay dry and appear to be adequate for our packing gear. Looking forward to a 2 day river run and camping. Took me several years to just do this and so glad I did. My wife is as enthusiastic as I.
I learned how to kayak in one of these and I don't know much about kayak but this guy was pretty cool! I used it in a very small pool and had a chance to test the turning capabilities, which was of coarse large than the smaller jackson kayaks but still very capable. Then we took it out on a windy day, got to test how it rolls and how it handles on the lake, the boat handled the wind and waves very nicely.
Awesome Design
Gender:

Male

Familiarity:

I've used it once or twice and have initial impressions
So I had a chance to paddle one of these recently and I just had to get on here and post a review. The hull design on this boat is KILLER. Without getting into too many "technical" details about the design, this boat cruises like a boat longer than 13.5', but handles like it's much shorter. I couldn't believe how fast it was and yet how tight it turned. It will easily hold enough gear for long weekend trips as well and even longer if you are good at packing. I liked it so much I have two of them on order for my wife and I. It will be perfect for cruising around and camping on the mountain lakes near where we live.
I like a boat that has some spunk. I drive a Mini-Cooper S, with 18" wheels and some extras, and even race it on Grand Prix Tracks... I paddle a Journey 13.5 because it turns, surfs, accelerates, and is a joy to ride.

EJ