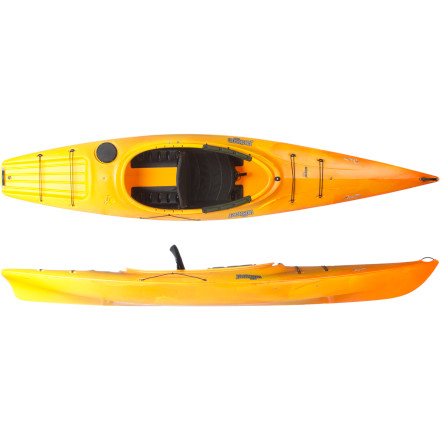 Detail Images
Designer Joe Walton had something different in mind when he set out to shape the Jackson Kayaks Ibis Kayak. Rather than create just another easy-going recreational kayak, Joe created a recreational boat with speed, carrying capacity, and a profile that makes it nearly silent in the water. First-time paddlers can slide into the roomy, open Ibis cockpit and keep this boat straight as an arrow the first time. Experienced paddlers will look toward the Ibis for its versatility and clever design touches like the removable Elite Seat that doubles as a camp chair and the rigid, molded stern drybag. Joe was careful to balance the Ibis's streamlined shape with a little extra width behind the cockpit, a touch that improves the stern carrying capacity. This is a boat for touring the lake, bird-watching day trips on the pond, and even the occasional overnight along the coast.
Hull features a streamlined deep-v shape at the bow and stern and a shallow, tri-hull shape at the midship with additional width just behind the cockpit
This combination of shapes and contours makes the Ibis surprisingly fast and efficient in choppy conditions, near-silent on the water, and lends it a high carrying capacity at the stern
Open cockpit outfitting includes adjustable foot braces, Jackson's Elite Seat seating system, a tall backrest, padding around the cockpit rim, sliding water bottle holder, and more
Elite Seat offers an elevated position (four inches) and can be adjusted fore and aft, with the aft position offering an additional two-inch height
Elite Seat can detach from the cockpit and function independently as a beach chair or camping chair
Stern drybag uses a plastic insert that maintains the bag's shape and holds the bag open when you need to access your gear
Small waterproof day hatch uses a waterproof fabric bag that hangs to keep your essentials off the wet floor
What do you think about this product?
Have questions about this product?
Jackson Ibis Review
Familiarity:

I've used it several times
We have two Jackson Ibis Kayaks a yellow 2011 and an orange 2012. There are slight differences in the two. The 2012 has an adjustable cup holder that fits under the seat rails and it also has vertical hull stiffeners mid-ship.



My wife and I have canoe experience but we would be qualified as novice Kayakers. All of our paddling thus far has been constrained to a lake but the lake we live nearby is very open and with the strong south winds we get in the summer water will frequently be very choppy. These kayaks are good in chop. Yesterday my wife, her friend and her friend's husband were caught in a squal that kicked up some waves that were easily coming over the bow but the cockpit design kept the inside from taking in too much water even without a skirt. Her friend was in a new Old Town Dirigo 120 and her husband was paddling a 13.5 foot Ocean Kayak Trident. After approximately a mile of rough open water my wife had gained approximately 200 yards on them.



In a side by side comparison in calm water the Dirago seems to glide better. The day hatch is NOT easily reached from the cockpit I would prefer it in front like the Dirigo. We both like the dry bag used in place of a hatch covered storage since you have to be out of the rig to use it anyway.



The Ibis adjustable seating system is comfortable, convenient and well thought out. That feature gets 5 stars.



The Ibis is best suited for exploring slow rivers and tributaries and lakes and it is a bonus to have the confidence it will handle rough water when you do finally get caught out. The only handling issue that my wife and I have both complained about is that this boat does weathervane. It does tracks straighter into the wind than downwind.



We are both happy with our choice.