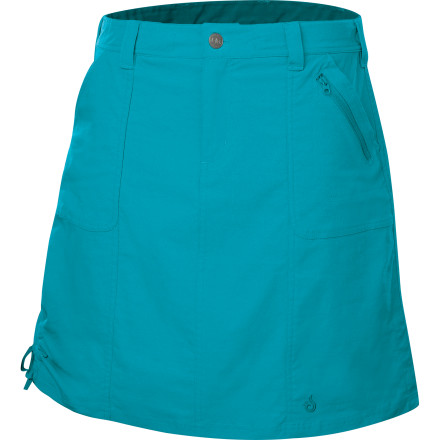 No matter where you travel, be sure your packing list includes the Isis Women's Danbee Skirt. This versatile A-line skirt features a timeless design and a slightly longer length that is the right choice when you're among more traditional cultures; when it's time to head into the rainforest or the mountains for a hike, use the side cords to cinch the for more freedom of movement. The Danbee's rugged stretch nylon repels water and stains thanks to the wicking Evaporator finish. The soft microsuede lining in the waistband hides a drawcord that gets the fit just right.
What do you think about this product?
Have questions about this product?
The Danbee skirt is the only ISIS skirt I've tried, so I can't comment on consistency of sizing. I'm wearing the size four. For reference, I'm 5'2", about 120# and somewhere between apple and pear shaped. The skirt fits a little loose in the waist, which is my preference. This is perfect summer-wear: lightweight, non-wrinkly, has functional flat-laying pockets and is very comfortable. My first skirt was the Jet color. After wearing it once, I got online to find it in more colors. This time I went with the Mulberry, which is pretty true to the online color (mine is maybe a bit darker). I'm even considering getting another in Jet just so I always have one...
Great color, attractive styling. Stretchy fabric makes for good comfort. Wash & wear. My every day summer skirt.
Only want to hike in skirts now!
This skirt is really great to hike in. Its that light stretchy techy material that hiking pants usually are made of. Its stretchy and flowy enough to make big steps without feeling trapped in the skirt. Since I'm 5'1 it comes just below the knee for me. I got the size 2 and fits true to size. The grey color 'jet' looks exactly how the website shows it. Though I would advise to get a lighter color. I noticed that sometimes I get really hot in the skirt when hiking in direct sunlight since its such a dark color, but problem solved when I just hike it up!