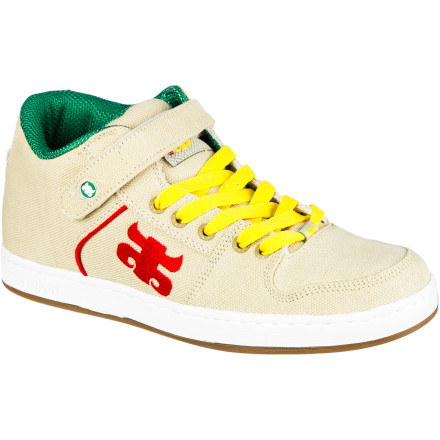 Detail Images
Young master there is still so much to learn, but in the IPATH Grasshopper Skate Shoe your technique with flourish. Mid-profile, strapped for style and extra support, and made to last, this skate shoe chops down the nonsense. IPATH used premium materials for comfort and durability, and added padding in critical areas to make sure the Grasshopper Skate Shoe doesn't betray you like a treacherous ninja.
I usually wear my shoes in an 11.5 but i got these in the 11 and they fit perfect. They break in after a couple days of wearing them. The strap on these shoes a great gives you the tighter fit when you need it. They are also very comfy great shoe i would recommend it!
Got the Antique White. Comes with extra Rasta colored shoe laces. Great shoe! Very comfortable and stylish. The different colored seam stitching adds a small but sweet looking detail, and is different when comparing right and left. I'm not a skater but its a great street shoe. Definite good buy. Got from WhiskeyMilitia.com for $30
Unanswered Question
I am looking for Black/Rasta Hemp Grasshoppers...
I am looking for Black/Rasta Hemp Grasshoppers in Size 15. Is it possible for you guys to get them? They are available... Thanks, Roland
These are great for actually skateboarding in too. Lots of support and padding but also they have held up forever. Definitely went back and bought another pair!
Best shoes I've ever owned
So awesome that I had to come back and buy another pair in a different color. Perfect fit, super comfortable for every day use and they have a killer look. I can't count how many times I've had people ask me where I got 'em.
Comfortable, great support, sturdy, durable, and stylish what more could you want from a shoe.
I'm on my second pair of Ipath shoes. The first were the hemp version of the rasta colors. I could only find them in the black suede this time around but they are really amazing in comfort and durability. My old ones lasted over a year with daily use.
Hey I must say GREAT customer service the live chat was the key to my sucessful ordering.I cannot express the helpful and willing staff.The shoes arrived in perfect shape.My son is loving them and yes he says they are super comfortable.Too bad you don't ship to France our loss.
I had these shoes a few years back when they were still making lots of colorways for it. Unless something has drastically changed about these over the past few years, these are probably the most comfortable shoes I've ever had. The shoe is really padded but is a little wider than others, so its like walking on a bunch of cushions. They also happen to be a little bulky. I never skated them, so I can't attest to their performance, but they seem like they will last a while. You can get these ina a few all-hemp styles if being super environmental is your thing. Also they have a stash pocket just like other iPaths which is always fun.