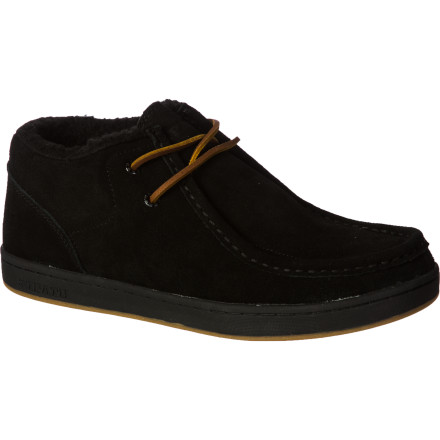 Detail Images
If the Ipath Cat Casual Shearling Shoe were a hungry python, we'd gladly sacrifice our feet to its jaws. Thankfully, the Cat Casual is just a really, really comfortable slip-on shoe with a fuzzy shearling fleece lining. Oh, and because it's from Ipath, you can rest assured that no sheep were harmed to bring your feet this luxurious treatment.
Unanswered Question
Is there going to be another shipment of...
Is there going to be another shipment of these any time soon? Not just this style but any of the cats. I have spent hours online looking and the are basically sold out everywhere, at least in sizes 10-11. I do not understand why anymore have been released because I think they would be sold quickly.
Unanswered Question
When is the next shipment of shoes coming...
When is the next shipment of shoes coming in? And in what colors?
These shoes are comfy. Easy enough to lace up. Supreme grip and softness from gum rubber sole.
not much arch support. Like them a lot so far, and it's getting colder out now! Perfect.
I just recently purchased these shoes. I love them. They are way comfortable and slip on/off really easily. Not even sure they really need the laces actually. The shearling, fleece stuff, is nice because it's only around the top and the ankle. With shoes like this in the past i've had trouble with the fleece on the bottom getting matted and gross. no longer an issue. definitely stylish enough to wear just about anywhere.
these are super comfortable i wear mine all the time in the winter they keep your feet real warm. The one problem is that the synthetic shearing doesn't go throughout the inside its only really in the back half
Perfect casual skate style shoe. Look great and are superrrr comfortable!
Will you guys be getting anymore of the...
Will you guys be getting anymore of the Black Suede/Shearling in a size 11?

Thanks
We will not be restocking the Cats shearling in any sizes until late in the year. We usually only carry this type of product during the cold season and since we are going into the spring and summer we will not be getting it back in until Sept or October of this year. Sorry
Very comfortable shoe. If your looking for a shoe to keep your feet warm then this is the one. Really like the look and feel these shoes have