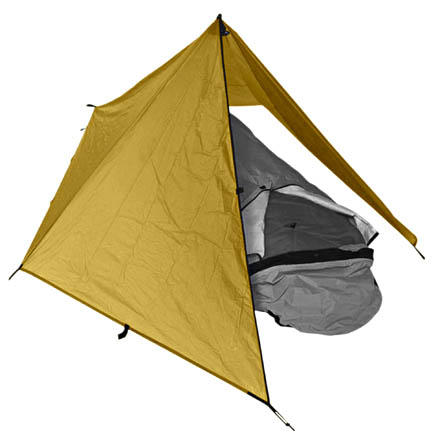 Community Images
The Integral Designs Sil Shelter is an ultra light siliconized nylon tarp, specially shaped to set up on a hiking pole as a two person stand-alone shelter. The Sil Shelter is intended for use in conjuction with a bivy in above treeline conditions. A non slip neotek pole cap holds hiking pole in place at reinforced apex, with a second pole wrap prop-point in the center of the shelter. There are 21 webbing tie outs on corners and edges (one on the outside of the pole cup to enable suspension from a tree), and 3 webbing tie loops on the body of the tarp. The front entrance flaps can be left open for ventilation or overlapped and staked for a weather tight closure. The Sil Shelter has no zippers. Pitch off ground level for best ventilation. The Sil Shelter will attach to the front of many tents as a simple vestibule.
Potential but will need more weight (additions) to make it work.
So this is good for one person, no dogs. The poles are a problem with more volume occupied. It also does not come with enough stakes to make it really stable. Mine does not have a loop on the front for a line to stabilize the pole. I also think you need a pole on the back, or tie it to a tree.
Super light and spray-proof ... for one
I had three straight days of cold rain on the Colorado Trail and was comfortable and dry inside the Silshelter. Because there is an effective "door" that closes (unlike a plain rectangular tarp), even blowing rain doesn't normally get in. There can be some condensation at times -- just pitch it a bit higher off the ground to allow more breeze.

Actually, there was one time I had water in the tent. But after some investigation I found that I had been sitting on my Platy bottle and had squirted out the water myself.

BTW, while this is technically big enough for two, with the sloping walls it's a tight fit when there's condensation. For one, this is a luxurious amount of room -- and still damned light.
I'm looking for a pole-less vestibule for...
I'm looking for a pole-less vestibule for my BD Lighthouse .. I am wondering if this can be modified to work in such a way? Any thoughts?
I agree, the Lighthouse does need a vestibule or @ least something other than a slight overhang above the door. You could use the Silshelter but there's not a good way to attach it to the tent, leaving gaps that would open up even more in windy conditions. My suggestion would be to use the Equinox "Globe Skimmer" ground cloth. It's much lighter, a lot less expensive, & made in the USA. You'll have the same attachment problems but it's much more versatile & can also be used as an overhead canopy in rain storms. Here's more information:

http://www.equinoxltd.com/the-gear/tarps-and-bivis-and-ground-cloths/globe-skimmer-ultralite-ground-cloth.cfm
Well where to start i have been everywhere with this shelter From east coast to west coast and just love it.I spent a month in the Adirondacks with this shelter in temps down close to freezing and rain and stayed nice and Dry,Shaded and and just about anything else i needed it for.It sets up so many ways its so versitile for whatever you need.Bring lots of stakes or make some out of your natural surroundings.Greatest light weight,Compact shelter out there i think.Experiment with and you will agree its one great shelter.Good luck and Happy Trails.......
Integral Designs SilshelterHi A couple of...
Integral Designs SilshelterHi A couple of questions please.Is only 1 pole only required for set up as shown on the photo .?The MSR E-Wing weighs 6ozs only 1 oz less than the Sil shelter.it packs up in a 3" * 4 " stuff sack.Having said that the Silshelter packs up in a 4"* 8" stuff sack so it is hard to imagine that it weighs genuinely 7 oz.One Lb would seem more realistic.Any advice would be appreciated.ThanksPeter
The Silshelter actually weighs 16.5oz & requires at least one pole with a second pole being optional. The 13.5oz weight is just the tarp by itself & when you add five lightweight stakes, it increases to the 16.5oz weight.