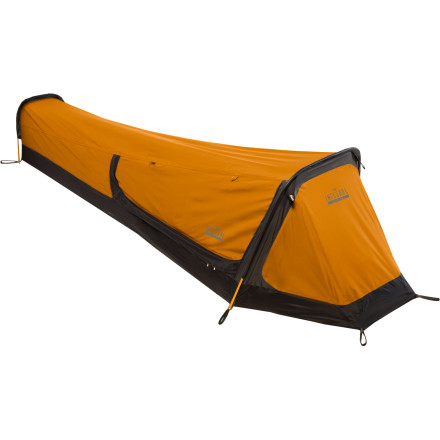 Community Images
If sleeping in a glorified body bag doesn't feel right, you can pitch the weatherproof Integral Designs Nestor Bivy and get the space you desire without carrying the weight of a tent while backpacking or climbing. This tunnel-like bivy keeps the showers off and your claustrophobia at bay, and uses two poles to provide a comfortable 23.6-inch ceiling. A large mesh window and breathable fabric provide ventilation during summer backpacking trips while the long length provides a little room to keep your boots and pack dry during overnight storms.
Three-layer waterproof breathable eVent fabric, fully taped seams, and a tough, waterproof-coated bathtub floor protect you from blowing rain and snow
Two DAC Pressfit 8.5mm poles easily slide into external sleeves to provide a wind-resistant shelter that's easy to set up by yourself
One side door enables easy entry-exit and features an internal mesh door to provide additional ventilation and bug protection during muggy nights
Extra-long tunnel design provides ample interior space (23.6in height, 100.4in length) for you, your sleeping bag, your pack, and your hiking boots
At just over two pounds, this bivy provides overnight protection with minimal weight for climbing or ultralight backpacking
Tie-down loops let you stake down the bivy for extra resilience in windy storms
Included stuff sack protects the bivy and shrinks it down to a 11.8 x 6.3in package for easy storage in a pack or haul bag
For this weight you can have a tent.
For the 2+lb weight this bivy weighs and for the same price you could get the Big Agnes Copper Spur UL1 Tent. A bivy should be lighter than a tent not the same weight. I will give them props for using a great material (eVent) and have no doubt this shelter will protect you from the elements well and it has a low profile for good high wind performance.
Unanswered Question
Would a 25" wide Thermarest Xtherm fit...
Would a 25" wide Thermarest Xtherm fit inside this bivy or would it get too tight towards the foot end?
Unanswered Question
Do people commonly use these for four...
Do people commonly use these for four season use? I
One word, Alaska. This was a trip of a lifetime. My brother and I were on a 7-day Dall Sheep hunt in Alaska. As you can see, we were right out in the elements. You just can't beat the view. Hunters know how important it is when you are exposed like this to have equipment you can count on. Being, 6'3", it can often be challenging to find things that fit. This bivy/solo tent gave me plenty of room to sleep and store my gear. I would suggest using a tapered sleeping bag mat because it can get a little tight at the bottom. This gear survived the test of Alaska, I would recommend it for any outdoor adventure.
For a bivy/solo tent, this thing is great. yes, it's small, but that's the point. I have packed this thing up to 11,400' feet in Colorado and spend 2-3 nights at a time. I have also had my 70lb lab with me a couple times and there is enough room for her at the head of the tent if I slide my pad and bag down to the bottom. It gets a little tight but it's worth having her along. I could see a condensation problem with this tent, or any tent of this design for that matter, because there is no covered vestibule or vents that you can leave open in bad weather. This isn't a problem for me because I always pack an EMO fly with anyways, even when I pack my 2 person tent, just to have a place to sit under and cook, etc., in bad weather. I set the Nester Bivy up under the back side of the fly and have the front half to store gear and keep the rain out of the bivy when the door is rolled up. I haven't had it long enough to test the durability but it seems to be made of quality material and is put together very well.