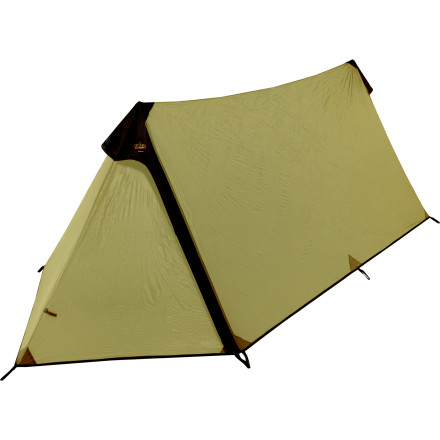 Detail Images

Community Images
A multi-day ski tour in the late spring requires a lot of necessary gear, and the Integral Designs Element 2 Shelter enables you to cut weight while still providing ample shelter for the milder weather. Its floorless design lets you carve out a comfortable basecamp in the snow, and it also works with the Element 2 Bug Tent (sold separately) to create a solid shelter against biting insects and summer storms.
At only 1lb 7oz, this A-frame shelter provides up to 45.21sq ft of floorspace for one to two travelers in the backcountry and during quick, lightweight treks
Silicone impregnated ripstop Cordura (30D) fabric sheds rain or snow and provides incredible strength for its weight
Two mesh vents and door vents expel condensation during summer trips and doors can be propped open for maximum ventilation
Two doors and 43in ceiling provides plenty of room for two campers
Sets up with trekking (or ski) poles and guylines (neither are included)
I have used this shelter in all four seasons for both one and two people. For one person, it is a mansion. It fits me, my pack, full sleep system, and enough room to lay out all my gear. For two, it fits a full sleep system and a pack in each vestibule. The dual entrances allow midnight "calls of nature" without waking your partner.
It is a shelter not a tent.
If I wanted a tent I would have bought a tent. I have plenty of tents. I consider this to be a cross between a tent and a tarp. The places that I hike into are very limited as to enough flat ground, or space for setting up a tent. Parachute cord works well in place of trekking poles when there are plenty of places to tie off. The system works well for me. With a little imagination the possibilities are endless, and I am very happy with my purchase.
Pretty Nice...but not for me
One-liner version: I'm returning this because of the way the pole pockets are designed.

I really had high hopes for this shelter and ordered it without finding any reviews or real data. I decided to go for it because of Integral Designs' reputation for past products and their assertion on their website that their designs are developed and refined following extended outdoor use.

On paper the Element 2 looked like an improvement over the Golite Shangri-La 2, which I own and use as a two-person shelter. While the Element 2's specs put it a little smaller inside on the width and height, I didn't think this would be an issue based on the size of the SL2 and the Element was significantly longer. What I really like was the fact that Element 2 has 2 doors and that the inner tent is designed in such a way that the support poles are on the outside of it.

I ordered the Element 2, the inner tent and the ground cloth and when it showed up today the first thing I wanted to inspect was the instructions for pitching it. I was surprised that the included instructions simply state: For questions concerning product set-up, please contact the Integral Designs headquarters. Well, I wrote this off as not being a big deal because this is essentially a rectangular shelter with equally sized vestibules on each end.

I was excited to get this out in the yard and set it up. My plan was to pitch the outer tent first and then pitch the inner tent. Getting the Element 2 up was pretty simple like I'd expected and I even had a 15mph wind blowing while doing this.

Once it was up I knew it wasn't going to work for me, for the following reasons:
1) The peaks have metal grommets that the pole tips go into and they are completely through the shelter. I cannot see how rain wouldn't run down the poles and into the tent.
2) The shelter seems significantly smaller inside than the Golite SL2 and they are close to the same weight, though the SL2 only has one door.
3) Pulling the door/vestibule staking points out doesn't tighten up the ridgeline. The amount you can pull these staking points out is limited by the tent fabric on the low side of this triangle. This wouldn't be the case if you were pitching it elevated a few inches.
4) The door zippers are of the one-way variety. The Element 2 has small peak vents (with no-see-um mesh) but two-way zipping sure would make it easy to increase ridgeline ventilation or allow for a quick peek out the door.

On the up side: I liked the quality of the Element 2. I didn't set the inner up because I didn't want to remove it from its stuff sack since I wouldn't be keeping it. I was impressed that I could easily get the Element 2 back into its stuff sack. The information I found online didn't list anything as being included with the shelter but it does come with 6 v stakes and a seam sealing kit.

The information about the Element 2 on Integral Designs' website states that this is "Basic weather protection for two fast and light travelers." and I'll certainly give them that. I'll say it's even more than this given the second door. I for one will wait to see if this shelter is developed further. I'd like to see it a bit larger(for two person use) and completely sealed from rain at the pole insertion points.
is there a floor layout illustration for...
is there a floor layout illustration for this thing? it says it accommodates two but i'd like to see it.
It would be difficult to create a floorplan illustration for this shelter because there is no floor. However, the dimensions of the accessory groundcloth are:

Area: 2.86 sqm / 30.78 sq ft
Width: 130 cm / 51.2 in
Length: 220 cm / 86.6 in

That's a decent size for a 2-person shelter. It's both wider and longer than my 2p tent. Hope that's somewhat helpful.