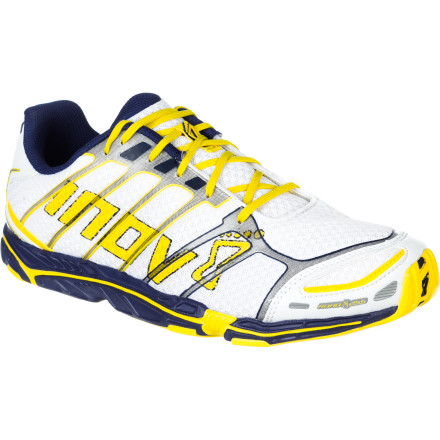 Detail Images

Videos
You want to get into a minimalist running shoe, but you'd rather make a smart, slow transition instead of just dashing outside barefoot. The Inov 8 Road-X 255 Running Shoe has a 9mm difference from heel to toe which offers a smooth transition into the minimalist running world. Basically, this means you can gradually go from striking with your heel (which you do on the raised heel of non-minimalist shoes) to striking with your forefoot. Cushioning underfoot supports both racing and everyday training, and the sticky rubber outsole handles slippery terrain.
Knees and back feel better
Familiarity:

I've used it several times

Fit:

True to size
Not sure exactly what is different about inov-8's shoes, don't really read the marketing stuff but there is a real difference. My knees and back normally give me trouble if I spend all day on my feet. In inov-8s I end up with no aches in the knees and back. They aren't a padded shoe so it's not like they are just softer then other shoes. Other minimalist shoes tend to leave my back, knees, and feet hurting. I'm thinking inov-8 has a podiatrist helping design their stuff but don't know if that's true. Just know I love these and all inov-8 shoes. Word of warning when you first try on inov-8 shoes they feel akward. Give them a chance and spend a couple days running around before you give up on them.
Love inov-8s but this one seems cheap.
Gender:

Male

Familiarity:

I've put it through the wringer

Fit:

Runs large
First off I love inov-8's and all of their shoes and this is my favorite running shoe that I've owned, but after about 6 months of running 12-20+ miles per week the shoe's mesh material ripped open on the front outside of the shoe. I'm guessing it was from my foot pressing outwards with a forefoot under pronating foot strike. I've never had a shoe rip like that before. I'd expect normal wear and tear on the sole of the shoe but not on the fabric itself. It seems like they tried to make the shoe so light that the material itself doesn't hold up over time. Other than the shoe itself falling apart, I love them. I may try the road-x 233's or road extreme 208's and see if they hold up any better. The f-lite 220's (which I own as well) have a much thicker material around the outside of the shoe and I wish inov-8 made a road shoe with the same design to keep rips like the one I had from happening
Great shoe, runs small
Familiarity:

I've used it several times

Fit:

Runs small
Excellent light-weight and comfortable running shoe, even with my orthotics in place of the provided footbed. Looking forward to continuing the progression toward a more natural running foot position. They feel great at distances over 5 miles!
Inov 8 Road-X 255 Running Shoe
I have about 150 miles on these and really enjoy running in them. I had a major foot surgery (tarsal coalition discovered a little later in life) about 7 months ago so getting back into running was also a chance for a reset in my running style. Pre-surgery I used the Merrill Trail Glove on dirt but traditional running shoes on the road. Getting back into it, my old road shoes just did not fit right and my heel slipped out on the now fixed foot. These Invo8's were a great solution. I really love how the shoe holds tight in your mid-foot and leaves your toes free to let them do the work. Given that I can't really feel much in my forefoot anymore, this has been helpful. There is enough cushioning for the road (I tried the Trail Gloves on the road once, that was enough) and I have never felt any pain yet. I have seen some reviews that were negative on the finish of the shoe and there are some open seams, etc. but I have not seem any degradation in the construction since I have used them. The sole seems to be wearing out at a reasonable pace for a soft rubber.

Overall these have really been a savior for me and my road to recovery. Sorry for the pun there.
I bought these shoes for work, I'm a valet attendant, and a lot of my job is running through a parking lot and they are amazing. Super comfortable, and just the right amount of padding. And i really love grip they have on the bottom. My legs and feet don't hurt after an 8 hour shift, and i will definitely buy another pair when these go.
I've put about 200 miles on my Road-X 255s and loved them. Great anatomical fit, breath-ability, and super light weight. Did not get 5 stars because of durability. The heel in my right shoe is completely warn through the padding. I've never had any blisters, and I've always liked the fit, but I think at about 250 miles I'll be turning these into a pair of lawn mowing shoes.
Updated - I no longer hate this shoe.
Gender:

Male

Familiarity:

I've put it through the wringer
When I first got these shoes a year ago I hated them. They fit differently than I expected, they were bulkier than I expected. My first review reflected only how the shoe fit with my expectations, not actual performance.



I'm on my second pair. I've logged over 800 miles in this shoe so far and love it. It's a brilliant road shoe for when I'm not close enough to trails. The grip is like an f1 tire: smooth and sticky. The shoe showed no signs of breaking down after about 600 miles, despite me attempting to rip a hole in the top of the toe box.



Ironically, fit was my first complaint, but now it's my favorite attribute. The toe box is anatomically shaped. It fits comfortably, and hasn't blown out the sides of the shoe like every other inov8 i've owned (i'm on my 10th pair).



So in short, my apologies Road-x 255s, I love you.