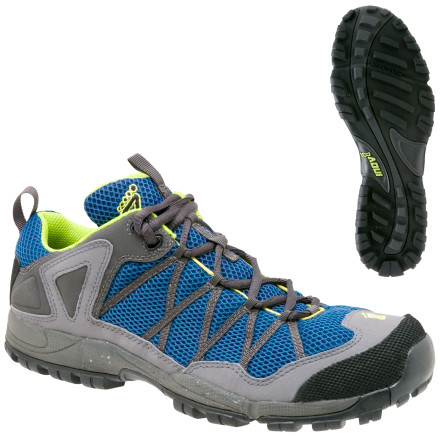 Detail Images
Solid fit and lightweight
These shoes are light and fit me like a glove. They're good for a narrow, low volume foot like mine and have kept me blister-free and comfortable for many runs and hikes.
Are they for neutral, stablity, supinators,...
Are they for neutral, stablity, supinators, overproraters...etc.? This would be my first true trail shoe. Would I be able to use them in true "trial runs" or are they really for hiking/treking?
They're about 10.5 oz per shoe in size 9, so they're light enough for running. They are a neutral shoe. What's a "trial run"? If you mean a race, I would see, there are lighter options out there, but these could be just right. It all depends on what works best for you. If you mean long runs when you say "trial", again you should be fine.
This is my new favorite trail shoe! They are good for all types of terrain which makes them a versatile shoe. It's very hard to find a shoe that adapts to all terrain/weather conditions. This shoe ROCKS and handles the rocks like a 4-Wheeler! They are true to size, at first they feel snug, but they adapt to your feet. I ordered my second pair within weeks of trying these out. I love them!
I love innov 8 shoes. I have had 4 pair of flyrocs and love them. They are lightweight with a nice grip on the soles. I truly can fly over roc!