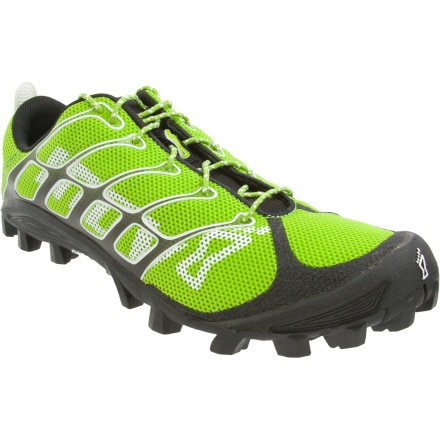 Detail Images
Description
Run like you're barefoot over gravel, slick sand, or scree.
Your foot was built to run, so why inhibit what it does naturally? That's the aim of the Inov 8 Bare-Grip 200 Trail Running Shoe, to give your foot extra grip and let it do everything else on its own. With no midsole or fancy cushioning to come between you and your strides, this 7oz trail running shoe falls into the minimalist barefoot category. The bare-bones features include a lace-up, ultra-breathable mesh upper and the Bare-Grip rubber outsole. Sporting deep lugs and a toe guard, the outsole ensures you can move fast through the roughest and rockiest terrain.
Share your thoughts
What do you think of the
Inov 8 Bare-Grip 200 Trail Running Shoe - Men's
? Share a...
Love it, but it needs some work
Member since
Posted on
Like others have said, know what you're getting into with this shoe. There is no midsole cushioning and it is zero drop so it takes time to get accustomed to this shoe. Use only in moderation and rotate in with your other trail running shoes.

I liked this shoe almost as much as the Inov-8 X-Talon 212 but the real issue with this shoe, along with the X-Talon 212 and the whole F-Lite line is that the uppers wear out too quickly when used on really tough trails. The problem is the uppers are 100% mesh and in my experience shoes constructed like this tend to have their uppers start tearing fairly quickly. Same was true with this shoe unfortunately. Got a hole in both shoes at the metatarsal flex point after only 100 miles of use. Disappointing. I really want to like this shoe but I think Inov-8 went too far in trying to make it as light as possible. Substitute the F-Lite upper for the X-Talon 212 upper and they'd have a 5-Star shoe.

Rob Youngren
Wasatch Speed Goat Mountain Racing Team.
barebones, and grippy
Member since
Posted on
know what you are getting in to if you decide to buy this shoe. This is my 3rd pair of inov8s and the name describes the performance of this shoe to the T. 1. its definitely a barefoot feel. there is NO midsole to this shoe, so you feel ever lump and bump and root under your foot..you actaully feel every individual lug on the sole on the bottom of your foot. all of the rigidity and stiffness of this shoe will have to come from your foot. The large lugs do offer a certain level of cushioning, but nothing like a normal running shoe. 2. this is some GRIPPY rubber. id say its on par with approach shoe rubber. when on rock surfaces, it feels like each lug is a suction cup on the ground. and on dirt, the lugs dig in nicely. the heavy toe cap is great to protect against nasty stubbed toes for such a light shoe. I love this shoe, but make sure you want a bare-bones shoe before you go for it.

the only con is the laces, IMO. the round style come undone easily, so i have to keep it double knotted.