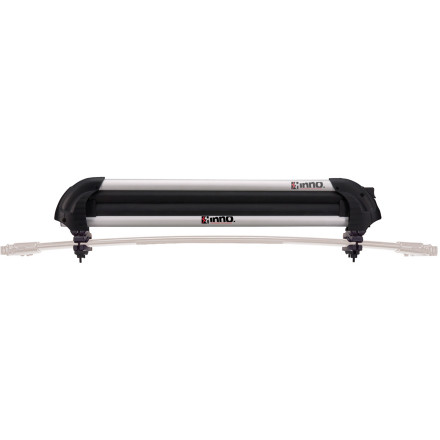 Stack your entire ski quiver or a couple of snowboards inside the jaws of the Inno Car Racks Gravity Snow Rack and charge up to the mountains for first chair. Designed simply and securely, this rack rocks a straight-forward design that opens easily, allows you to slide your boards onto the padded carrier, and locks tight to protect your gear from thieves. Mount this rack to your crossbars and choose one of the three height-positions designed to provide more clearance for snowboard bindings, and a low profile options for skis.
Locks and keys are included so you can secure your gear right out of the box
Compatible with most factory cross bars, including Thule and Yakima
Unanswered Question
Does this system work on a 2005 Subaru Outback XT with fatory crossbars? I know other Subaru owners have had issues with this.
How do these not fit Subaru's?
Gender:

Male

Familiarity:

I've used it several times
Bought these thinking they would fit a 2009 Subaru Forester with the "Aero" crossbars. They don't. You can sort of make them work, but they look stupid, with one of the attachment plates cocked at an angle. Last time I checked, driving up the mountain, every other damn car was a Subaru, so how did they not test these out on probably the most popular suv at any given ski resort? If I hadn't picked these up super cheap, and gotten them to sort of work, they'd be getting returned.
will this fit a stock 98 subaru out...
will this fit a stock 98 subaru out back?
it will fit if you have a load bar on your subaru already.
Description is not 100% accurate
I am unsure where DogFunk pulled their description from, but it's not accurate. The part number from Inno's site is INA927. These racks will not fit round bars without the adapter kit, and will also not fit over sized crossbars. This is directly from Inno's site:

The Inno INA927 Gravity Ski-Snowboard Rack is a competitively priced high quality rack that can easily carry up to 6 pairs of skis or 4 snowboards (or a combination of both). It can be installed onto a variety of factory and aftermarket roof racks.

Safely handles six pairs of skis or four snowboards, or a combination of the two
Includes universal mounting clamps for installation onto factory or aftermarket roof rack bars of different shapes & sizes
Comes with 2 locks and keys
Oversized crossbars require ISF711 long bolts kit (sold separately)
Round cross bars require ISF715 round bar adapter (sold separately)
Top of cross bar must be minimum 2" from roof of car

If I didn't score these from their partner site WhiskeyMilitia for a steal I would have returned these.
Unanswered Question
How wide are the mounts? I have a Nissan...
How wide are the mounts? I have a Nissan Xterra and the bars are pretty wide
Not for 2006 Subaru Outback
Would have been a great rank system however, despite calling and asking to verify if it will fit my factory system on a 2006 Subaru Outback they do not fit; they are jsut over an inch too wide and won't clamp on one side of the rack.
Unanswered Question
what is the height of the clamping space...
what is the height of the clamping space of this rack to the crossbar? And does it have an extendable leg so one side can stand taller than the other? I wanna know coz I dont want my snowboard bindings to scratch my roof... Thanks in advance...
What is the actual usable clamping width...
What is the actual usable clamping width of the rack?
So i got one and measured it. The clamping surface is 23-3/8 inches, the out-to-out mounting (to your roof rack) dimension is 27.5 inches, and the out-to-out total width is just under 32" (not 33 as advertised).
Is this price for one single rack, or does...
Is this price for one single rack, or does it come with both, for mounting all 4 boards on the roof?
How wide (long is this rack? My crossbar...
How wide (long is this rack? My crossbar is about 32inches. Wil it fit?

Thanks
33 inches from end to end. it should fit your 32 inch crossbar