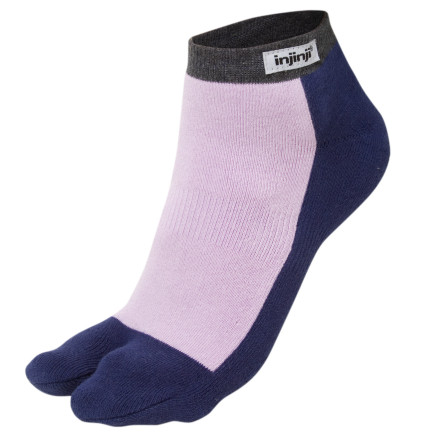 Keep your feet toasty even when wearing flip-flops, thanks to the injinji Split Toe Series Mini-Crew Socks. In addition to warming your feet on cool summer evenings, these injinji socks also reduce friction between your toes so as to decrease the chance of blisters if you take these socks on a hike. These lightweight cotton ankle socks also work great for everything from backpacking to biking to everyday wear.
Share your thoughts
What do you think of the
injinji
Split Toe Series Mini-Crew Sock
? Share a...
how do u know what size to order?
how do u know what size to order?
Best Answer
hey cheryl,

mens....... small: 5 - 7.5 medium: 8 - 10.5 large: 11 - 13 x-large: 13.5+
womens... small: 6 - 8.5 medium: 9 - 11.5 large: 12+

hope this helps..
Split Toe keeps Great Toes isolated
Surgery on my great toes caused the right toe nail to dig into its neighbor. Of the several solutions, the injinji Split Toe is the best by far. Easy to put on -- especially compared to the injinji 5-toe versions.

They feel good. I have had no problems with size and fit. Very happy.

Let me know when dress versions are available since need to ware them all the time.
Navy sizes barely make the grade. Order a size larger than actual. Plum sizes are way off. Order 3 sizes larger than actual.
Great for Nike's split toe shoes
Perfect for those super cute Nike "doe" shoes! Details are what make the difference here - from the logo placement that guide left/right sock to the extra cushion on the sole. They wash well, too.
I tend to go barefoot most of the time. We don't wear shoes in the house but in the winter time I wear socks because the tile floors can get a little cold ( need in-floor heat, next project ) it is nice to be able to slip on sandals in these socks when I have to go outside to take out the garbage, go to the store, etc. And when I do wear shoes ( running, playing basketball, I hike in sandals ) these socks feel better on the feet, plus walking up and down wooden stairs you can feel the treads a lot better. I would like a thinner sock with this quality for the summertime though.
Regular socks are fine, the Injini Performance sock is high tech. I like this split toe as it gives me the feature of being able to wear socks with flip flops, not have my big toe rub against my other toes, and have a great wicking sock. I also heart the purple color. They seemed a little thick when I first tried them on but it didn't change the fit of my shoes at all.