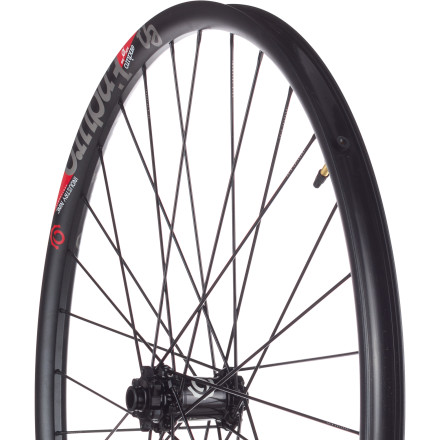 Colors
Description
Built to endure.
From rims to spokes to hubs, everything about Industry Nine's Enduro 29er wheelset is designed to endure whatever abuse you can heap on them. While the wheels aren't exactly featherweight climbing material, their respectable claimed rim weight of 520g means they add a surprisingly low amount of rotational mass when you consider their bombproof reliability. The Enduro 29ers shrug off big drops, surprise square hits, and side loads that would buckle a boutique XC racing rim.
The secret to durability in enduro kit is often girth, and I-9 isn't interested in challenging that truism. From the thicker-than-usual spokes to the healthy 31mm outer rim width, the Enduro 29ers bring huge planes to endure pain. I-9 does buck the prevailing trends in hub and spoke design, though, with machined alloy spokes that thread into the Torch hubs with a proprietary threading pattern that's actually thicker than the spoke itself, eliminating the stress point that most spokes suffer from at the transition from thread to spoke body.
The hubs themselves feature a redesigned pawl/drive ring interface, which reduces friction for smoother operation. The reduced friction doesn't come at the cost of immediate engagement, though, as the 120 points of contact and three degrees of rotation between engagement points mean your efforts translate to forward motion as soon as you step on the pedals. The wide, double walled rims accommodate the current trend of wider tires, maintaining a higher tire volume with more vertically aligned side walls than skinnier rims. You can run those plump tires with a lower PSI for more cushion without fear of the tire rolling off, all while enjoying the lower rolling resistance and better traction of the wider contact patch.
Built for heavy enduro abuse
Wide rims and high spoke count drastically reduce lateral and radial flex
Machined alloy spokes are 25% thicker than normal extruded steel
Torch hubs feature 120 points of engagement and redesigned pawls
Presta valve stems and rim tape pre-installed for tubeless compatibility
Bad ass wheels
Familiarity:

I've used it several times
These wheels look great, are very stiff, have a great poe, and are nice and wide. The strength to weight ratio is fantastic and the wheels just perform extremely well. I did need to true them and adjust the spoke tension after breaking them in, but I9 warns you this will occur due to the aluminum spokes.
Amazing
Familiarity:

I've used it several times
Can't say I know what wheel flex feels like but I am confident I'll never know with these wheels.

The driver engagement is awesome & the sound is cool.

The red rims look amazing.

My bike is essentially lighter with these wheels but I can't exactly tell.

If you like style & want to add confidence to your riding I would pick these wheels up.
Is the rear hub compatible with the xx1...
Is the rear hub compatible with the xx1 cassette?
Back me up on this if I'm incorrect experts but you need to pick up i9 XD driver to be comparable with XX1 Sram cassettes. The driver that comes with this wheel set is a 142 driver.



Here is a link to the XD driver that backcountry is selling.

www.backcountry.com/industry-nine-xd1-driver-body
Does the Enduro wheelset have Torch Hubs?...
Does the Enduro wheelset have Torch Hubs? It says I9 Enduro for the front/rear hubs in the tech specs box but the description paragraph says Torch hubs.
Best Answer
It does indeed come with the torch hub. Let me know if you have any other questions
Super Stiff Wheel
Familiarity:

I've used it once or twice and have initial impressions
This wheel is incredibly stiff, light, tracks wheel and has the best engagement on the market. It is safe to say that I9 made a bomb proof product on this one. These are my favorite upgrade on any bike. The near instant engage (3.5 degrees) is great for getting through any technical section on the trail. The stiffness of the wheel is awesome for letting the frame do what it was designed for and provide a great power transfer. It might be superficial one this aspect but I do love that the I9 wheelsets can come in different colors. The 32 spoke is great for enduro or heavier riders and the 24 spoke is awesome for cross country riders and would be great for a hard tail. Most riders would be totally fine on the 24 spoke wheel due to how stiff it is. If you have any questions about this or any other wheelset please give me a call and I would be happy to talk to you about them.



Here is my contact information: My direct line 801.736.6396 ex. 4389. Feel free call to me anytime, I?m always happy to talk about bikes or gear or the weather. Whatever works! I?m here Mon, Tues and Friday 1:30-10pm MST and Saturday 9-5:30 as well as Sunday 10-7. I look forward to speaking with you.