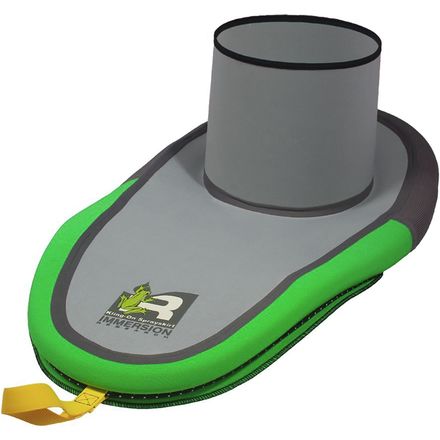 Colors
Description
Whitewater parks to river running.
From playboating at the local whitewater park to running intermediate-level rapids, the Immersion Research Klingon Bungee Spray Skirt keeps water out of your boat with its stretchy, implosion-resistant 3mm neoprene deck and apron-style bungee skirt. The bungee skirt features a unique "taco" construction that delivers the dryness of a traditional apron skirt, while facilitating the outer edge to grab the rim for easier installation. Other features include a wear-resistant Nylar front casing and grippy silicone patches for anti-implosion protection.

3mm neoprene deck
Wear-resistant Nylar front casing
Apron-style bungee skirt with "taco" construction
Anti-implosion silicone patches at under-sides
Glued, blind-stitched, taped seams
what size will fit my kayak ?
Here's the specs for the Kayak skirts and what circumference they fit:



If your rim is in-between sizes, tighter will be drier, but harder to put on. If you are running class IV whitewater, we typically recommend tighter.

Bungee skirts tend to be easier to get on and drier, but implode easier. Rand skirts tend to be harder to put on, but are much more implosion-proof

If you paddle a Pyranha Burn or Everest, we recommend a rand skirt.

Proper skirt fit can be a process of trial and error. Have patience- we will too. Feel to call us with any questions. 814-395-9191

For rims bigger than 100" see this article



2015 Deck sizing



Size: Cockpit Circumference :



Medium Cockpit - 80-84"

Large Cockpit - 86-92"

Xlarge Cockpit - 88-94"

XXlarge Cockpit - 94"-100"



2014 Deck sizing



Size: Cockpit Circumference :



Medium Cockpit - 80-84"

Large Cockpit - 84-88"

Xlarge Cockpit - 88-94"

XXlarge Cockpit - 94"-100"



Tunnel Sizing :



Tunnel Sizes



Small - 28"-30"

Medium - 30"-33"

Large - 33"-36"

XLarge -36"-40"

XXLarge - 40"-44"



J-Lo Womens skirt

Small - 4

Medium - 6-8

Large - 10-12

Xlarge 14

XXlarge n/a