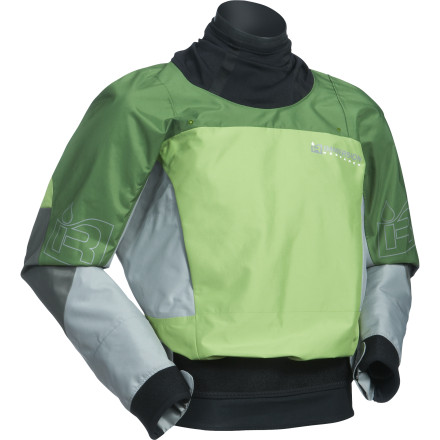 Built with four-layer waterproof breathable Entrant fabric, the Immersion Research Comp LX provides supreme protection from the elements. Combined with a latex neck gasket, a neck over-gasket, and latex wrist gaskets, this waterproof top is designed to keep your torso dry during when the water is going off.
Adjustable neoprene waistband seals in warmth helps limit water coming in from below if you swim
Fully taped seams keep water from sneaking in through the fabric joints
Water-resistant front pocket holds essentials while you take the next big drop
NOT DRY!!
Familiarity:

I've used it several times
Bought this August last year and wore it a couple times before the drysuit came out. I noticed moisture in it after about the 3rd time out and chalked it up to perspiration. This progressively got worse. This year, I wouldn't even consider calling it a drytop. As soon as the fabric gets wet, I'm wet. The gaskets are in great shape still it just seems to be the fabric. Very disappointed to say the least. In IR's defense, they offered to test it and try to fix it, but frankly I don't have faith in their product and I really don't feel I should have to waste my time with their return/repair policy for a product that's considered "top of the line". I believe they should stick to rash guards and skirts. On another note, Backcountry.com is incredible!! Just returned the IR top and ordered the Kokatat Rogue, smooth transaction!
This top is figgin awesome!
Familiarity:

I've put it through the wringer
Im new to the whitewater scene and had some money to shell out on a few key items, a dry top being one of them. With the advice of a few friends I bought this top. So far I have spent a fair amount of time upside down bangin my body around on whats under the whisky water and the ice raging around the the creeks and rivers of Lake Superiors north shore in MN and I have not yet taken on any water with this top! The other day when we were out I earned my gold medal in swimming and when we were done the whole crew was in disbelief that I had not taken on any water what so ever! I am 6ft with a wide set of shoulders and am rockin an xxl which is the perfect fit! So far it sheds water like a beast and keeps my upper dry which keeps me from getting hypothermia which keeps me in the water longer. All in all this is well worth the money and I will be recommending it to others!
Dry, durable, and comfortable
Familiarity:

I've put it through the wringer
I've worn various drytops or drysuits since 1985. After wearing out my last drytop I searched quite a bit and tried out several. This IR top is great! I stay totally dry in it - even after several rolls. It is very comfortable in a full range of motion. Has good protection around the wrist and neck seals. I have nothing negative to say about this top. I do a few multi-day self support kayak trips a year and keeping dry and staying warm is essential. .
I got this dry top because I can't afford a dry suit and was looking for a pretty bomber piece that could keep me warm so long as I wasn't swimming. This top from IR is rad. I like the fit (I sized up a bit just to make sure I got the full range of motion, I have big shoulders) and the latex gaskets provide an excellent seal. You can definitely find cheaper dry tops out there but I think this one provides a solid bang for your buck. That being said, pretty sure my dad used to just wear a windbreaker over a homemade wool sweater and run all the gnar that I still carry so maybe I just suck.
I got this drytop early last year to paddle with after putting too many holes in my drysuit for it to be usable. It's great -- lightweight, dry, breathable. I used it for an entire year of New England boating (before I finally got a new drysuit) and in conjunction with IR's Comp drypants, it got the job done in paddling temps down to 15 degrees (god, dawn patrolling in December is a terrible idea...but so worth it). I paddled Kokatat gear for a long time, and IR's fabric seems to hold up just as well. If you're looking for something super solid and are willing to shell out the money, the Comp LX dry top is a great choice.

Photo: me on Ager's Falls in my drytop at the always freezing Moosefest, 2011. By Ellen Ludlow.