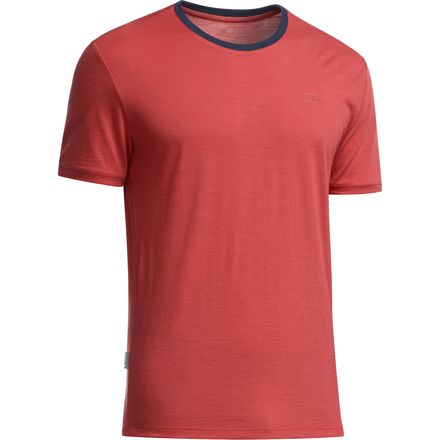 Detail Images

Community Images
Description
A comfortable shirt that won't stink even a week into your no-laundry European vacation.
The Icebreaker Men's Tech Lite Short-Sleeve Shirt is ideal for travel because it regulates your body temperature, resists odor naturally, packs light, and is machine washable.

Merino wool
Naturally antimicrobial
Regular fit
Set-in sleeves
Nice running shirt
Familiarity:

I've used it once or twice and have initial impressions

Fit:

True to size
I bought this for my husband for hiking and running. It is a nice, soft fabric and great for early fall hikes. The small might have been a little too small for him; he hovers between small and medium,
Bought this for a friend, but I also own an Icebreaker Tech lite Shirt. They are great all around tees for everyday use and when you traveling and want to pack as light as possible. Buy multiplies, you won't regret it.
Another great shirt from Icebreaker
Okay, at this point I may be biased. My entire drawer is full of Icebreaker shirts. I've also branched out into their shorts and boxer briefs and love those too. The only Icebreaker item I haven't loved is their socks, but I digress.

I'm 6'1" and 180lbs and I usually go with a medium for a trim fit.

From a style perspective, I like the different tone around the collar, which makes for a nice break from my other solid-color shirts.

I wear it for any outdoor activity, especially on longer outings -- wool is great for managing sweat and then not feeling overly sticky afterwards.

Having owned a bunch of Icebreakers over the years, my one complaint is that they do tend to get small holes after a while. Maybe it's moths? Or maybe just wear. That said, I've gotten many good years out of all of my shirts.

So yeah, great shirt. Highly recommended.
So many activities!
Familiarity:

I gave it as a gift but have feedback to share

Fit:

True to size
I bought this as a gift for my boyfriend after he accidentally put his other wool shirts in the dryer. First note, don't dry wool shirts unless you're bringing back 90's crop tops.

He is 5'10" and about 160 lbs with a longer torso and prefers a baggier fit. The L was a good fit, but he sided with the XL for preference. The shirt also has nice long sleeves.

The copy recommends this for casual use, but I think wool is a great, breathable fabric for athletic activities. So far he has worn this biking and hiking. Wool shirts are also nice for backcountry skiing.

The only complaint I've heard from him about wool shirts in general is that the fabric wears where pack straps are around the waist. Hoping this one holds up and he doesn't get shrunk, so far so good!



Great Shirt for moderate activity
Familiarity:

I've put it through the wringer

Fit:

True to size
I have about 5 Icebreaker shirts and love them for their no smell, comfort, and insulation. The tech lite shirts are great for moderate activity like yoga, walking and hiking as they regulate body temperate and insulate well. It doesn't wick moisture or dry as quickly as synthetics and therefore not the best option for rigorous activities, like running. But I have ran in them and felt comfortable even if they weren't dry.
Great for comfort and that's it
Familiarity:

I've put it through the wringer

Fit:

Runs large
I bought this shirt on sale, intending to use it as an active shirt.

It's quite a bad shirt for active use. I overheat very quickly, even when doing moderate exercises. Over heating causes sweat marks in the armpits, which are quite visible, even with a dark shirt. And it smells.

After a couple bad experiences I switched to a traveling/comfort shirt. The soft merino wool is incredibly comfortable to wear against the skin or under a hoody. It never smells from day to day activities or plane time. I could probably wear for a week straight before washing it.
It is expensive so I only have one, I would buy another if it were cheaper. I can justify spending $75 on a t-shirt. It fits a little long in the torso but the sleeves are perfect. I'd recommend this if you have a bunch of money and/or spend a lot of time on the road.
New Favorite Exercise Shirt
Familiarity:

I've used it several times

Fit:

Runs small
I now have 3 of these shirts and they are awesome. This is my go-to garment when hiking, climbing, backpacking or really anything outside. The merino wool is super light weight and does a great job helping you regulate temperature no matter how hot it is. It also has anti-microbial properties that make it so that you can wear it more than a couple days in a row without it stinking, which really comes in handy while camping. This has a performance fit, meaning it runs a bit tighter, I normally fall between medium and large, and I got a large in this and it fits perfectly.
What's Cotton?
Familiarity:

I've put it through the wringer

Fit:

True to size
I picked up a Tech Lite SS T because I'm no stranger to the benefits of merino base layers, and decided to try out the casual stuff. Total win.

The Tech Lite fits extremely well, feels extremely good and doesn't retain odor. I love these tees so much that I'm currently in the process of updating my whole t-shirt wardrobe to merino!
Another favorite shirt!
Familiarity:

I've put it through the wringer

Fit:

True to size
This is the third "tech lite" shirt I've bought and I absolutely love them. The material is thin but of good quality and, due to the light weight, I wear these shirts year round (in the winter, I usually put a long sleeve shirt underneath it). Sizing is good (I'm 168 lbs/5'10" and I wear a Medium) but it is a relaxed fit, not an "athletic" cut like many t-shirts.

Overall, this is a great shirt. My one caveat is that Merino Wool shirts are too pricey so I tend to wait until there is a sale or I receive a coupon of some sort to buy them. They are, however, the best t-shirts for any weather that one can buy! Get it and get out and enjoy it.
Good shirt but on the fragile side
Familiarity:

I've put it through the wringer

Fit:

Runs small
Love the shirt but it's not made out of the strongest material. Got a hole in the shirt after a few times worn. Not sure if that's normal or I just had bad luck. Would say it's a bit thinner than similar smart wool shirts. Doesn't run too small but definitely fits smaller than smart wool.
solid
Familiarity:

I've used it once or twice and have initial impressions

Fit:

True to size
just bought the shirt but it feels great. I went with a size M, i am 5'9 140 and it fits great. not too tight, i would be swimming in an L.
I am not saying its bullet proof, but...
Gender:

Male

Familiarity:

I've put it through the wringer

Fit:

True to size
I recently spent some time in the desert lands of western Colorado during hunting season. I bought the tech lite t-shirt because the 'heat' color closely resembles 'hunters orange'.



So basically speaking I bought this shirt hoping that it would keep me from getting shot. I can happily say that it worked. If I was a Washington politician I might go as far as saying that the Icebreaker Tech Lite T-shirt is bullet proof.



But alas I have a slightly higher level of education so I can not in good conscious recommend that people use this shirt as a means of personal protection in times of combat. What I will say though is that the shirt wore very nicely under a heavy backpack during very long hours of hiking over rugged terrain. I did not experience any chaffing or uncomfortable bunching under the straps of a day pack that was holding approximately 25 pounds of work equipment.



I list the shirt as true to size but it was borderline. I am 5'9" with a short torso and wide shoulders (I would equate my chest to an upside down pear). the shirt had good length but the sleeves were mid to upper bicep. Guess it all depends on personal preference.
Keeps You Cool Under Pressure
Some people let the heat get to them, other people wear the Icebreaker Tech Lite Shirt.
Great Merino, great color/performance!
Familiarity:

I've used it several times

Fit:

True to size
Special thanks to backcountry.com and Icebreaker for hand-selecting me to review this piece of gear for the benefit of the backcountry.com community. I appreciate the opportunity to put new gear to the test, as well as giving honest and reliable feedback that consumers can rely on. Again, thank you!



Now for the product review...



I think Icebreaker did a wonderful job combining strong materials with materials that will breathe as well. As an avid runner, cyclist, skier, and rock climber, having a solid base layer that whisks sweat away from the body is extremely important and a feature I appreciate to the fullest.



That being said, I have some specific feedback after my run yesterday...



I went on a 10k trail run and from the pictures you can see it is pretty gnarly in some places. (The temperature was in the high 70's and lower 80's)



For the first half of the run the shirt performed AMAZINGLY, but after the 5k marker I started to notice some VERY light chaffing.



Please keep in mind this shirt isn't necessarily designed for trail running or running in general. It still performed amazingly, though I wouldn't recommend it for distance runners (anything over 10k), but it will do the trick on shorter runs easily.



It breathes well and dried quickly afterwards, allowing me to go grocery shopping immediately after my longer run. It is super comfortable as well!



I would recommend this shirt to nearly anyone and though its not meant for rock climbing either, I've had zero problems with it taring and could call it reliable for many activities that extend past what I've personally used it for.



Though in the past I have stuck with other competitors, I'm now a believer in Icebreaker products; who'd have thought?



Great all around shirt and one that is sure to last!



Thanks again to backcountry.com and Icebreaker for letting me take part in this important review. I'm stoked on the gear!



I'm a large man-around 6'2" and 200lbs and the large size fit perfectly...



Cheers.
Good performing shirt
Familiarity:

I've used it several times

Fit:

True to size
I ordered one of these a few months back and after just a few uses it had a few small holes in various areas. I returned it (thanks to backcountry.com for handling the return) and with so many positive reviews I decided to try another one. The replacement seems to be a bit better. I'm very happy with the performance so if the durability holds up long term I would bump it to 5 stars.
Another great icebreaker product!
Familiarity:

I've used it once or twice and have initial impressions

Fit:

True to size
I'm an Icebreaker junkie. Shirts, base layers, mid layers, boxers, they make great shit. This shirt is no exception. True to size, comfy loose-yet-slim fit. Not one of those "I have to show off my fabulous pecs constantly" shirts. The Bordeaux heather (purple) is a cool color. If you're on the fence, don't be. Get it!
Best shirt I own
Familiarity:

I've put it through the wringer

Fit:

True to size
This is the best shirt I own. Everything they advertise is true. No smell. maintains its shape. no color fade. just awesome.