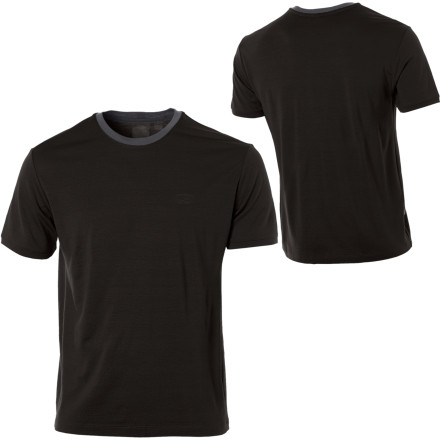 Detail Images
Does the Black/Pewter have contrast colour...
Does the Black/Pewter have contrast colour to the neck AND sleeves?

Thanks!!!
Yes, it has the pewter trim on the neck AND sleeves
immediately became my favorite. the feel on your skin is very comfy, not itchy at all. i also like the cut, fits well. if i could afford it i'd buy one in each color. alas, $65 is pretty steep for a t-shirt (any t-shirt), but the quality is definitely there.
I am a big fan of this shirt and the Hopper because they have all the benefits of merino wool, but with an athletic t-shirt fit (not too tight, but not baggy t-shirt either).

The quality of the shirt and the merino fabric itself is all top-notch, and the 'devil' color is an awesome orange-red.

If only these shirts were cheaper--then I would not have to own any cotton or poly shirts!
Wear it everyday - love it
I just saw this on SAC and I can't believe it doesn't have better reviews. I wear one every day biking to and from work. I agree it's not as soft as my Patagonia wool, but it doesn't itch me and I'm usually pretty sensitive. I wear it skiing in the winter as my base layer and hiking in the summer when it's 115 out and can go at least a week with out stinking. It's probably my most versatile and widely used piece. I'm 5-9 and 165lbs and the M fits great. It fits like a t-shirt, not a tight form fitting bike jersey or anything like that.
I'm looking for a man's T-shirt with Mt...
I'm looking for a man's T-shirt with Mt Taranaki on the front size Large. Do you have one in stock please
click on "chat now" at the top of the page and ask backountry directly...theyd be the best ones to help you with that
Itchier & Worse Fitting than the Rest
This shirt seems to be *okay* merino wool, but it is much itchier than other shirts eg. my Backcountry.com zip, Patagonia Wool 2 zip and all of my girlfriend's Icebreaker shirts. Because it touches more skin, it's closer to ragg wool stuff I've worn than the merino wool that I've gotten used to. I would send it back if I could, but it was ridiculously on sale, so I'm not too torn up about it. The sizing also seems a bit oversized. I got a small hoping it would be semi-form-fitting, but it isn't it hangs loose and...looks awkward I think.
On the plus side, it does seem slightly more durable than similar weights of wool, but maybe that's just because I wear it much less.
I wouldn't knock it just because it's from China (like some reviewers). I blame Icebreaker for the poor quality. Those hard-working sheep and chinese factory workers do a fine job on plenty of other similar items.
What is the difference between the 140 and...
What is the difference between the 140 and the 190? Is that a stitch count? Is one heavier and/or warmer than the other? Thanks.
, ☃bcs_badge_alumni_label☃
Bingo!! The 190 is heavier/ warmer than the 140.This figure represents grams per sq. meter of fabric.
I have a few Patagonia Merino Wool items, but bought this IceBreaker Tech T because I liked the color. It's a nice / adequate piece of gear and has all the merino wool properties I like - soft, odor free, wicks well, breathes, etc. However, for me the fit for my XL is not true to size and I was disappointed to learn it is made in China. Looks like I'll stick with the Patagonia made in USA merino wool items even though they cost more and for me have a better fit.