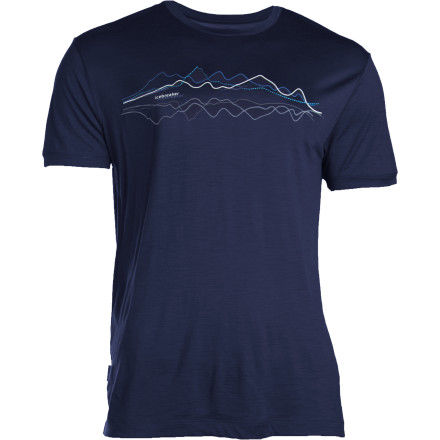 Icebreaker SuperFine 150 Tech T Icebreaker Shirt - Short-Sleeve - Men's
View Larger Image
Detail Images
You don't know exactly how those darn sheep down in New Zealand create such epically advanced natural fibers simply by grazing the mountains and drinking fresh water. And that's ok—you just love how the Icebreaker Men's Superfine 150 Tech Lite Road Trip Shirt helps to keep you cool during a climb and odor-free on a long trip.
Awesome backpacking or working out shirt
This shirt is amazing. It is very very comfortable, breathable, and drys quickly. I wore it for two days solid of all day hiking before the pits formed a slight BO smell. I have worn the same shirt hiking in Norway, exercised 3 times at the gym and still had no smell (wife confirmed).
An essential for summer fun
Though I wish the cut were just a little trimmer around the mid section/waist area, the overall performance of the 150 tech T is superb.
Fit: I'm 5'11", 170-175lbs, 39" chest, 31" waist, 22/23" torso, and relatively broad shoulders. The fit is excellent at the top around shoulders, and I appreciate the added length of the shirt. As the previous user has stated, it isn't trim fitting around the mid-section. But the non-trim fit in no way renders it "useless." The awesome thing about this light yet durable SF 150 merino wool is that it drapes down beautifully, hence you don't get the "puffing" you get with some cotton and/or polyester shirts. But I do appreciate where the aforementioned reviewer is coming from, because I too wish it were trimmer, and I'd imagine it'd be worse for someone who is built trimmer.

Functionality: Lightweight, soft fabric (though certain parts itches during certain movements, but no big deal at all), odor resistance, freedom of movement are few of my favorite things about this shirt. I use it primarily for hiking/backpacking, and on those hot sunny days on weekends. I would definitely size down if I were to use it as a base layer, but Icebreaker has trim fitting shirts that were designed to be base layers, so look for those if that's what you want.

Design/fashion: I really dig the understated tone of the green, Icebreaker embroidered logo and pip label. It's pretty fashionable IMHO in its simplicity/elegance.

Minus one star for the price at list price and made in China.
A neck hole for two necks
Awesome shirt, very soft, good looking and the green color is unique. However, the neck hole is huge and a guaranteed "quiter." I'm 6'1" 150, I'm slim but athletic build so I bought the medium. The length was good. I appreciate it when shirt companies build a medium shirt for not only length but body too; this shirt fails in that department. It is a bit loose in the mid section and the lower back, not an athletic fit at all. Bummer because this makes this otherwise awesome shirt useless. I have a similar shirt from Ibex that fits magnificently, so I'd recommend that company for the fellow slims.
Amazing shirt. If you're into microweight wool, this is for you.