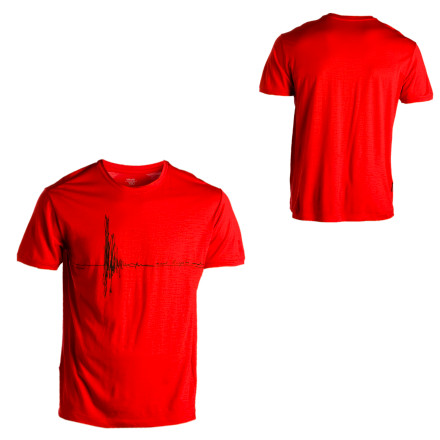 Icebreaker SuperFine 150 Tech T Lite Richter Shirt - Short-Sleeve - Men's
View Larger Image
Detail Images
You aren't the kind of person who is willing to stand around hoping to get some pop singer to sign anything. But, the autograph of a volcano ... that would be pretty badass. The Ruapehu Volcano on New Zealand's north island keeps the ground shaking and also happens provides some of the best skiing in the country. Icebreaker captured the seismic signature of the massive volcano and printed it right onto the SuperFine 150 Tech T Lite Richter Short-Sleeve Shirt. And, just like the volcano, the Richter is full of surprises. SuperFine merino wool gives you lightweight, breathable, wicking comfort, so even on the hottest days, you'll be feeling good.
Share your thoughts
What do you think of the
Icebreaker
SuperFine 150 Tech T Lite Richter Shirt - Short-Sleeve - Men's
? Share a...
Posted on
100% merino awesomeness
I love this shirt.

5'10", 42" chest, 34" sleeves, and a large fits me like a normal t-shirt. I've gone a bit Merino-crazy recently and picked up one of these and some other Icebreaker tops. They've become my go-to t-shirts for everything from the hottest, sunny day to acting as a base layer for cold weather layering.

Easy to wash, never stinky or itchy, 100% merino awesomeness.
Got this off SAC for around $30. Even though it was 50% off the retail price it still falls short. I am 5'11 150lbs and got the medium.

The good: The color (I got the red) and graphics look good. It is long enough to be tucked in and won't ride up if you use it for a base layer. It merino wool, so it doesn't smell bad even after soaking up lots of sweat.

The bad: The fit is a little off, and different from other Icebreaker shirts. When I lift my arm up it gets excessively baggy in the shoulders and the sleeves ride up in a weird way. It just flat out feels weird when I move my arms around. The neck is also a bit wide. I have several Smartwool NTS Microweight shirts and they don't have this problem. In fact, this is the only shirt I've ever owned that has been like this. Probably why it ended up on SAC in the first place.

I think that for a $30 plus t-shirt I get the right to be a little picky. I wouldn't buy this one again, get a Smartwool microweight instead.
Posted on
Best t-shirt I own
This is not my first wool shirt. I got it, washed it twice and it was then perfect. I wear wool often because I commute by bike and nothing else I've tried works as well with sweat, smell and comfort post ride. I don't wash it very often and if I do it is usually by hand just to make them last as long as possible. It never stinks and is super comfortable. I also use this shirt hiking, camping and for sleeping. Great gear, I highly recommend any icebreaker 150 superfine.