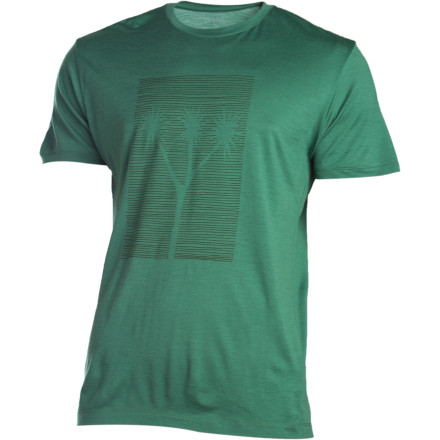 Icebreaker SuperFine 150 Tech T Lite Lancewood Shirt - Short-Sleeve - Men's
View Larger Image
Detail Images
With its naturally odor-resistant merino wool fabric and super-soft feel, the Icebreaker SuperFine 150 Tech T Lite Lancewood Shirt makes an ideal travel partner.
Unlike traditional, long-cut wool fibers, merino wool?s fine-cut fibers are soft to the touch
SuperFine 150 fabric weight balances internal breathability and temperature regulation so you stay comfortable without overheating
Icebreaker makes its products in a way that supports New Zealand farmers, ensures overall welfare of the sheep, and promotes sustainable manufacturing practices
Excellent merino T-shirt
Gender:

Male

Familiarity:

I've used it several times
This was the first Icebreaker T-shirt i bought 4 years ago. Needless to say, I have been very happy, since I now have 12 Icebreaker T-shirts. I now boutht my second of the lancewood model.The fit is great (XL for me who is 6'4" and 216lb). The look is also good, and it has good durability. The fabric is soft, but very "flat", so it does feel a little moist if you sweat a lot. For high intensity, I choose something else, but for everyday wear or alpine skiing, it is perfect.
Pretty darn good
Gender:

Male

Familiarity:

I've put it through the wringer
I quite like how the T fits, I'm 6'4" 200lbs and the L fits me nicely. It's great for commuting as you can sweat and it won't get stinky, it also dries quickly and insulates when wet. I'm not much of a fan of the 'prickly wool' feel, and this has SO little of that I can tolerate it!
Most backcountry/mountaineering gear is built for lean climber and runner types. I'm a stocky build (5'8" 165#, 39" chest, 32" waist), and so even though I'm in shape, everything is always too tight and long. This shirt (in size medium, after washing and drying) is not only the best fitting base layer I own, it's better fitting than even my casual shirts. Snug at the shoulders and arms, loose at the waist, and just the right length.

Plus merino is my favorite.
Used one of Icebreaker's 150 tees on a sea kayaking trip. It was hot, in salt water all the time and it performed great: pretty much to smell after 3 days. The synthetic and cotton items became stinky right away. Looks nice as well.
Excellent Fit, Material and Performance
This really is a great product. I wore this shirt for 3 days 40+ miles of backpacking and hiking in Yosemite earlier this year. The temperature got up to 80 degrees+ during the day, and the shirt smelled just fine after 3 days. I had other shirts, but I still chose this one (hand washed in a sink each night upon returning to camp and laid out to dry on top of my tent) despite the fact that it was 'dirty.' Was still wet in the morning but dried within 15 minutes of putting it on and hitting the trail. I'm 6'0 170 and a size L is my choice. I have an athletic build and once it went through the drier, it pretty much fit perfectly. They don't itch after they've been worn and washed a handful of times, and even in the beginning, the itchiness is almost nonexistent (especially compared to other wool clothing). Overall, this is a thumbs up for sure!
Pretty much everything merino is great. As a t-shirt, you have to get used of wearing something light but this is a pretty good piece.
I got tired of a stinky polyesther base layers and tried merino wool ones from Icebreker. Worked well on an alpine climb. No issues with shrinking after the first wash. Also, I did some comparison and liked Icebreaker best. Thumbs up!
Great shirt, you definitely get all the goodies of merino wool, i used it 5 times with no washing to test how stinky it will get, no smell at all, i just washed it because my wife force me to even though it didn't smell :), I also bought one of the Smartwool with graphics an I actually return it awful fit, so definitely go with icebreaker
i really like these icebreaker graphic t shirts. a large fits well. im about 6'1", 200lbs. the lighter weight plain icebreakers are to slim for me. the graphic t is still a little fitted but the other ones are really narrow and clingy.
they work as advertised: dry fast, do not smell, and are cool in the summer. i bought my 1st one on clearence for $35 and liked it enough to buy a 2nd one for $50. i wont spend $70 or whatever they retail for. I think $50 is a lot for a t but if they hold up well it will be worth it.